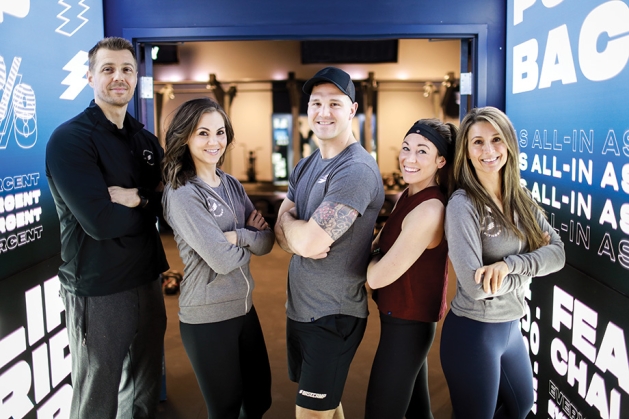 A new boutique gym fuses high-intensity cardio and strength.
Growing up and moving away from organized sports is an interesting shift to go through in your younger years. As one who loved the aspect of being a part of a team, I found myself searching for ways to emulate that sense of motivating community in recent years. In addition, I began to recognize the challenges that came with staying consistent in my ever-changing lifestyle.
The solution? Group fitness. From the support of the instructors to the regular like minded member-goers, the atmosphere of group fitness can be comforting and provides the team-like vibe I always long for.
For Woodbury Basecamp Fitness studio owner Jenna Behnke, it is this idea of community that keeps her entwined in the business. "Having this community feel is good and important to me," she says. "I wanted to create a safe space for people, especially with what is going on in the world. I don't know what is going on the rest of their day or before they came in, but I can control how they feel and their experience in the 45 minutes that they are here."
As one who is avid about staying active and is always searching for the most effective fitness trend, I decided to try the latest addition to the bunch. As a new boutique fitness studio, Basecamp Fitness is a place that stays true to creating fast, yet effective workouts. It fuses strength training with high-intensity cardio in a 35-minute session—a real game changer.
Upon arriving, I was assigned a bike number as my "home base" for the duration of the workout. The location of the bike in the room correlates with one of four groups (A, B, C and D), which is necessary to know in order to do the workout. The group letter correlates with a series of videos on TV monitors that showcase demonstrations for each workout. As a visual learner, these screens were a great tool and aided my ability to keep up in the fast-paced nature of the class, especially as a newbie.
Each class focuses on either the upper, lower or full body and is structured by specific increments of time: 60 seconds on and 10 seconds off, 40 seconds on and 20 seconds off, or 90 seconds on and 15 seconds off. (The repetition time depends on the day.) Between each repetition, the "off" time is used to take a breather while you transition either back to the floor for weight training or air bikes for cardio. The optional finisher is 10-minute stretching and core exercise.
As you "ride" the instructors challenges riders to reach faster speeds or calorie loss goals. Though it was a form of cardio
I was not used to, the bright party lights and energetic music helped to push me to new limits and motivated me to keep going. "We make sure that you are not just coming in for a workout, but you are coming in for an experience," Behnke says.
Basecamp Fitness: Origins
Conceptualized by Nick Swinmurn, the founder footwear retailer Zappos, this California-based boutique gym is vastly expanding across the nation. Its efficiency sets it apart from other workouts, but the use of 'assault bikes' is also a defining factor. The bike has two handles that move back and forth and a fan that is powered by the speed of the pedals. With no electronic presets to the bike, it is up to the individual to choose their desired resistance level and their pace. A way of testing how far you are willing to push yourself.
In addition to the self-guided journey, the bikes also allow for a wider variety of individuals to partake in the exercise journey. "The assault bike allows people from all fitness levels to be a part of the movement due to its low impact and gentleness on your joints," Behnke says. "We have people in there 20s, in their 70s or even those recovering from injuries come in … It is like an equalizer, and anyone can use that bike as long as you are able bodied versus a treadmill, many cannot or should not be on one."
It is this client-based focus that appealed to Behnke as both a member and an employee. Behnke was a part of the corporate team at Esteem Brands (Basecamp's parent company) for two years before she began searching for the next step in her career. After hearing about the possibilities of expanding the brand in her own community, she jumped on the opportunity. Partnering with her husband, Chad, she fused her marketing background with his knowledge in business and as the former strength and conditioning coach at Concordia University. In addition to her desire for an exciting career shift, she felt that it was important to provide an oasis for other busy individuals like herself to escape to. And as a new mother, she understands the struggle of not only finding a gym that works, but also a schedule that works.
Working hard to connect with her members, she says it is important to create a space that makes them want to come back to. "I didn't realize what a privilege it is for people to come in and be vulnerable with us and they are making an investment in our brand and this workout, so it is up to us to give them the same in return every single time they walk in the door," she says.
Basecamp Fitness Woodbury
7030 Valley Creek Plaza; 651.395.3016
Facebook: Basecamp Fitnes
Instagram: @basecampwoodbury
Twitter: @basecampfitness