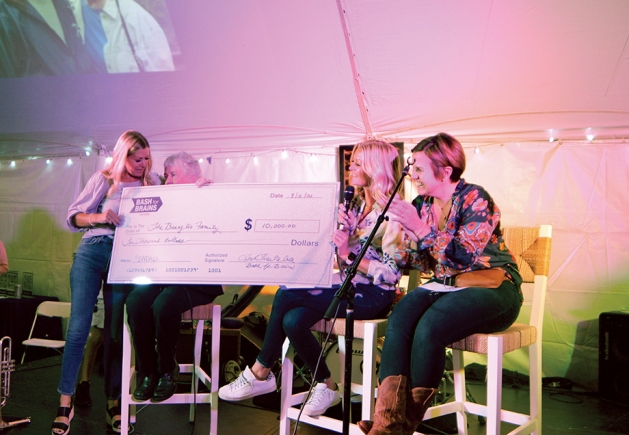 Woodbury sisters host eighth annual charity event.
Leah Huxtable and Eva Thompson say their mom is the inspiration behind the annual Bash for Brains event. "[In 2011], our mom was diagnosed with early onset Alzheimer's disease at 61 … She had a lot to do yet, and she was very philanthropic and an amazing teacher," Huxtable says. In 2013, the sisters put on the first Bash for Brains—which was "thrown together" in three weeks and raised $7,000 for the Alzheimer's Association and the Walk to End Alzheimer's.
Now the event, which has always taken place in Huxtable's backyard, includes live music, a silent auction, food trucks and more. Through their collective fundraising efforts, the duo has raised $481,000 since its start. "We are so lucky and grateful to work alongside the Woodbury Community Foundation … They stepped in, in 2018 … and helped us build a fund called the 'Bash for Brains Fund' to give back to this community, and they have supported us so beautifully," Thompson says. In 2021, Huxtable and Thompson gave one Woodbury family the gift of respite care through the Bash for Brains Fund. This year, their goal is to raise $150,000 and gift respite care to more local families.
"It's near and dear to too many people's hearts. Alzheimer's is rampant in society, and it's getting worse all the time," Thompson says. —Hailey Almsted
Bash for Brains; September 10
For more information and tickets, go to bashforbrains.com.