We rounded up our favorite wintery spices, and a few local dishes that feature them prominently.
There's just something about this time of year that has us seeking out warmth—be it in the form of a thick sweater, a glowing fireplace, or a trip to the Caribbean.
On the culinary side of things, these doldrums often have us craving wintery spices—cinnamon, allspice, cloves, turmeric, and the like—both because they conjure up memories of cozy evenings past, but also because they warm us up, quite literally, from the inside out.
The Olive Branch Oil & Spice Company is a great local spot for stocking up on these fragrant spices. Axel and Kaitlin Johnson are the new-ish co-owners of the shop, and they have a passion for teaching guests how to cook fresher and with more flavor—which often has surprising health benefits. We chatted with Kaitlin Johnson to find out a few facts about our favorite wintery spices—and we rounded up a few local dishes that feature them prominently.
Allspice
What it is: Dried unripe fruit of Pimenta dioica, which is actually an evergreen tree.
Native to: Jamaica, Southern Mexico and parts of Central America.
Benefits: Powerful antioxidant, containing 25 active phenols that can fight cell damage; can also lower blood pressure and help manage menopause and osteoporosis."Despite its popularity, cultivation outside its native region has been uncommon—and often unsuccessful—so it's relatively unknown to many parts of the world," Johnson says. "After harvest, the fruits are dried in order to create what we know as allspice. The berries are small, dark brown balls just a little larger than peppercorns."
Cinnamon
What it is: Four slightly different varieties of tree—cassia cinnamon—whose bark is harvested and dried to produce varying flavor profiles.
Native to: Asia. The most common type in America hails from Indonesia.
Benefits: "There are endless studies about cinnamon's effect on diabetes management by helping with the blood sugar spikes that can occur after a meal and controlling what's known as insulin resistance syndrome."Farmers remove the inner bark from felled trees, with the highest-quality cinnamon coming from the lowest part of the tree. As strips of bark are dried, they naturally curl up into sticks, or "quills," which can be exported.
Nutmeg
What it is: A hard seed inside of a fruit that grows on the Myristica fragrans tree. That same tree's seed covering is harvested as mace.
Its complicated history: "The islands where nutmeg was grown were conquered in the 1500s by the Portuguese, who then tried to keep the growth of nutmeg to two islands," Johnson says. "The Dutch were part of these shenanigans, and eventually, they became the sole owners of the nutmeg trade. To keep prices high, the Dutch would intentionally destroy portions of their crops, much as they did with cloves." Eventually, the seeds were stolen and cultivated elsewhere, making the spice more readily available.
Benefits: In the Middle Ages, it was used as a drug, said to cause hallucinations when consumed quickly in high doses. However, nutmeg does have many benefits—including the ability to help with anxiety, depression, and memory loss.
Curry Leaf
What it is: Not curry powder! It comes from a small tropical citrus tree that's akin to grapefruit, kumquat, lemon, lime, mandarin, and orange.
Native to: India.
Benefits: It has antioxidant properties due to its high concentration of beta-carotene and vitamin C. "It also can help with type 2 diabetes, heart disease, and cancer with its ability to remove molecules known as 'free radicals,'" Johnson says.
Ginger
What is it: A rhizome, not a root. It grows horizontally underground.
Its history: "It's said that Queen Elizabeth I of England invented the gingerbread man, which became a popular Christmas treat. Ginger is also a key ingredient in the spice blends berbere, Res el Hanout and pumpkin pie spice. The demand for this spice became so great that in the 16th Century, the Spanish and Portuguese planted ginger in the new tropical colonies of the Caribbean and Africa." It was more valuable than diamonds in the Roman Empire.
Benefits: Eases motion sickness and nausea. Also anti-inflammatory, anti-bacterial, antiviral and anti-disease—which can help fight arthritis, cancer, migraines, asthma, cholesterol, heartburn, and strokes.
Start the Day:
New Woodbury Cafe
Breakfast makes New Woodbury Café a destination, with entrees that say "go big or go home." The spot is known for home cooking, and takes waffles to the next level, with audacious flavors or plainer ones, too.
"Sometimes we switch 'em up," says front of house manager Kim Hall. Starting in fall, they bust out the apple streusel topping, which is cinnamon sugar-forward. "We used to have an Elvis Waffle with chocolate, bananas, and peanut butter. But we have lots of regulars who come for the Caramel Apple Crisp one."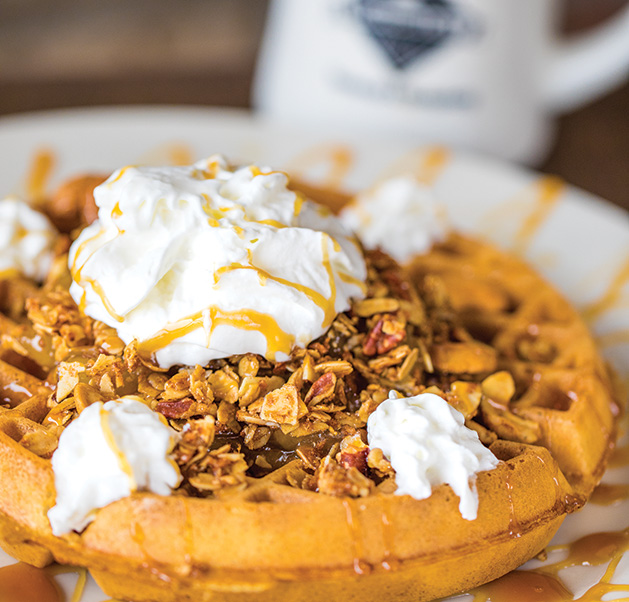 Translation? It's a traditional waffle piled high with cinnamon apple chunks, caramel, and whipped cream. House-made granola and cinnamon sugar give it a warm crunch. "It's almost a dessert…it definitely takes care of your sweet tooth," Hall says.
Not your thing? Try the Pumpkin Pancakes or Pineapple Upside Down Pancakes, which both come topped with a delicious cinnamon butter. The Spicy Cajun Benedict will also warm you up spice-wise, with Cajun Andouille sausage, two poached eggs, hollandaise sauce, and Cajun spices.
Take a Trip:
Angelina's Kitchen
How many local restaurants boast real Italian roots? Owner Angela Verrastro remembers her grandma Angelina, who ran a corner luncheonette in the Bronx. There, everyone knew everyone—and everyone knew Angelina's cooking.
"She always had a huge pot of 'gravy' simmering behind the counter," Verrastro writes on the website, where you'll find the history of the Woodbury restaurant created in memory of the woman who started it all. "As I watched her taking care of her customers and her family, a passion for good food took root in my heart."
At Angelina's, you'll find a complete menu of a la carte and family-style options—plus, in true Italian fashion, a generous wine and cocktail list. Here, food and company are meant to be enjoyed. Each October, look for a curried pumpkin soup that's punched up a bit in the flavor category.
"It is curried pumpkin, so there is just a little heat to the flavor," says Verrastro,
Try the soup with traditional New York-style Eggplant Parmesan, which comes layered in fresh mozzarella and parmesan in marinara or a spicy arrabbiatta sauce. Its depth comes from garlic, fresh tomatoes, and red chili peppers simmered and reduced to perfection. Need something lighter?Try the Spinach, Pear, and Goat Cheese Salad, where fresh pear, dried cranberries, and balsamic vinaigrette drizzle are amped up a bit with the perfect wintery crunch: candied spiced walnuts.
Finish it Off:
Nothing Bundt Cakes
You know them. You love them. If you're craving spice, there's a bundt for you. Try the Snickerdoodle, which is a classic cinnamon sugar cake that's lightly coated in sugar. "It's like a snickerdoodle cookie, but better!" says Woodbury franchise owner Dawn Parker.
The Carrot Cake is another option that's flavor-forward and fits the bill for a quick dessert. "It's the classic carrot cake you love with carrot and pineapple pieces baked throughout," Parker explains. "Every bite has the warm, familiar taste of cinnamon and nutmeg."
Both are best served room-temperature, maybe alongside hot tea, cider, or coffee. Try to give 24 hours notice on larger orders—especially on weekends and holidays—but the team can usually turn around requests for smaller quantities of cakes, bundtlets, or bundtinis in an hour or so.