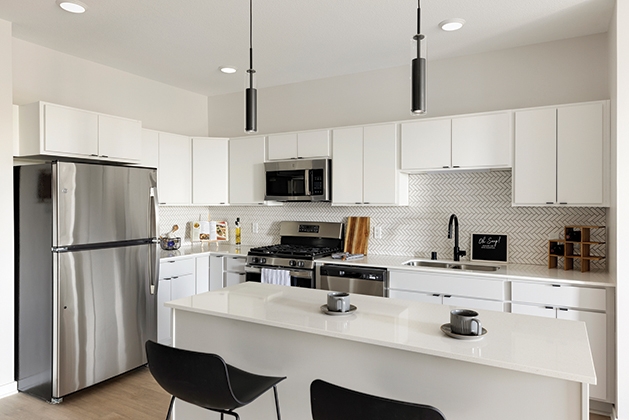 New luxury apartment complex redefines modern living.
Continuing to redefine apartment living for Woodbury residents is the new two-building complex, Beyond Apartments by Core Living. Opening the east building last September and the west building last December, the complex features 255 units ranging from studio spaces up to three bedroom-three bath units.
Beyond fuses a boutique aesthetic with the bustle of suburban conveniences to create a comfortable modern lifestyle. Located in the heart of Woodbury, this complex has access to a variety of local shops, restaurants and major highways. "We are still close to the hustle and bustle of Woodbury … but we are also in a quiet little niche," says property manager Allison Fischer. "It is a little oasis."
As a luxury apartment, Beyond features over 14 different floor plans and a myriad of amenities. But what defines luxury, and how does it work to appeal to specific individuals? A luxury apartment refers to a living space where tenants have access to an above-average level of comfort, quality and convenience. Typically consisting of a variety of amenities, this form of living has now become a standard for renters in the community, says Core Living marketing manager Heather Ouellette. Though the rental market is ever changing, the one thing that remains constant is this desire for individuals to have access to different options in their living spaces.
"You can get the basics of what you need to live at a lower price point, but you don't get that same level of features within the apartment itself," Ouellette says about conventional apartments as opposed to luxury spaces. "You are not going to have a greater range of amenities built to cater to a variety of different resident needs … but the mix of amenities definitely goes up as you look at different luxury apartments."
In the age of COVID-19 and especially during quarantine, people discovered what they like and dislike in their own living quarters. Creating more thoughtful spaces with flexibility in mind, homeowners have turned to multipurpose arrangements. "With the pandemic, we saw that people needed more space to work from home. They want opportunities to socialize in various spaces and different sized groups," Ouellette says.
Understanding the need for a work-life balance, Beyond turned to creating a variety of spaces outside of each unit that catered to these needs. Equipped with a few different communal spaces, these areas offer a variety of seating options to fit most preferences. The most unique being the private phone booths that allow individuals to have their own closed off space to quietly study or work without any distraction. "It is shared, but you can make it yours for an hour or a day," Ouellette says.
Encouraging the use of their range in facilities—a 24-hour fitness center and studio, pool, patio spaces and golf simulator to name a few—the complex is conveniently equipped to readily suit most needs.
"The home really is the entirety of the community," Ouellette says. "Your dedicated private living space might be a bit smaller to fit your budget, but you still have access to all of those spaces to do other activities … It is Core Living and connecting you to the community."
Amenities
Dog washing spa station
Golf simulator
In-home washer and dryers
In-unit gas ranges
Rooftop sky lounge and Skydeck on the east building
24-hour fitness center equipped with an Echelon exercise mirror
Outdoor pool
Heated underground parking
Outdoor kitchen and grill stations
Outdoor terrace with a fire pit
Community lounge
Children's playroom
Free coffee bar
Nine-foot ceilings in units (14-foot ceilings for top floor units)
Private phonebooth workspaces
Beyond Apartments
455 Karen Drive
612.453.1758; beyondapts.com
@beyondapts