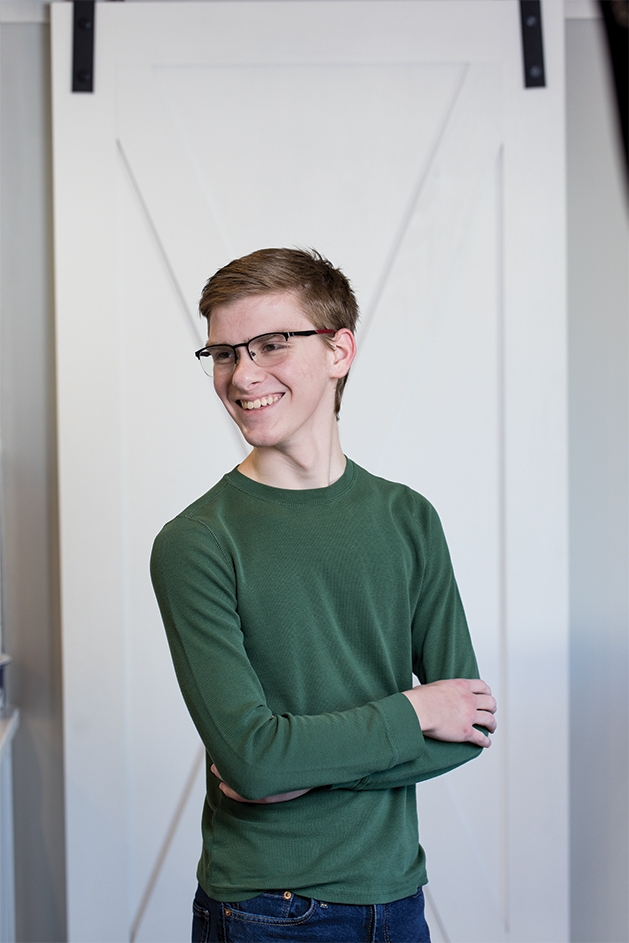 Lake Elmo local Evan Erickson wins at International Physics Olympiad.
Ask Evan Erickson what his chances were to win a gold medal at the 2021 International Physics Olympiad (IPhO), and he'll tell you. "About 6,000 students took the F=MA exam, five went to the IPhO. The top eight percent of students taking the IPhO won gold," Erickson says. It was the first time all five members of the U.S. Physics Team earned gold.
IPhO is an annual physics competition among high school students run by the American Association of Physics Teachers and American Institute of Physics. The 2021 IPhO was to be in Lithuania, but, due to COVID-19 restrictions, the competition was held via Zoom.
To qualify, Erickson took the F=MA exam, achieving a score that got him invited to take the long-answer U.S.A. Physics Olympiad test. He finished in the top percentage and went on to take a practice test that imitated the actual IPhO. His score earned him a spot on the U.S. Physics Traveling Team.
The preparation taught him lessons about hard work and staying focused. "When I was initially taking the test, actually making it to the IPhO seemed very far off and kind of unachievable, so it was a major shock when I received the final email that I was chosen to be on the IPhO," Erickson says. "The training was rigorous, and I learned a lot of physics concepts, techniques and ways to think about stuff. It helped me not to get overwhelmed and to pace myself because it's really hard to be smart for five hours consecutively."
The IPhO had two five-hour exams. The first test was an experimental exam with a circuit board. Competitors measured quantities, made predictions and addressed conclusions. The second format was a theoretical exam, which consisted of three main problems with subparts. Students derived answers based on their topics. Each were graded, and the top eight percent received gold medals.
Erickson's mother, Rena, taught him and his four siblings at Erickson Homeschool Academy in Lake Elmo. In addition to academics, she imparted life wisdom. "A big thing was learning how to cope with failure," he says. "There's always going to be points where you hit a wall or don't succeed as much as you wanted. Being able to constructively deal with that, find what you need to learn and move on was a big thing my mom helped me with."
Erickson uses his love of math and physics to inspire the same in others. During the pandemic, he and a friend started a free online math camp for middle schoolers, and he coaches a middle school math league. "Having gifts means using them to help others," he says. "I've volunteered in academic programs since I was in middle school when I helped out with my local elementary school's gifted and talented class." He also tutors kids in Asia via Zoom and works at Cup and Cone in White Bear Lake.
He earned gold at age 17, but he's not stopping there. "I'd really like to get a better and deeper understanding of how and why things work," Erickson says. "I haven't decided which field of physics I want to study yet—the IPhO training covered all the fields of physics, so I now like them all equally." Erickson graduates from high school in May but has already completed four semesters of post-secondary education from the University of Minnesota and received acceptance to attend Massachusetts Institute of Technology (MIT). He is aiming at a doctorate in physics. Three of his IPhO teammates are already there.
From the kid who taught himself multivariable calculus in middle school, Erickson shares advice for students interested in science, technology, engineering and math (STEM). "A big thing is building your intuition and relying on that understanding—focusing more on concepts and less on formula," he says. "It's really hard if it stays abstract and is just a bunch of formulas and diagrams, but if you understand the reasons behind the formulas or behind the phenomena, it's a lot easier to arrive at a solution because your intuition can guide you there."
"I just want to spread my love of learning to others and encourage them to pursue stuff like this," he says.