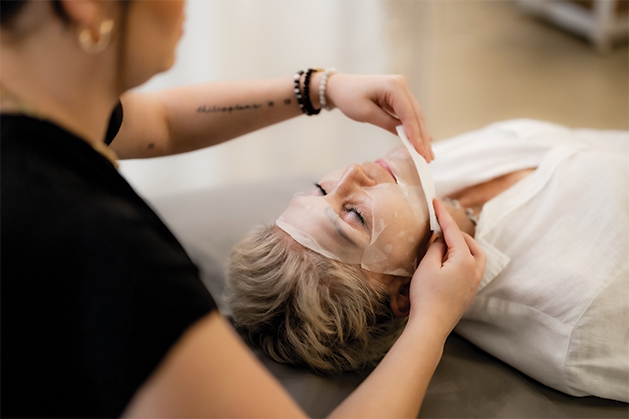 What's the science behind them, and which is right for you?
A new facial bar opened its doors in Woodbury this spring. We sat down with Cheyanne Thurston from Face Foundrié to hear what to expect from this Twin Cities-based beauty spot.
"Our owner and founder Michelle Henry had just had her third kid and was struggling with her skin," Thurston says, when explaining the initial spark of inspiration for Face Foundrié. "She felt really failed by the industry; there wasn't anything affordable. There wasn't anything that she could book within the same week let alone the same day."
If she was having trouble locating a facial bar with accessibility and the affordability she was looking for, Henry figured others were facing the same problem. In 2019, Face Foundrié opened its first location at the Edina Galleria, and more locations have been springing up across the Metro since. Now, franchisees owners Todd and Sherri Kanzenbach are excited to bring this concept to Woodbury.
"With this concept, it's truly [for] 'everyone with a face,'" Thurston says. This means that, aside from a broad swath of ages, Face Foundrié has become a stepping stone for men, who are increasingly interested in skincare.
Curious about whaßt this new facial bar has to offer? We asked Thurston to break down some of the most popular services on its menu.
Cryo Queen
"The Cryo Queen is actually our newest facial. It uses cryo technology or 'cold therapy,' and it is extremely cold air that's blown onto the face," Thurston says. The shocking effect on the skin boosts circulation and collagen production.
"It targets both that anti-aging effect but also acne concerns because it's truly almost freezing the pores closed, so that can help with congestion that you're facing as well. It is a good service for just about anyone," she says.
Hydrafacial
"It's a patented fusion technology," Thurston says. "It's simultaneously infusing things into the skin while extracting things out. This is actually a three-step [facial], so it goes through the cleanse, the exfoliation, which is a chemical peel, and then an infusion of these delicious serums that your skin is going to be obsessed with."
"This is our most expensive facial but for good reason; it leaves you with the most incredible glow. It also comes with this canister that shows you everything that has come out of your skin, and our estheticians are trained on diagnosing from there. This is phenomenal for every month, but we do recommend it at least twice a year to reset your skin," she says.
Facial Cupping
"This is a fun one," Thurston says. "It's just using the cups you traditionally see used on the body, but it's not going to leave those big bruises. It's a lighter, controlled suction. It's lifting the fascia from the fat or the bone that you have on your body and plumping it. It boosts circulation, and it also helps with any drainage." 
Face Foundrié
995 Hudson Place Suite 540
facefoundrie.com  Face Foundrié
@facefoundrie  @ facefoundrie