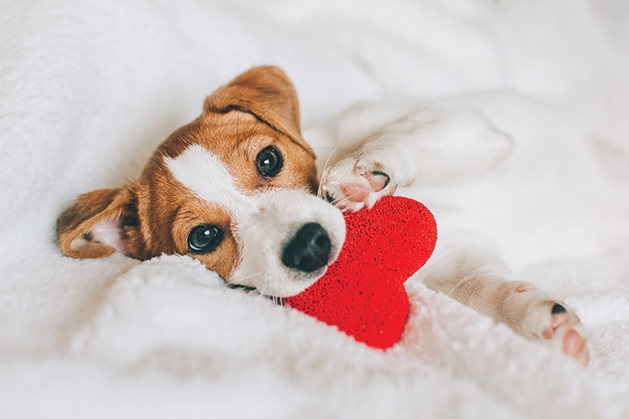 Keep your pet's anxiety at bay.
The holidays are here! It is a wonderful time to spend with friends and family. However, the bustle and activities can be overwhelming and stressful for our dogs. There is festive food/drink and many people coming and going. Pet proofing a house for the holidays is helpful for everyone.
Pet Parent Question:
"Every holiday, we have our extended family here. Our dog does not see these people a lot during the year, and he gets anxious when the house is full of people. What can I do to make the celebration positive for everyone?"
Answer:
Having a quiet room with snacks and toys and some soft music can be soothing for your dog. A crate can also be a secure place for many dogs. There are foods that are toxic for dogs, so no table scraps this time. Fatty foods, alcohol, nuts and chocolate are off limits for dogs. Poinsettia plants and mistletoe are toxic, and gift-wrap and ribbon can be hazardous if eaten.
Give your dog lots of toys and treats to keep him busy while you and your family and friends enjoy your human food and drink. Keep close supervision on children and dogs when they are together. Perhaps an after dinner walk with your dog will be fun for all.
Enjoy your holiday, and don't forget to have a gift under the tree for your furry friend!
Donna Chicone is an award-winning author, TEDx speaker and advocate for dogs. She lives in Woodbury.