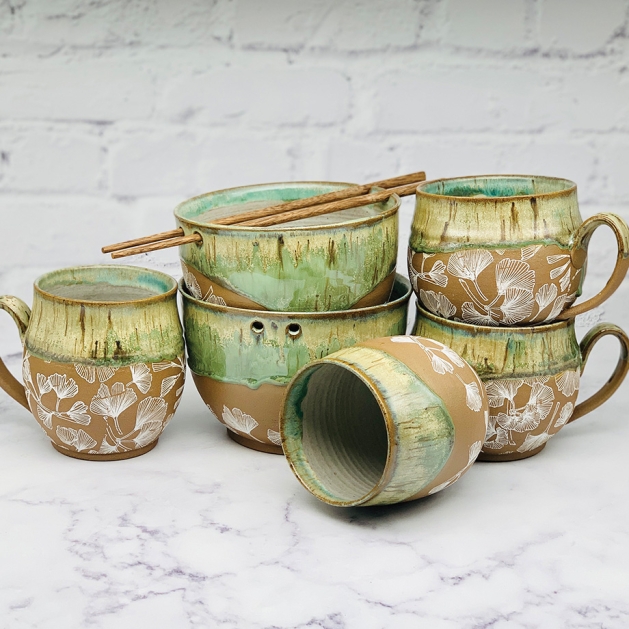 Ceramics artist turns her craft into full-time fun.
An artist's passion for his or her work runs deep, and in Paula Clegg's case, you can see her passion emerge through every aspect of her life. Pottery artist, full-time ceramics teacher and mother of three, Clegg has made a life every creative has dreamt of: She's made her art into a career.
From a young age, Clegg, a Woodbury resident, was always drawn to art. She found the beauty in bright colors and the physical outcome of what your mind is dreaming of. Since high school, she recalls that she knew exactly what she wanted—to pursue a career in arts education. Clegg says, "Even though I knew
I was going to major in art, I actually took my first ceramics class in college. I really didn't know I liked ceramics before, but after [those classes], I became obsessed with pottery and I was in the studio all the time." Since then, Clegg's love for art grew into a love for pottery making. She began to take ceramics classes every year until earning her bachelor's degree in art, then her master's degree in arts education from the University of Minnesota. This newfound love of ceramics would soon set the stage for her career.
"I taught elementary art for nine years, but every summer I would take a pottery class at Northern Clay Center to keep improving my skills with the ultimate goal of becoming a ceramics teacher," Clegg says. Soon, the continuous hard work and hardened clay hands earned her a spot in teaching ceramics and sculpture at North High School in St. Paul.
Outside of teaching, Clegg has a personal studio and sells her work online, turning her passion into a business once again.
"The process of finishing each of my pieces takes about three weeks. The pottery goes through throwing, sculpting, glaze and then the kiln. I love it so much because even when I am making the same piece or replica of a pot I've made before, it always comes out a little bit different. Each piece is unique," she says.
Clegg uses a process called transferring, which is print images being transferred onto the pottery that sticks permanently. The process entails watering the image down onto the clay, so it reveals a perfect picture—like a temporary tattoo. Clegg takes an immense amount of inspiration from nature, and she uses pictures of flowers, plants and anything nature-related—but what is really eye-catching is her use of bright colors.
"Most pottery is produced with neutral colors, but I use bright colors. In fact, I've been asked what my favorite color is as an artist, and I just say the rainbow. I even make rainbow mugs," Clegg says with a smile. Through her work, the viewer can see the theme of nature intertwining with the beauty of color.
Her work is seasonal and varies with the weather. For the fall months, she'll make pumpkin mugs with lots of yellow and red accents–just in time to sip hot tea and watch the autumn leaves fall. In the winter months, she'll curate pieces with purples, blues and whites. During springtime, she'll produce work with pastels, pinks and yellows. With Clegg's work,you could have a mug for every season.