If you've always wanted to try curling but didn't know where to begin, check out the St. Croix Curling Center at St. Mary's Point Hockey Arena.
As interest in curling grows, some local folks have decided to help facilitate additional access to the activity in the east metro. So, if you've always wanted to try curling but didn't know where to begin, check out the St. Croix Curling Center at St. Mary's Point Hockey Arena in Lakeland, Minn., where several Woodbury curlers gather for the icy game.
The St. Croix Curling Center is the brainchild of longtime curlers Al Taylor, Dale Gibbs and Woodbury's Pete Westberg, who is quick to point out that curling is not just a sport—it's a social activity that most anyone at any age can play.
Curling originated in Scotland in the sixteenth century and made its way to North America. Hearty folks in northern climates do seemingly crazy things for sport in winter. In curling, ice-gliding stones that tend to curve or "curl" along their path inspired the sport's name.
Curling made its Olympic debut in 1924. But after the Lake Placid Olympics in 1932, it went on a 56-year Olympic hiatus. Curling didn't return as an official medal sport until 1998. But now, expanded television coverage as well as a history-making gold medal win by an American team at the 2018 Winter Olympics has sparked fast-growing local interest.
And with declines in many social clubs and reports of increased loneliness in the population, Taylor believes the social aspect of curling is as vital as its physical and competitive components. He says people watch curling on TV and think, "I can do that, and indeed they can. It's a lifetime activity. You can curl almost as long as you want." Taylor is in his 80s and has been curling since his childhood in Saskatchewan.
Taylor says part of the curling tradition is for each four-person team to visit with their opponents and socialize over food and drink for at least an hour after a game. He curls four times a week and estimates that he meets around 40 different people. "We get to be friends," he says. "It's also very affordable," he says. "It's not an elite sport and very little equipment is necessary. You can play a lot of games for around $300 per season."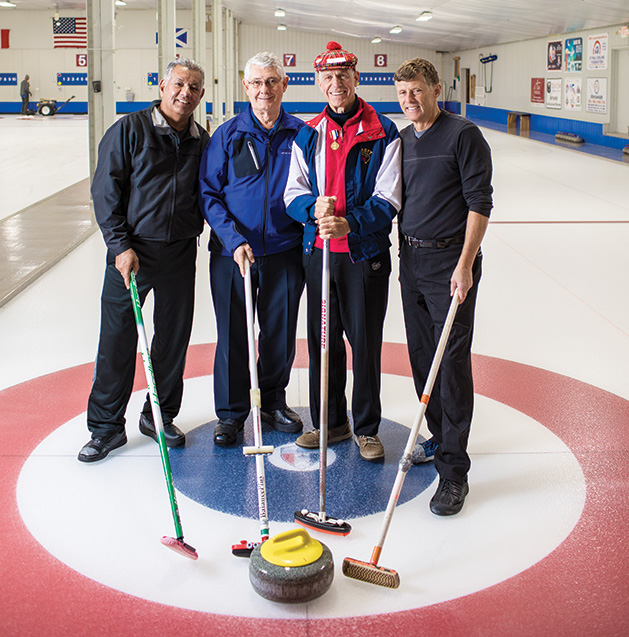 But few curling clubs exist in the east metro, leaving a huge geographic gap for potential players. So, Taylor, Gibbs and Westberg initiated a group of charter SCCC members and made arrangements for play to happen on Sundays at St. Mary's Point Ice Arena. "It's the next best thing to perfect curling ice," says Westberg, who lives in Woodbury. "We got permission from the hockey rink to have curling lines painted so we need not re-paint lines every week." Supplies were procured from Dakota Curling Supply in Langdon, ND and a charter member campaign raised enough up-front money to cover the necessary expenses to get started. North Pole Engineering pitched in with a pilot smart phone scoring program that can be displayed on monitors around the arena.
Gibbs says, "We ended up getting more members than we could accommodate with only two draws on five sheets and were able to add a [third] draw … ending up with around 150 members for our first year."
The group would love to find a dedicated curling space. In the meantime, being hosted by the hockey arena is a cost-effective way to build a membership base and provide more immediate access to curling in this area. They encourage new curlers to stop by and check out a learn-to-curl session.
St. Croix Curling Center
St. Mary's Point Ice Arena
2489 Itasca Ave. S., Lakeland
651.600.2547