E2 Young Engineers is a fun, interactive STEM program that champions hands-on learning and creative problem-solving.
Izzy Drummond bounces up and down on her chair, excitedly narrating everything she learned in today's e2 Young Engineers class. This week they learned how to make a battery-powered drill out of Lego. Once she was finished, she tore it apart and turned it into a car.
"Most times I change it to cars," the 7-year-old says. "I get to build. I was good at it since I was 1. It's really cool."
Instructor Varsha Pavagadhi says Izzy is a natural.
"Every time she comes, she will finish it and then do something different to it," Pavagadhi, co-owner of e2 Young Engineers, says. She and her friend of 20 years, Nina Desai, bought the franchise in late 2018 and kicked off classes in early 2019. They searched all across the country and around the world for a program that was fun, interactive and championed hands-on learning and creative problem-solving. The "e2" stands for entertainment and education. The award-winning program's goal is to teach a STEM (science, technology, engineering and math) concept in a fun and engaging way. The program has multiple levels, each of which have around 40 modules. Class starts with a 10-minute conceptual discussion, followed by model building. Children are given a patented e2 purple tray full of all the Lego pieces they will need and a step-by-step illustrated guide on how to assemble a Lego model that demonstrates what they learned that day.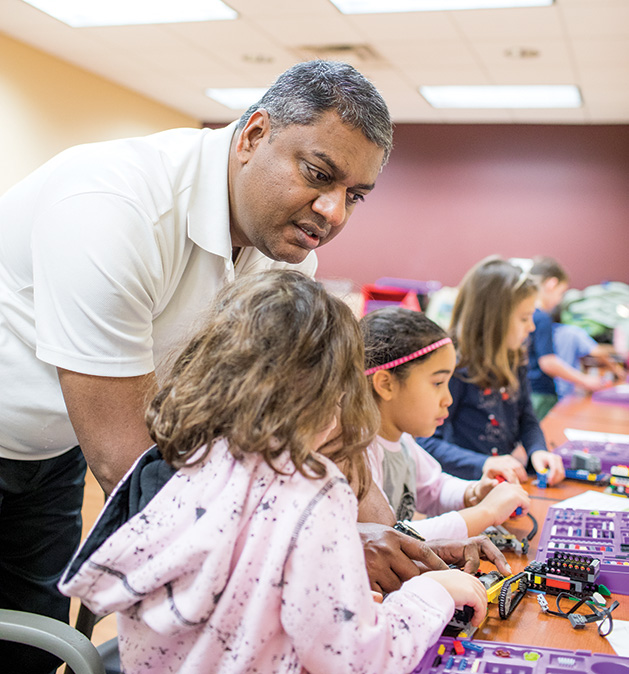 Instructor Hitesh Pavagadhi checks on a student's progress.
"I worked with children for many years from preschool to high school," Desai says. "They learn better when they have hands-on activities. When they do it, they understand the science more behind it rather than them sitting in the class and listening. If they do it themselves, they learn better. What is working, what is not working. Why is it working or not working. Every little thing they are figuring it out by themselves."
Izzy's lesson was about power tools, torque and gears. Desai and Parvagadhi teach alongside their husbands, who volunteer their time. All four of them walk up and down the classroom to help students.
The weekly class is one and a half hours long and runs in a classroom on the lower floor of Central Park just below the library. There are two sessions on Saturdays. Desai and Parvagadhi also teach in a local Montessori school and recently partnered with South Washington County Community Education. They are also looking for ways to expand the program to children with special needs. Both are dear to Desai's heart.
"I have worked with autistic children and special education for many years," she says. "This will be helpful for them."
She says hands-on learning is ideal for all children. While building a small Lego robot or model can be daunting, the program is geared toward kids ages 4.5 through 12. They can join at any time and start at any level of the program.
"Even if they catch one little thing from this class, I'll be happy," Desai says. "That could be just figuring out how to make it. Some might get how the science works or some may be happy they finished it that day."
e2 Young Engineers
Ongoing regular classes every Saturday 10:30 a.m. to noon and 12:30 p.m. to 2 p.m.
First class is free; if your child continues, the program has varying schedule and payment options.
Central Park/RH Stafford Library
8595 Central Park
Also available via South Washington County Community Education and other local non-profits in the east metro.