Lake Elmo Farmers Market gives back to local pups.
Bringing the community together just seven years ago, manager of the Lake Elmo Farmers Market Jill Lundgren developed the market as a way to unite business with philanthropy. Operating from the Lake Elmo Elementary School parking lot, the market showcases wholesome products like fresh produce, baked goods, handmade candles and flowers from local farmers and makers. Though supporting local businesses is at its forefront, Lundgren took this weekly event as an opportunity to bring more exposure to other change makers in the community. Partnering with the Washington County Police Department's K-9 Unit since 2018, they work to educate market goers on the team's efforts to keep the neighborhood safe.
"Doing these things helps weave the community together and builds back our fabric," Lundgren says. "They are such a good visible presence in the community."
"It is nice to educate the public on what these dogs are used for, how they are used and what a great tool they are for all of our law enforcement agencies in the area … Whether it be the safety side of protecting our deputies or protecting the public …" says police sergeant Ty Jacobson of the Washington County Police Department K-9 Unit.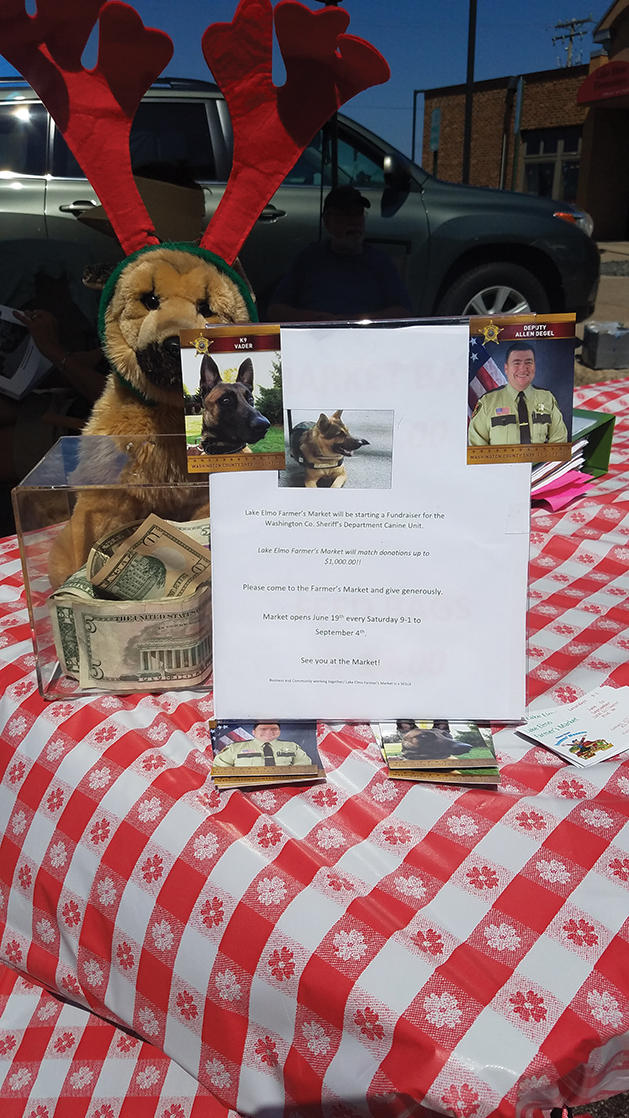 Interacting with patrons, the officers also provide demonstrations with the dogs to showcase their skills pertaining to obedience, agility and ability to find evidence. "I think it is important for people to understand what we do on a daily basis, especially with the dogs," he says.
After conversing with the officers about the needs for the dogs, Lundgren was informed that the vests used to initially train the animals cost upwards of $2,000. With two dogs retiring and two replacements on the way, the need for new equipment was dire. This sparked the idea to create a fundraiser to support the unit and its pups.
With the generous help of patrons, they were able to raise over $6,340 for the unit. ($1,000 of which was matched by the market.) "It is great to know that there are organizations out there that support our local law enforcement and are there to assist us with any of the needs we might have," Jacobson says. "Those relationships are incredible."
With businesses and community working together, Lundgren says they are doing what they can to maintain and grow a healthy home for all. "We are just talking vegetables here at the farmers market, and I just think to be a really strong, healthy and vibrant community, everybody needs to manage together and get along. It is important to work together, and, when we do that, the differences just kind of melt away," she says.
Bringing light to education, Lundgren plans to continue this relationship with the department each season to uplift community voices and leaders. In addition, this season will also bring new opportunities for youth farmers and entrepreneurs to showcase their talents and passions through their own sector of vendor booths.
Lake Elmo Farmers Market;
Saturdays; June 18–September 3
from 9 a.m.–1 p.m.
11030 Stillwater Blvd. N.
Lake Elmo Farmers Market