Sheletta Brundidge adds another skill to her repertoire with her book "Cameron Goes to School."
"I can't even go to Walmart without someone approaching me saying, 'Are you the autism lady?'" says Sheletta Brundidge, local businesswoman and autism advocate. People approach her looking for guidance about their children, family members, even the relatives of friends, who have autism.
"The people who are coming to me are hurting. They're hurting because their children got a diagnosis of autism, and they think this is it," says Brundidge. Oftentimes parents come to Brundidge scared, and she uses her gifts to ease their concerns and answer their questions.
"I'm cracking jokes, making folks laugh and providing information," Brundidge says, regarding her free safety workshops for parents. "I try to give them the tools they need to see not only what's wrong with their children but to see the gifts in them."
Photo courtesy of Sheletta Brundidge
Brundidge's journey to autism advocate started with her own children, three of whom have autism. She started by researching the latest therapy techniques and what programs were available.
Now, Brundidge shares what she's learned with other parents. As she explains, "Everything I learned about autism I learned from another parent. Not a doctor, not a pediatrician, not a teacher, [but] a parent."
With the publication of her new children's book, Cameron Goes to School, Brundidge has found a new avenue to share the experiences of her and her family with a nationwide audience of parents and children who, like her daughter Cameron, have autism.
"Representation matters," says Brundidge. "My daughter kept coming home with books and none of the characters looked like her." Brundidge says her main goal for the book is to bring more diversity to bookshelves and libraries.
"I went to the librarian and she was like, 'Your daughter will find a book about a car or truck or dinosaur with autism before she finds a book about a black girl, especially one with autism.'" Hearing this, Brundidge said to herself, "Well okay, alright, let me go find a publisher."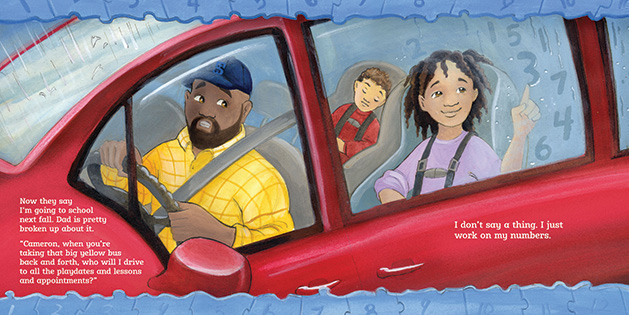 Together with the team at local publisher Beaver's Pond Press, Brundidge wrote and published Cameron Goes to School in time for Autism Awareness Month in April. Even with the release party and numerous readings canceled due to COVID-19, the book was a wild success.
"This is how powerful this book is: with no story times at Barnes & Noble, schools or libraries; with no book signings and no appearances, this book is the number one new bestselling children's book for African Americans on Amazon, and number one new best seller for disability parents," says Brundidge.
But even better than the critical acclaim is the reception by the book's namesake. "[Cameron] has been longing for books with little black girls in them. When she saw that book, she started jumping up and down, screaming and yelling," says Brundidge. "Her self-esteem has been through the roof since she saw herself in that book. She walks with such confidence, and she is so much more sure of herself."
Purchase Cameron Goes to School from Amazon, Target, Barnes & Noble and local retailers.