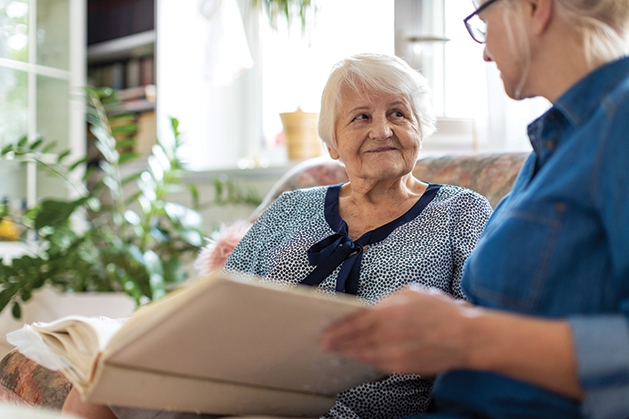 Dementia Partners Woodbury provides resources and services for individuals with dementia.
November is alzheimer's awareness month, and with a desire to create environment that caters to all, Dementia Partners Woodbury is a new initiative that brings light to those suffering from dementia within the community. As a two-fold project, the director of community relations with Artis Senior Living of Woodbury Ruth Hjelmgren and director of Woodbury Thrives Simi Patnaik collaborated to create an informative website and implement employee training in local businesses to provide more hospitable establishments.
"The most important thing is that this is a really wonderful community … People want it to be a place where everyone feels welcome," Patnaik says. "All we are trying to do is make sure that people with dementia are included as a part of that promise."
As one who has personally experienced the effects of dementia with a family member, Hjelmgren says it was her direct exposure to the disease and her position at Artis that ignited her desire to help Woodbury become more dementia friendly. "I wanted to draw more attention to their needs in the community, so that they are not forgotten," she says.
Searching for ways to better assist community members, Hjelmgren discovered a grant provided by Trellis, formerly known as the Metropolitan Area Agency on Aging, that would provide adequate funding to programs with a distinct mission aimed at helping those with memory loss.
Operating under Woodbury Thrives, a program of the Woodbury Community Foundation that specializes in health and wellness, Hjelmgren and Patnaik produced a plan, sourced from active research and discussions, that would provide mental, physical and social connectivity to those who need it most. "We really have an expansive view on what health is," Patnaik says. "It is not just running marathons and eating kale, it is really about our whole selves on what it takes to make us healthy."
Dementia Partners of Woodbury
Through a general call for help from local community professionals and members, plus a survey, Hjelmgren and Patnaik discovered the most prominent need was accessibility to resources. Developing a comprehensible website, the team created a place for individuals experiencing early stages of dementia or their caregivers to access information pertaining to support groups, neurological evaluations, housing options, financial assistance, crisis services and activities within the Woodbury community.
Dementia Friends at Work
Realizing that not every establishment is accommodating to all walks of life, Dementia Partners of Woodbury wanted to create a program that would better equip employees to assist patrons of all types. Teaming up with FamilyMeans, a Stillwater-based nonprofit that strives to provide programs and services for individuals to overcome any of life's challenges, they were able to implement employee training (consisting of an informational video, discussion, on-sight visits and follow-up surveys) to help workers identify dementia behaviors to better attend to a person's needs. Focusing on four sectors—banks, retail, grocery and restaurants— Dementia Partners of Woodbury developed a master list of Woodbury establishments to work with. "[Dementia Friends at Work] is really all about helping people maintain their dignity in the community and being responsive to that," Hjelmgren says.
By the Numbers
More than six million Americans age 65 and older are living with Alzheimer's.
One in nine

  

people over 65 has Alzheimer's or dementia.
One and three seniors die with Alzheimer's or dementia.
Between 2000–2019 deaths from Alzheimer's increased by 145 percent.
Early Signs and Symptoms of Memory Impairment
Memory loss disrupting daily life.
Challenges in planning or solving problems.
Difficulty completing familiar tasks at home, work or at leisure.
Confusion with time or place.
Trouble understanding visual images and spatial relationships.
New problems with word in speaking or writing.
Misplacing things and losing the ability to retrace steps.
Decreased or poor judgement.
Withdrawal from work or social activities.
Changes in mood and personality.