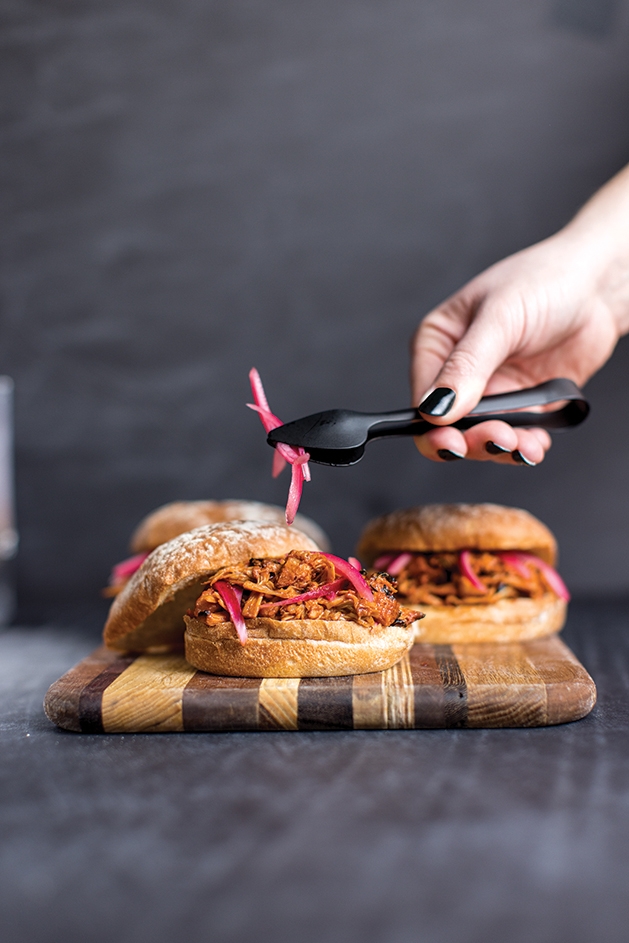 Plant-based diets are growing in popularity due to overwhelming benefits.
The vegan diet, also known as veganism, has been growing in popularity—and it's no wonder considering people have been cutting out animal products and byproducts for environmental and ethical reasons, among others. But oftentimes, questions about veganism arise, and finding the answers isn't always the easiest.
We turned to Kelly Zugay, a St. Paul-based lifestyle blogger, who is vegan and shares her favorite recipes on her blog (kellyzugay.com).
What is a vegan diet? Being vegan means not consuming any animal-based products or anything that is produced from an animal. Meat, dairy, honey—depending on the vegan you are talking to. It can also carry over from not just the foods you eat, but also into your lifestyle. Not having leather products or things of that nature. Every person varies on an individual level, but the whole goal is to avoid animal products and enjoy a whole food, plant-based, vegan diet.
What is the difference between being vegan vs. vegetarian? Vegetarians avoid just meat, but they'll still have dairy products like milk, cheese or yogurt. A vegan wouldn't choose anything made with an animal ingredient.
What are the health benefits? There are a lot of reasons that people feel motivated to go vegan, and the coolest part is knowing that the benefits are so multifaceted. I initially went into pursuing a plant-based, vegan diet to improve my health and to make sure I was consuming the right foods that are best for my body. But the benefits and side benefits of going vegan were having more energy, better endurance, being a stronger runner/athlete. There's a lot of secondary benefits with one goal in mind, and the benefits are limitless. 
What are the environmental benefits? I learned through watching several documentaries that, with regards to factory farming and the scale at which animal products are produced, it has environmental impacts. Resources to feed the animals that become food or the land/space can have environmental impacts.
In addition to that, the normal implications of hunting and fishing, and disrupting the ecosystem where animals live and thrive. For me, it was a matter of learning about the climate and Earth and wanting to do my part to not disrupt that and eat foods that are readily available.
Is it more costly to eat vegan? With regards to cooking at home, I would say that it's a common misconception that vegan food is more expensive. A lot of food I eat is based on a can of beans or produce that is available in the grocery store. You can be very cost effective … I eat a lot of tofu, which is the longest to prepare since you have to press it to have it take on flavor. But it makes it fun and easy. With just a few plant-based ingredients, you can make a lot of recipes.
What about eating out at restaurants? There are a lot of vegan options in the Twin Cities that aren't only plant-based, but options that are more readily available to eat at everyday restaurants. For vegan restaurants, my favorite is The Herbivorous Butcher in Minneapolis, which has really good lunch sandwiches that just hit the spot and taste like something a meat-eating person would love and enjoy.
At restaurants that aren't vegan, I usually get a salad without cheese, which is going to be vegan, but it is so cool to see beyond burgers and impossible burgers in the restaurants. I'll also gravitate toward sushi, which can be avocado rolls or cucumber rolls. You can always use plant-based ingredients to find new menu items.
Vegan Options Around Town
Kelly Zugay says her favorite spots around town include Aloha Poke Co. and Tamarack Tap Room. "At Aloha Poke, you can hand pick the ingredients you want, which is really cool … And the Tamarack Tap Room has different salads that are good, and they also have a beyond burger," she says. Here are more vegan bites around town.
Beyond Burger: Vegan patty, vegan cheese, chives, lettuce, tomato, onion and a sprouted wheat bun
Tamarack Tap Room, 8418 Tamarack Village
Coconut Curry with Vegetables: Broccoli, pea pods, carrots, bok choy, mushrooms, onions, lemongrass and garlic; curry contains fresh spices, coconut milk and peanuts
Duc's Vietnamese, 783 Radio Drive Suite 100B
Grilled Vegetable Sandwich: Vegetables on top of fries on homemade bread, topped with vegan cheese
Key's Café, 1750 Weir Drive
Kung Pao: Blackened chili peppers, roasted peanuts, celery, carrots, green onions, bamboo and water chestnuts topped with a spicy brown sauce
Duc's Vietnamese, 783 Radio Drive Suite 100B
Stir Fry: Vegetable medley with soy chili sauce over coconut jasmine rice, topped with cilantro and chopped peanuts
Crave, 9100 Hudson Road Suite 108
Taco Salad: Vegan black bean patty with lettuce and tomatoes, onions, black olives, vegan cheese and salsa, served with tortilla chips
Key's Café, 1750 Weir Drive
Vegan Watermelon Poke Bowl: Revol greens, arugula and sushi rice, topped with watermelon, cucumber, edamame, mango, nori, avocado, pickled ginger, cilantro and a spicy poke sauce
Crave, 9100 Hudson Road Suite 108
Family Favorites
I'm no stranger to veganism. My sister Ashley Almsted, a Woodbury High School alumna, has been vegan for three years and vegetarian for 10 years. For family dinners and holiday celebrations, this means vegan food is served next to "regular" food like turkey, ham, cheesy potatoes, etc.
Preconceived notions of being vegan may include, "I don't want to eat only vegetables," or "There's no such thing as good vegan food." But family recipes have proved time and time again that vegan food can be just as tasty (and sometimes healthier!) than a standard meal. Here are a few favorite vegan dishes that you'll find around our dinner table. (Recipes contributed by Patrick Miehle of Woodbury.)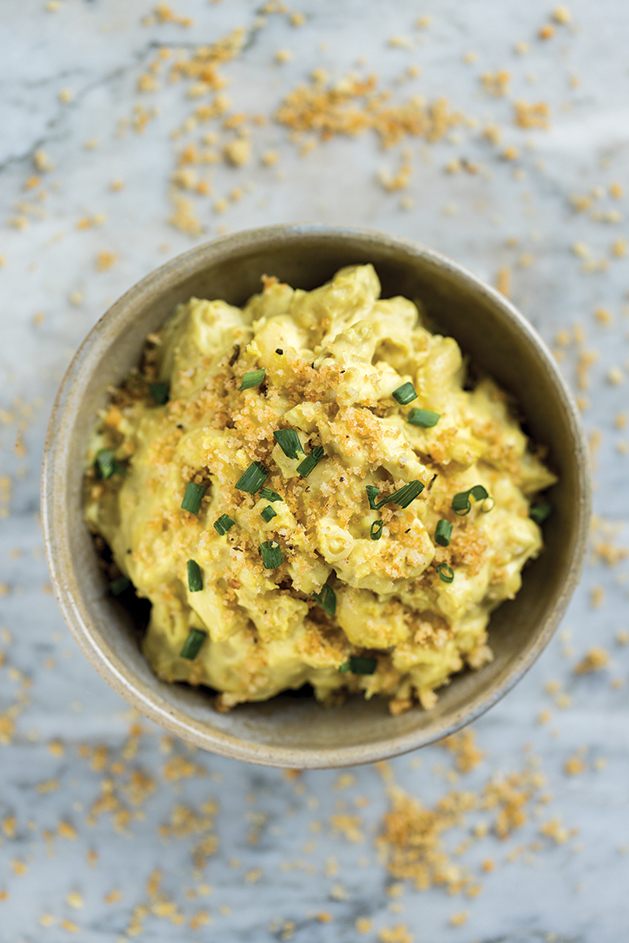 Vegan Mac and "Cheese" – Serves 8
Ingredients:
4 cups macaroni noodles
2 cups vegetable broth
2 cups unsweetened, plain almond milk
2 cups raw cashews
1 Tbsp. garlic powder
1 tsp. onion powder
2 Tbsp. vegan butter (I prefer Miyoko's cultured butter.)
5 Tbsp. corn starch
1 Tbsp. nutritional yeast (optional, adds flavor)
½ tsp. turmeric (optional, adds color)
Salt to taste
Optional topping:
1 cup Italian breadcrumbs (Ensure breadcrumbs are vegan, as some brands add milk.)
2 Tbsp. vegan butter
Salt to taste
In a large pot, add salted water, and bring to a boil. Add macaroni. Cook to al dente, drain and set aside. Pour vegetable broth into a microwave-safe measuring cup, and heat to boil. Add raw cashews, and let sit for five to six minutes before pouring into a blender. Blend until smooth. (Carefully blend, as ingredients will be hot and may splash.) Slowly add in almond milk until everything is smooth. Add dry seasonings, salt to taste and set aside. Combine everything. Create a slurry with cornstarch by adding enough cold vegetable broth (or water). Return your pot to medium-low heat, and add vegan butter. Once melted, mix in the sauce and slurry mix, and heat until thick, stirring constantly. Add the pasta, and combine. Garnish with breadcrumbs (see below).
Optional topping: Melt vegan butter in a skillet, and add breadcrumbs over medium-high heat. Incorporate everything, and stir/toss in the pan until breadcrumbs are lightly toasted. Set aside.
Chef's note: If the sauce appears too thin, add more cornstarch. If the sauce appears too thick, thin it out with more broth.
Jackfruit Pulled "Pork" Sandwich – Serves 4
Ingredients:
2 cans green jackfruit, drained with large seeds removed
1 cup vegetable broth
2 tsp. sugar
2 tsp. garlic
1 tsp. onion powder
1 tsp. cumin
1 tsp. smoked paprika
1 tsp. ancho chili powder
½ tsp. salt
½ tsp. pepper
¼ tsp liquid smoke
2 Tbsp. apple cider vinegar
½ cup vegan barbecue sauce (I prefer Sweet BabyRay's Original.)
olive oil
A pinch of cayenne pepper, optional
Preheat the oven to 400 degrees F; heat a large sauté pan on medium heat. Drain the jackfruit, removing large seeds, and cut into smaller pieces. Add a small amount of olive oil to the pan, and combine all ingredients into the pan. Stir to combine, and simmer for four to five minutes or until most of the liquid evaporates. Spread the jackfruit evenly onto a foil-lined baking sheet, and bake for 10 minutes or until caramelized with a slight char on the tips. In a bowl, combine the jackfruit with ½ cup of barbecue sauce. Add to your favorite bun, topped with vegan butter and toppings, such as pickled onions or coleslaw, or leave as is.