At Naturally Dyed Goods, Mykala Micek creates wearable art using food and garden waste. Her products are sustainable, beautiful, and buck the fast fashion trend.
Mykala Micek has creativity running through her veins.
Her mom owns dance studios, and her sister is touring as a supervisor for Hamilton. Micek, who lives in Woodbury, has a master's degree in counseling and human development, and loves the chance to try out new recipes. "I'm a get-my-hands-messy person," Micek says. "That's just the way my brain is wired."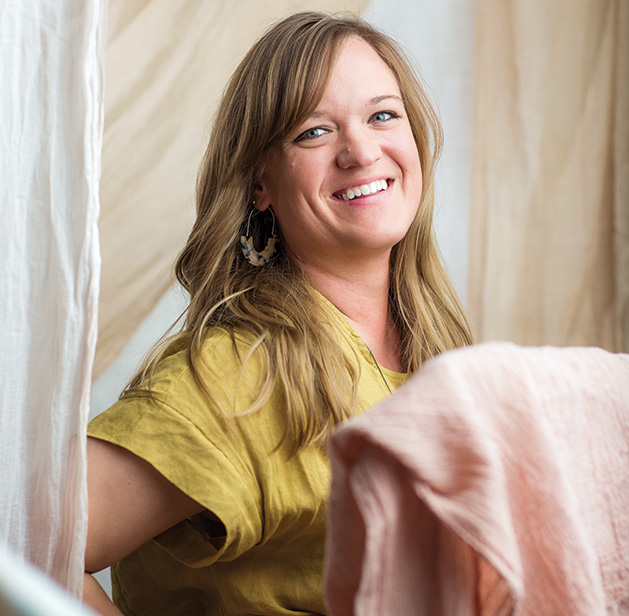 Fittingly, each Christmas she creates a handmade gift for family and close friends, often teaching herself a new technique or upcycling one-of-a-kind items for those she loves. One year, it was during that annual ritual that she happened upon a tutorial about using kitchen waste—vegetable peels, avocado skins, and other scraps of food and plants—to dye fabric. As she created gifts in her kitchen that year, something magical happened.
"It was love at first dip," says Micek. She admits she's always been drawn to sustainable living, ethically created clothing and natural cosmetics. But that day, as she saw the gorgeous hues created from simple water-based concoctions, she was flabbergasted. "I was amazed that things that normally go in the compost bin can create these beautiful colors," she says.
People loved their gifts as much as Micek loved creating them. She discovered the thriving natural dyeing community, reading online blogs and how-to books to expand her repertoire. And in 2017, she launched an experimental online store and Instagram account centered on her new-found hobby. When she met almost immediate success selling a pilot line of dyed cotton scarves, she built a full-fledged brand—Naturally Dyed Goods—as a way of making a more consistent side income while teaching part-time dance classes and staying home with her daughter.
"With the climate of our country—both literally and metaphorically—I realized people are becoming more conscious of what they buy and put on their bodies. Just because something is on the market, doesn't mean it's perfectly safe," Micek says, rattling off stats about the high-waste "fast fashion" industry that most Americans support without even thinking about it. By creating small-batch goods, she realized she'd have the opportunity to add something beautiful to clients' closets while also teaching them about a different way of dressing. In building the company, she also set strict parameters around her time and energy, intentionally modeling healthy entrepreneurship and work-life balance to her daughter. "How cool to be able to build something from scratch—and have her see that."
Over the last two years, Naturally Dyed Goods has picked up steam online and in a handful of brick-and-mortar shops, yet Micek has chosen not to scale beyond what she can sustain herself. She loves the high-touch nature of a cottage industry that can literally run on the back burner while she goes about her life.
"I take pride and comfort in complete control—I love the smallness of this and that my hands produce and package everything," Micek says. As she's grown into her niche as one of many small cottage producers who are bucking fast fashion, she insists it's something more American consumers can support. "Nature is amazing, and can make such beautiful things. We need to do this better, and there's a way to do it—I'm doing it in my kitchen."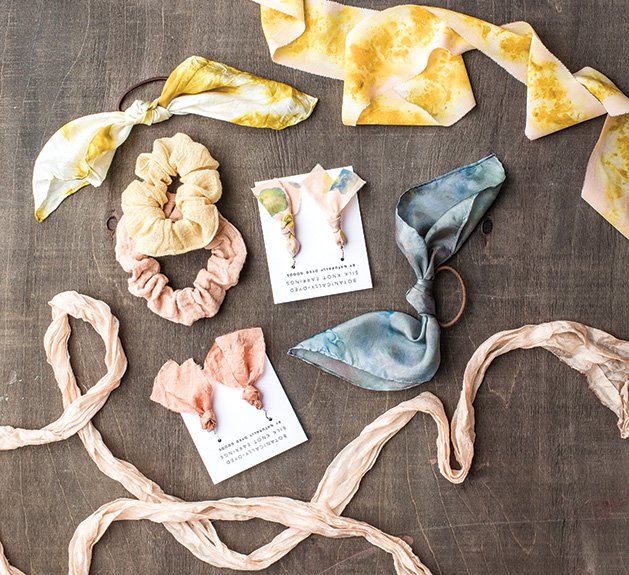 Custom Upcycling
Micek stocks a number of products online and in stores, but she loves creating custom designs for clients who reach out directly. She's created runners, napkins, and floral ribbons for weddings; and she's revived old or stained garments with a fresh color. She's also sourced some of her own vintage pieces, listing one-of-a-kind items that have been recreated, naturally.
"Another great custom order I did was a rosemary-dyed silk scarf made with rosemary from the customer's grandma's California garden," Micek says. "Sweet memories saved forever on fabric!"
The Roots of Color
Micek uses botanicals, food waste, and other natural items—plus specific fabric treatments and dyeing techniques—to create a rainbow of colors on fabrics and fibers. It's an ancient art, and a labor of love she uses to buck the trend of chemical-laden and high-waste fast fashion. "I love taking something people see as waste, and creating something beautiful with it," she says. "It's very poetic."
Here are a few of the naturally sourced ingredients she uses, and the surprising colors they create in dyes.
Marigold Blossoms
(yellow)
Come late summer, Micek works with local gardening clubs to rescue and repurpose flowers that are being pulled from members' yards. She dries the blooms to allow her to dye for months after they play their starring role in landscapes.
Madder Root
(rust red or bright red or coral or peach)
Madder root is a perennial climbing plant that's in the coffee family. In a dye, it produces a spectrum of colors, depending on the fabric and temperature and pH of the water that's used.
Avocado Pits & Peels
(blush pink, but shifts to grey when dipped in iron)
Micek has run a waste exchange program so clients could send the remnants of their avocado toast to be used in dyes. She's received packages of recycled pits and peels from around the country!
Hibiscus
(blue/grey on silk)
Hibiscus flowers come in a bevy of bright, tropical colors. In a dye, they skew moody and neutral—producing something a little different in the line-up.
Black Walnut Hulls
(brown)
Micek forages them locally, "and the color is gorgeous!" she says.
Green Tea & Turmeric
(dark gold or olive green)
Micek will mix and match ingredients to achieve the perfect tone, like this duo.
Green Tea
(green)
Despite all the green leaves and grasses out there in the world, it's a surprisingly difficult color to achieve in a natural dye. Green tea does the trick.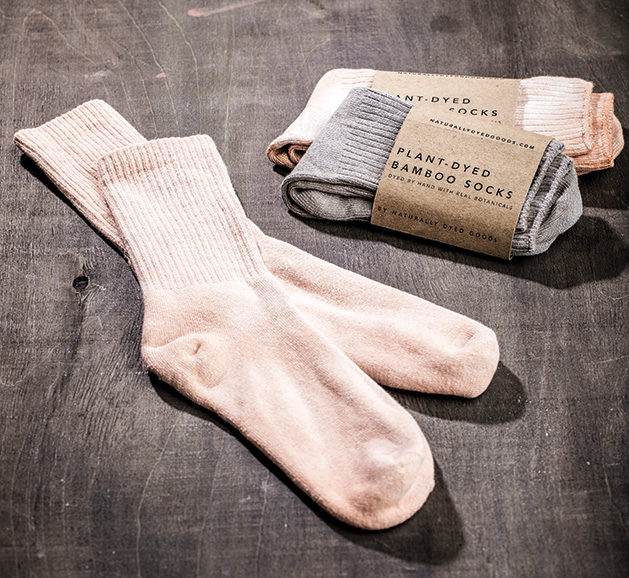 By The Numbers
The textile industry is the 2nd largest global polluter, second only to agriculture. "It's incredibly dirty," says Micek.
20 major brands sell clothes containing hazardous chemicals, according to Greenpeace's Detox Campaign. "We're buying things with remnants of chemicals on them—which are literally being absorbed into our bodies' biggest organ every day," Micek says. "It's very eye-opening."
12 steps in Micek's standard dye process
500+ avocados used in Micek's dyes to-date
26 unique products designed in two years of business
5,500 miles: the longest distance an order has traveled
Naturally Dyed Goods
Instagram: @naturallydyedgoods
Available locally at: Carver Junk Co., Worker B, Minny & Paul, Jewelweed, Simonson's Salon & Spa