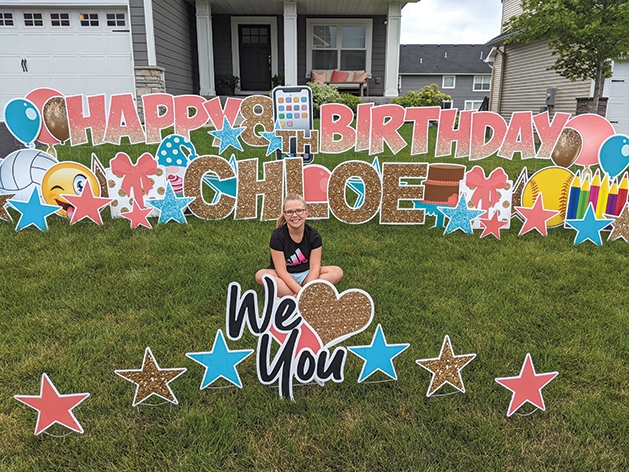 Sign Gypsies St. Paul delivers personalized yard greeting signs to the Twin Cities east Metro.
When Woodbury native Maureen Isbell moved home from Dallas, she brought the notion that everything's bigger in Texas to the lawns of Minnesota nice.
Delivering larger-than-life yard greetings to eastern Twin Cities Metro areas and Wisconsin, Isbell and her husband, Dwayne, opened a Sign Gypsies franchise, a Texas-based company with more than 800 locations, in August 2019.
"Sign Gypsies was huge in our Texas neighborhood," Isbell says. "I watched it bring our community together—we knew when the neighbors at the corner retired or when the cul-de-sac couple's daughter was accepted to the University at Arlington. We sent care packages to the couple who brought home a new baby."
Isbell set out to bring that sense of community to Woodbury. In her first two years in Minnesota, Sign Gypsies placed celebration signs in more than 1,300 yards. With a flat fee and an inventory of more than 600 special interest and hobby graphics, individual letters and numbers, just about anything is possible to surprise a loved one with a personalized message. Businesses and organizations have found the customizable signs helpful in calling attention to special activities, like hiring events, supply drives, thanking bus drivers, teachers and healthcare workers, and welcoming students back to school.
"We don't have a standard number for any of our signs," Isbell says. "If you request it, we have it and your yard fits it, you'll get it," she says, enabling Minnesotans to come up with clever slogans like "Halfway to 80," "Happy Birthday Jenny 867-5309," "Send RIP" (Yellowstone fans know) and "No-Mo Chemo." Even a dog named Sandwich got a customized birthday surprise.
Early education principal Christine DeBoer ordered a first day of school sign for students at New Life Academy. "The families and students loved having the sign," DeBoer says. "They were able to take first day of school pictures by it and capture it all right by the school." She also used Sign Gypsies to surprise a friend's daughter on her 18th birthday and has referred friends to the service. "They communicate so well, ask what you are specifically looking for, send pictures of the signs when they get them up and take them down on time," she says.
It's truly a family business as their sons Tony, Jesse and AJ make deliveries with the couple while daughter Meadow helps at home with their three younger children.
Holidays and celebrations like birthdays, retirements, baby announcements and graduations can spawn friendly neighborhood competition, too. Isbell says after customer John ordered a sign for his wife Lisa's 50th birthday, Lisa reciprocated later for John's 50th birthday. John ordered a romantic sign for their 25th wedding anniversary. "He loved it, and his neighbor is angry because he said he raised the bar now for what the wives are expecting in the neighborhood," Isbell says.
Special moments like these remind Isbell why she brought Sign Gypsies to her childhood neighborhood. "Different things you learn about your neighborhood, to build that connection and community without necessarily knowing everyone, that's my favorite part about this," she says. "Plus, what better honor than to be part of some of people's biggest milestones?"
There are heartwarming moments. "A woman called us because she spends Saturdays with her mother at the retirement home, and she would always bring her fresh flowers," Isbell says. "Of course, she couldn't because of COVID, so she wanted a sign installed that said, 'Six Saturdays Missed' and 'Love You, Mom' with flower graphics that faced her mother's window. She emailed us after the pickup and told us her mother sat at her retirement window and stared at that sign and was showing it off to all of her friends at the home … [The customer] even joked with us and said, 'I think my mother liked the sign better than having me there on that Saturday.'"
signgypsies.com
SignGypsies-St.Paul
@signgypsiesstp