Home to Sweet Home assists in simplifying the downsizing process.
Rita Bruechert's journey in guiding people in the downsizing process began 11 years ago.
"I started working with a gentleman who had lost his wife. He asked me to sort through her clothes and put her stuff away. I helped move him from a four-bedroom, three-level home to a two-bedroom condo," Bruechert says.
Her friend, Lisa Bevens, was going through the process in her own family.
"My dad lived in the same house for 40 years. Mom had already passed. He went in for a small medical procedure and it didn't go well," Bevens says. "He ended up going to long-term care. We needed to get his house ready in order to finance his stay."
It was this firsthand experience that taught them how overwhelming the process of downsizing can be for the elderly and their families.
"Every time a family has to go through this, they have to reinvent the wheel," Bevens says. "There should be some place to go through that is a resource center. We thought we could be a resource center; we could do it."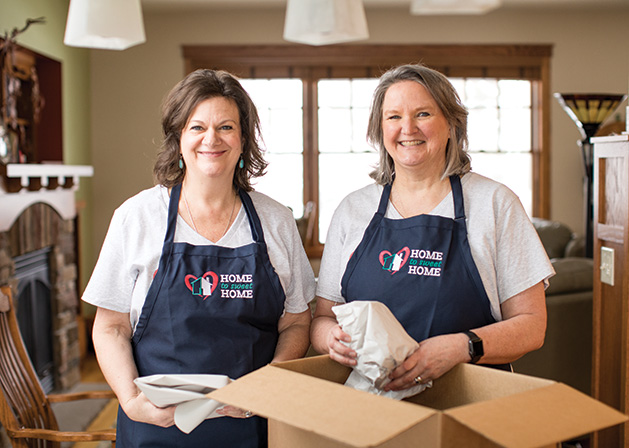 And they did by creating Home to Sweet Home, a company that helps in every step of the downsizing process—from selecting a mover and finding a realtor to packing and unpacking, disposing of unwanted items and more. Home to Sweet Home is also a member of the National Association of Senior Move Managers and attends training programs every year. Many of their clients live in Woodbury.
"We've learned more and more from our colleagues about tips and tricks on how to help people get through those transitions and help people in that transition," Bevens says.
The difficult part of downsizing is going through every item in the house.
"Most people have to process that change by seeing every little thing. Sometimes they can do that from a distance. You can open the entire closet and they'll say [we can clean it out]. In others, they need to have the box, open it and look at everything in the box and touch it all," Bevens says. "It's a different process for every person."
And sometimes it's easier for an outsider to help sort through treasured items.
"Oftentimes, the family is involved, and they want to be involved. Other times, they just want Mom and Dad to get rid of all their junk," Bruechert says. "Once they talk about the story about where that picture came from, they're more likely to let it go. We can come in with that objective ear, listen to their story and make them feel heard. They're willing to let things go."
In addition to helping the elderly, Home to Sweet Home offers its services to those with special needs and anyone who needs assistance in moving.
Home to Sweet Home
109 Maryknoll Drive N., Stillwater
651.351.0038