Woodbury resident opens one-of-a-kind boxing studio.
Woodbury resident and family man Mike Lewis started boxing to stay out of trouble. He never thought he'd coach a boxing champion and open his own boxing studio.
Growing up, Lewis' Rockford, Ill. neighborhood was troubled. Though he was on the football and wrestling teams in high school, his summers were empty—and that's when one of his wrestling teammates introduced him to boxing.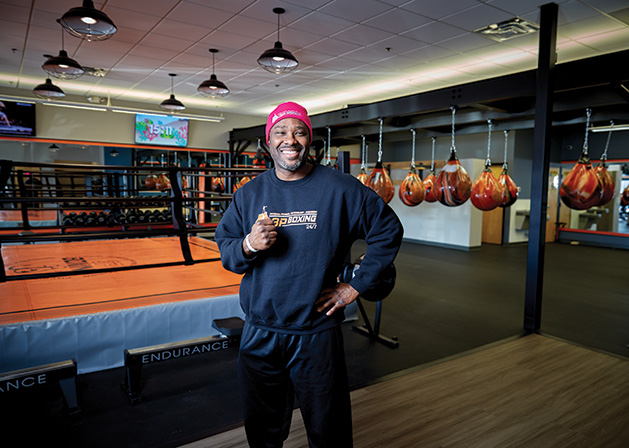 "He just said 'Hey, Mike, would you like to learn how to box?'" Lewis says. "I wanted to stay out of trouble … Because I wanted to go to college to be a teacher."
After graduating from the University of Northern Iowa with a Bachelor of Arts degree in secondary education, Lewis went on to teach as a substitute teacher in classrooms around the Twin Cities. Though now a stay-at-home dad and no longer in the professional teaching setting, Lewis says, "I'm still a teacher … Just a boxing teacher."
He first began at Next Level Combat in Woodbury, where the owner inspired Lewis to start training clients in his garage. However, Lewis was eventually fired due to a conflict of interest—he was trying to find clients to start his own boxing gym.
Lewis officially opened 3P Boxing 24/7 in December, though he's been using his garage as a training facility for seven years. The studio name stands for Lewis' three pillars: physical fitness, psychology and precision. His facility trains every age, size and skill level—from youth boxing classes at age 9 to 24/7 gym access for ages 18 and up.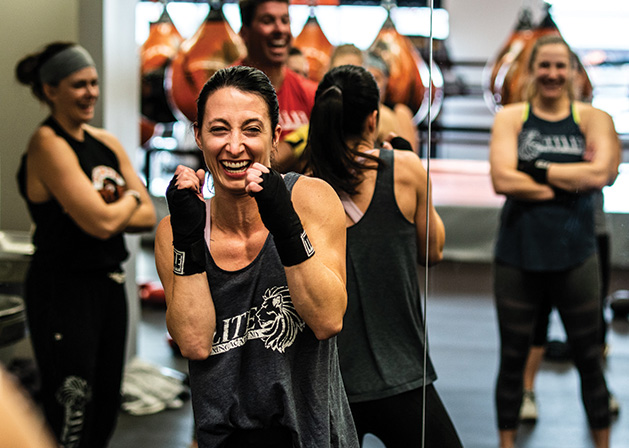 Photo courtesy of William Shultz, Vivid Media Concepts
Lewis' first professional client was Robert Brant, who's now a world-renowned boxer. "[Brant] helped give me the confidence to know my program was solid, he trusted me enough with what I was teaching him," Lewis says. All the coaches at 3P Boxing are USA boxing certified coaches or professional boxers, plus the program is geared toward learning the technical-defense side of boxing, not just cardio.
"It was very eye opening that the 'boxing' I was doing in the past was nothing compared to what I learned in just one session with Mike," says 3P Boxing client Abby York. "He has given me a big confidence booster in myself and my abilities. I feel powerful."
"I wanted to give my community a place where they could box safely," Lewis says. "And my gym is family-friendly, that's the most important aspect."
3P Boxing 24/7
1795 Radio Drive
Facebook: 3PBoxing247
Instagram: @3pboxing247
Twitter: @3pboxing
Youtube: 3P Boxing 247