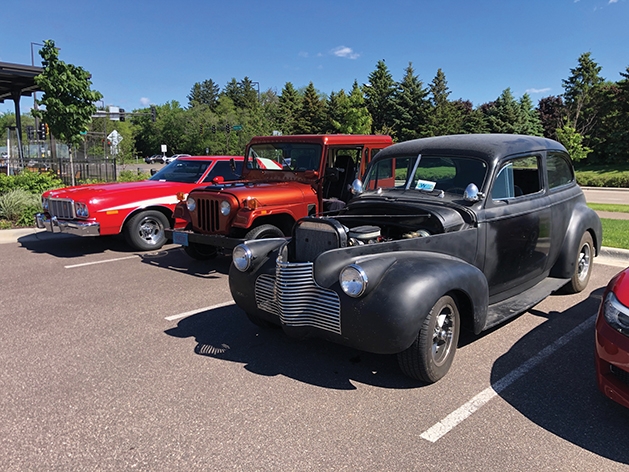 Local-based car group aspires to bring events closer to home.
With spring right around the corner, car enthusiasts are itching to get their hot rods out of storage and go for the first cruise of the year. Car shows will start to be held, lines of cars will be seen doing rallies down scenic roads and convertible tops will be brought down all throughout town.
However, ask car fanatic Eric Galler and he'll tell you there's one issue when it comes to the east Metro and cars. "All of the cool car stuff happens on the west side of the cities," Galler says. "There's just not as many cruises, rallies and shows on the east side."
That's the premise behind Woodbury Wheels, a Facebook group for car fanatics in the community and surrounding areas. Galler's neighbor, Dan Fishelson, was asking about car groups on the east side, and when they discovered there weren't many, they decided to create a group together. Woodbury Wheels includes informal car shows and cruises, plus a fun space to share car information.
The group held its first event in summer 2021 at 3rd Act Craft Brewery. Members brought their cars and showed them off to anyone else who wanted to come see. Now, the group has more than 160 members and has plans to grow.
Galler says people don't need to have the fanciest or oldest car to join the group. All they need is something they're proud of and want to show off. The group has seen everything from Ferraris to a restored Cadillac ambulance.
Woodbury Wheels is in the process of planning more events for this upcoming year consisting of both shows and cruises. The east side is full of great places for cruises, whether it be the Afton area, the roads south of Prescott on the Wisconsin side or the roads up toward Taylors Falls. "We're fortunate to live in Woodbury and so close to these areas," Galler says. "It's a great place to be into cars."
The group is planning for monthly events and is always looking for volunteers—in addition to attendees! There's no cover charge for events or special requirements. They just want people who love their cars to show up and have fun. "We're just some people enjoying cars," Galler says. Woodbury Wheels received interest in partnerships from local businesses, including X-Golf Woodbury, which has held car shows in the past. Another business that fits with the group's mindset is Eurotech Auto Service, a repair shop specializing in exotic cars. "We want to promote businesses like this," Galler says.
Though the west Metro has wonderful car events, Galler says it's been nice to avoid a 45-minute drive and hopes others feel the same way. (The group tries to keep its shows within Woodbury, so members don't have to travel far.)
Even in the winter months, there's always something happening in the Facebook group. A lot of information and pictures get shared, along with some suggestions for car show locations or cruises the group could do.
If people are interested in joining the group or just learning more, they are encouraged to find the Facebook group and join it. There are no mandatory meetings for the members, so it is worth the join. "We're just going to promote car culture and local businesses," Galler says. "We're all pretty excited about it."