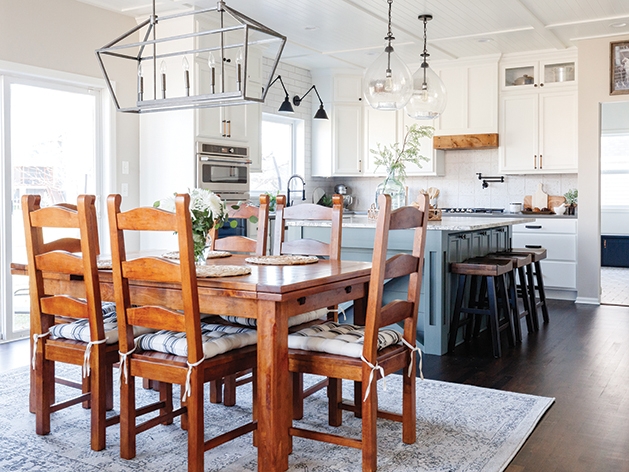 Woodbury-Based Twigg + Lu Design Co. and Affordable Kitchens Combine Vintage and Farmhouse Elements to Create a Dream Kitchen.
Mary and Dan Webb had always wished for a larger space to entertain guests, friends and family. Perhaps a larger kitchen, a bigger living room or a more spacious entryway would fit the bill. The couple decided to bite the bullet at the end of February 2020 with a kitchen remodel, only to be caught off guard by COVID-19.
"This was a COVID renovation. We signed on before COVID … But it was a little different when COVID hit five days later," Mary says. She recalls the challenges of trying to balance a kitchen remodel with their kids Norah (13) and Claudia (10) shifting to distance learning and Dan transitioning to a work-from-home lifestyle. "Working around our schedule was difficult, but everything else was all good things," she says.
The Webbs worked with Affordable Kitchens as their general contractor and Twigg + Lu for the interior design to create their mix-and-match, vintage/farmhouse kitchen. Prior to the renovation, the kitchen featured dark cherry-toned wood, a colorful and busy backsplash, and darker green-graywalls. "[Mary and Dan] didn't want any clutter, wanted high-ceiling cabinetry and wanted it to feel fresher," says Twigg + Lu Design Co. co-owners Brittany Meidinger and Shannon Knutson.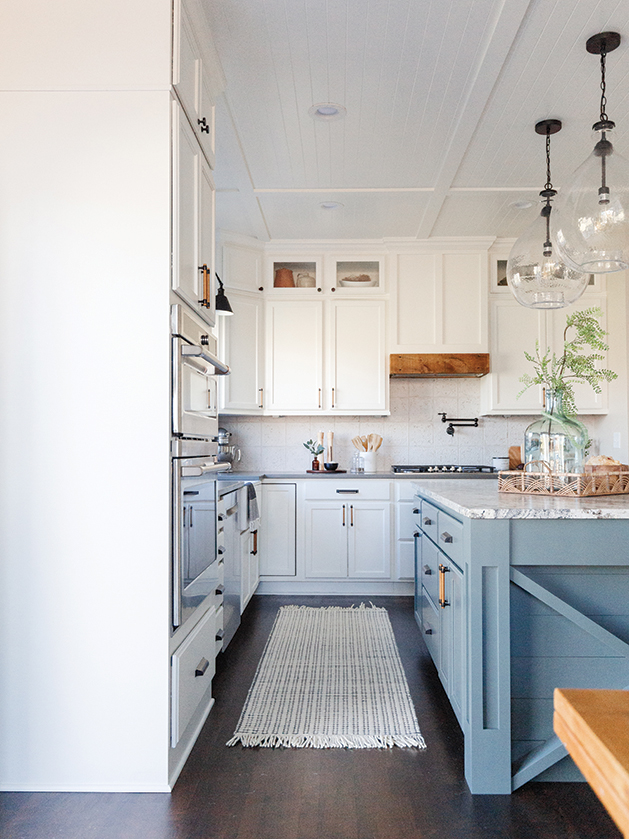 But the beginning of the renovation didn't come without challenges for the Webbs. "It was challenging at times and there were delays due to contact tracing or people who [tested positive] for COVID. It led to delays," Mary says. Another challenging aspect of the remodel was being able to decorate—home furnishing and decorating stores were closed, so Mary and the Twigg + Lu Design Co. team were unable to shop at the preferred stores, such as HomeGoods.
At the end of the renovation, six months later,  Mary and Dan's dream kitchen truly came to life. Although most of the cabinetry was simply refinished, Jim Michaelson of Affordable Kitchens added in taller cabinets to create a grander feel. Affordable Kitchens also added the unique detail to the ceiling, which Mary says is one of her favorite parts.
Meidinger and Knutson brought in creative design elements, including new pendant light fixtures, restored vintage barn wood and contrasting details, from the differing tile and countertops to distinct hardware and pulls. A gas stovetop, double oven and beverage space were also added.
Both Mary and the Twigg + Lu Design Co. team says inspiration came from Pinterest and magazines, and Meidinger says Instagram was a big help, too. "We were looking on Pinterest for inspiration and we saw another designer did a [different tile] on the entire range wall," Meidinger and Knutson say. "We sent that to Mary and said, 'Hey, what if we get a different tile and put it on the back wall as a statement?' and we think it turned out really well."
The diverging elements create a warm and welcoming atmosphere, leading Mary out of her comfort zone. "Brittany [Meidinger] and Shannon [Knutson] were very innovative and always gave us lots of suggestions," she says. When it came to decorating, Mary recalls Meidinger and Knutson dropping items off at their front porch, so the Webbs could touch, feel and see what elements might look like.
Regarding the renovation, Dan says, "It makes it feel larger, bigger and wider. Brighter and more inviting [and] definitely more updated." Mary adds, "It's a lot nicer for cooking. There's a bigger island, so the space is utilized a lot more."
The Webbs have been unable to host events in their new kitchen, due to COVID. But Dan, who enjoys cooking, and Mary, who enjoys baking, says creating their last year's Thanksgiving meal in the new kitchen has been most enjoyable.
For their daughters, who enjoy creating different food concoctions, having the extra kitchen space has been helpful. "Claudia has a December birthday  and she made two cakes for herself last year," Mary says, noting how the entire space has been great for their family.
Although the renovation began in the kitchen, it snowballed to the remainder of the first level. "We ended up doing the whole main level, putting new carpet upstairs and doing knock-down ceilings all over," Mary says. Each renovation has made the Webb's home feel more open, bright and welcoming.