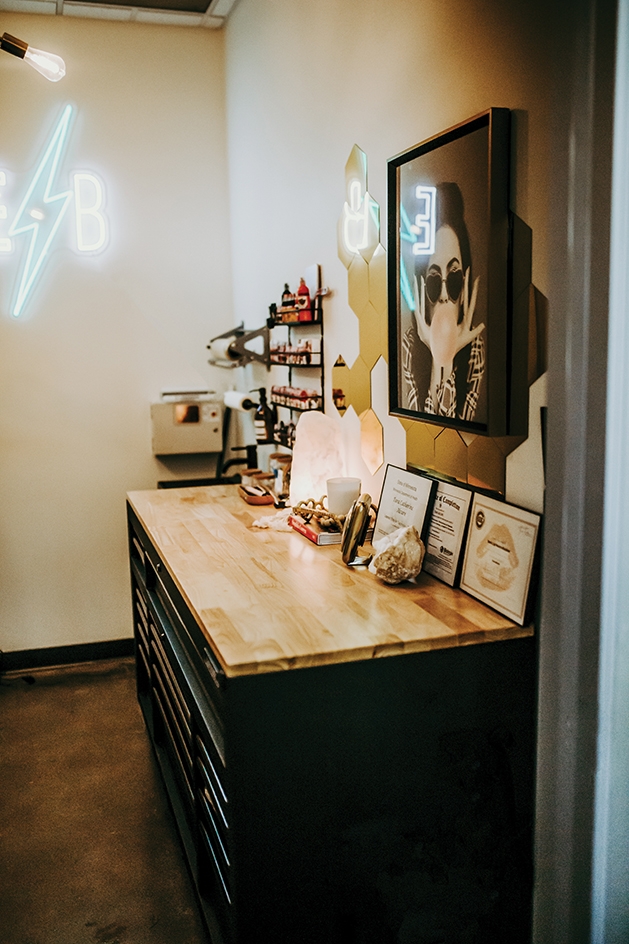 Local beauty studio specializes in permanent makeup.
When Minnesota native Tara Alcure moved from Scottsdale, Arizona, to Woodbury, she brought her passion for cosmetology with her. In 2019, she opened a cosmetic tattoo studio, Electric Beauty. The studio, now in Woodbury, was immediately a big hit in the community. It offers three services in which Alcure specializes: ombre/powder brows, permanent eyeliner and, most popular, lip blushing.
Alcure received her cosmetology license in 2005 in Scottsdale, and in the past few years, she's discovered her passion for permanent makeup, a love that first started after she received lip blushing. "I heard about lip blushing, thought it was really cool and wanted to give it a try. Three years ago, I met my mentor, her name is Alice, and she owns MSP Microblading, when she actually tattooed my lips," Alcure says.
Alcure, who is covered in tattoos, adds that she has always had a love for the tattoo industry as well. She says, "It was my cosmetology background meshed with my love for tattoos that pretty much got me here."
What is lip blushing? The process is similar to that of traditional tattoos. It's a semi-permanent pigment added to the lips to make them appear fuller, brighter and more symmetrical. The procedure consists of "depositing thousands of little pixels, kind of like dots, onto the lips so it heals to give it a really soft, natural look," Alcure says. For those worried about the potential pain of the process, fear not. The lips are completely numbed prior to the tattooing; Alcure says, "It isn't supposed to be an uncomfortable service by any means."
The lip blushing process is extensive and consists of two appointments. The first, a three-hour session, includes one hour of consultation and mapping out the lips; the second is a touch up session six weeks later. "If a client is coming in, I like to let them know what's happening every step of the way. Why we're doing this, what exactly I am doing and what's going to happen afterward," Alcure says. "It's sometimes intimidating when you don't know what to expect, so I like to be very thorough." The lip blushing lasts three to four years before needing another touch-up.
Many women typically are drawn toward lip blushing because they want that look of fuller and plumper lips, a feature we naturally lose during the aging process. Alcure says, "Bringing some color back into the lips and eliminating our natural purple undertones creates a more youthful look."
If you have a favorite lipstick or want to brighten your natural lip color, there's a shade for you. "The shades are unlimited. I can mix and match to create pretty much any custom color," Alcure says. Yes—clients really bring in their favorite lipsticks for Alcure to match! Reference pictures and social media inspiration are also accounted for in color matching.
There's no one reason why Alcure's customers come to her. She's tattooed the lips of those in accidents or who've had surgeries that have caused them to lose the shape of their lips. "No matter what their situation is, I am able to bring lips back to women that don't feel very confident with them anymore. I love that part of my job," she says.
This past year, Alcure was contacted by Global Beauty International Cup, based in Manchester, United Kingdom, to participate in the Worldwide Beauty Competition, where she would be up against hundreds of permanent makeup artists from all around the world, including people she idolizes on social media. "I didn't tell anyone I entered because I honestly thought in a million years, I would never win it," Alcure says. She won first place for lip blushing and second for permanent eyeliner.
After living in Woodbury for four years, Alcure is glad she chose this community to start her business. She says, "We love the community so much,
and I really don't see us ever leaving."
Electric Beauty
9100 Hudson Road Suite 100
electricbeautymn.com
Electric Beauty Cosmetic Tattoo
@electricbeautymn