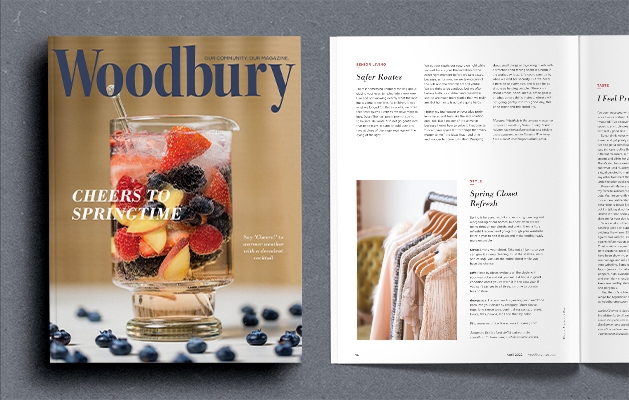 I tend to say I have three passions: writing (and reading!), traveling and fashion. Although I'm a sucker for warm winter sweaters, cute boots and scarves galore, I'm also patiently waiting for spring and summer fashion to come into play—the season of shedding layers and incorporating pops of color into my wardrobe.
Luckily, Woodbury has a plethora of wonderful places to shop. I've purchased many a pieces from Primp and Francesca's in Woodbury Lakes; picked out some beautiful jewelry from Patina; I've popped my head into Mainstream Boutique, Evereve and La Vie Boutique. But that's not all—new to Woodbury is Fargo, North Dakota-based boutique Leela & Lavender, a one-stop-shop for all things everlasting, trendy and more.
In this beauty and style issue if Woodbury Magazine, I'm happy to welcome Leela & Lavender into our community. With a variety of items and styles, ranging from beachy boho to western inspired, this boutique has a little something for everyone. Co-owner Laura Polanski says, "Woodbury made total sense … It really is just perfect." Read more about the boutique, and get inspired with spring fashion picks on page 30.
Do you have a favorite lipstick shade? Perhaps it's one that you wish was just your natural lip color. Tara Alcure, owner of Electric Beauty, a Woodbury-based cosmetic tattoo studio, can make that happen through lip blushing—a rather new beauty trend taking the nation by storm. Read more about the service on page 20.
Rounding out this issue is a conversation with Woodbury local and car fanatic Eric Galler. Writer Dan Amundson chats with Galler about his east Metro car group, Woodbury Wheels. "We're fortunate enough to live in Woodbury … It's a great place to be into cars," Galler says. Read more about Woodbury Wheels on page 18.
I'll see you next month!
-Hailey Almsted