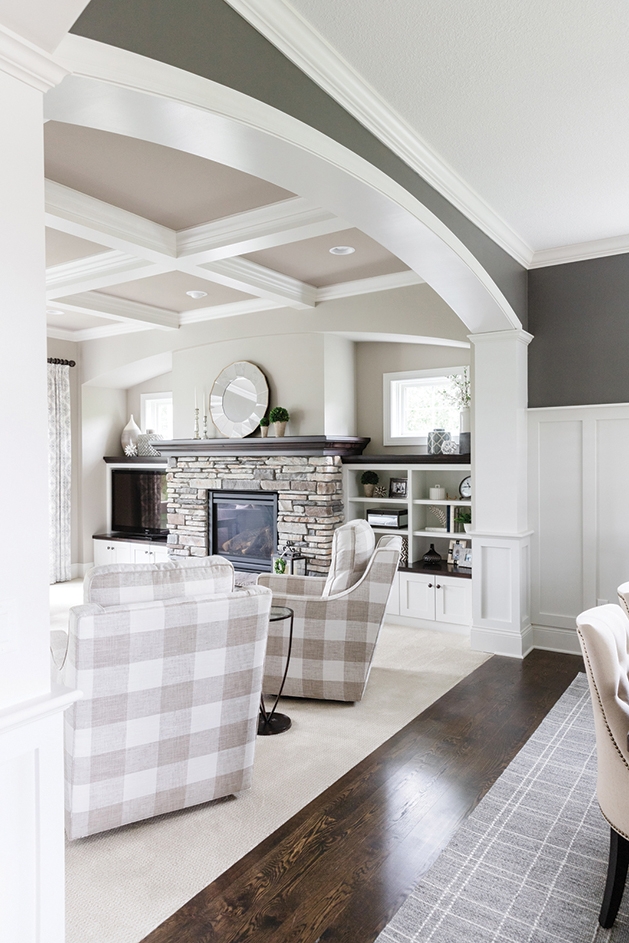 Interior Impressions remodels a Lake Elmo home to be ranch-inspired.
Local homeowner Christa first heard about Interior Impressions through friends, but the recommendation stuck in her mind years later when she moved to Lake Elmo with her family. "When I first had Amy [Leferink] come, it was a new build, and so we needed window treatments just because there were none," she says.
From there, the family asked Interior Impressions founder and principal designer Amy Leferink and her team to help transform the upper level of the new house into a home with new furnishings. The success of this first collaboration, which turned the upper floor into a modern woodland retreat, lead Christa to call on Leferink again years later for a basement refresh.
"They found that [the basement] was sort of an afterthought when they originally moved into the house," Leferink says. "They kind of let it be the kids' play zone and didn't really spend any time making it look nice or making it feel like a place they were proud to have guests over."
After eight years in the home, Christa says her family was looking to use the space differently. "[We wanted it to be] entertaining for our kids and their friends but also a space where we would feel comfortable having our friends," Christa says. "So not just kids toys and everything else, but more of a space where we can watch movies or spend time with friends."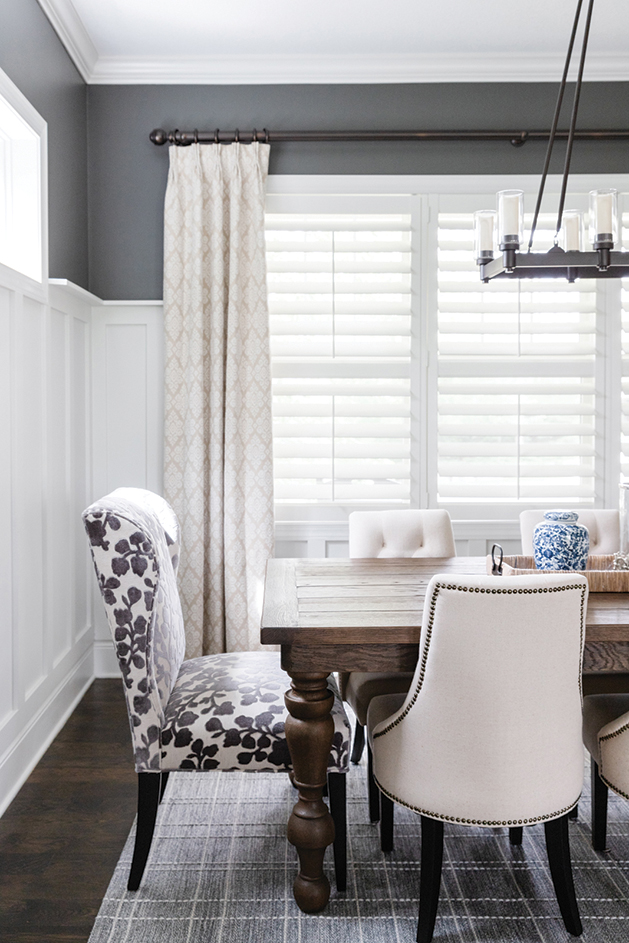 From the outset, the design for the basement hinged around a central request; Christa's husband wanted to incorporate a cow or longhorn into the design for a lodge-like feel. "[Christa] kind of laughed and said, 'We don't have to do that,'" Leferink says. "But we loved it. We were all over it."
Leferink says something that sets Interior Impressions apart from other design firms is how they keep the client central to the design process. "We do not have a specific style that we're delivering to every client," Leferink says. "Our clients live in their homes, we don't live in their homes, and their homes should reflect who they are as a person and a family and how they live. Our approach is always focused on what their likes are and what their lifestyle is."
After convincing Christa this Western lodge look could be done in an elevated style, Leferink's team got to work pulling different design elements together. "Something that we have, that not every design firm has, is a large showroom in Woodbury at our design studio, so we really have a lot of resources at our fingertips," Leferink says. While this means a library of different tile, wood flooring and carpet samples, it also includes a warehouse stocked with accessories.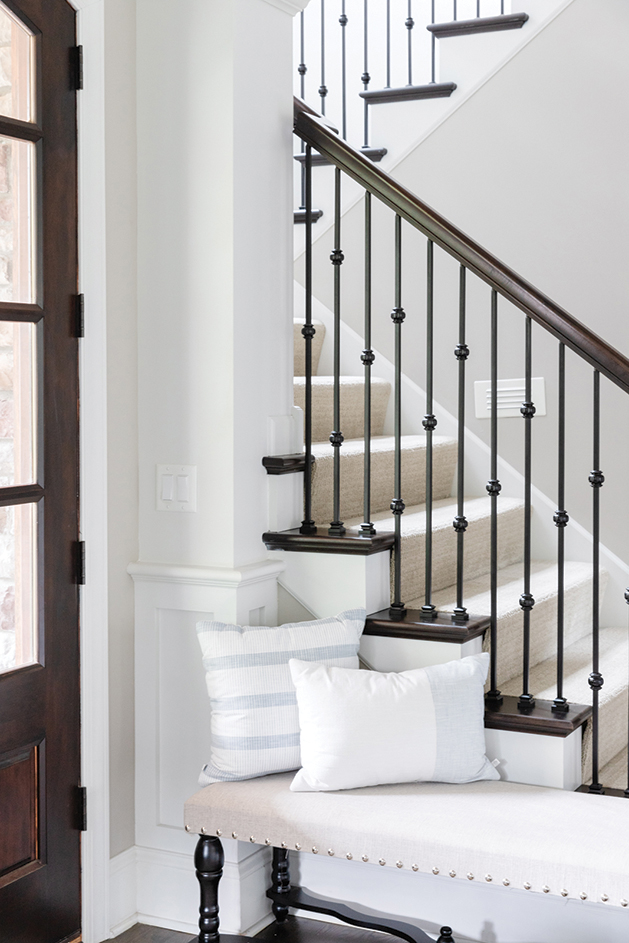 "We go to High-Point in North Carolina—it's a design market—at least once a year, if not twice," Leferink says. Interior Impressions also has trade accounts with a variety of companies, which gives them access to accessories not found in retail stores.  "Just very specific things that fit the look, it's easier for us to source because we're buying direct and source from all over the world," Leferink says. "It really is a curated design specifically tailored to our clients."
Even small decorative pieces can create a cumulative character in a space. Christa notes the sense of warmth in such pieces can bestow on a room, "[Leferink] has such a unique talent in finding the right accessories to put on shelving and on your tables just to make the space feel lived in and comfortable but not overcrowded," Christa says.
On the top floor, some of Christa's favorite pieces are a set of ornate boxes and small frames containing family photos. In the basement, one of the clear showstoppers is the artwork. "In the basement, we wanted an animal print of some kind," Christa says. "And so we worked together to find something that wasn't too western but still fit the aesthetic of what we were going for."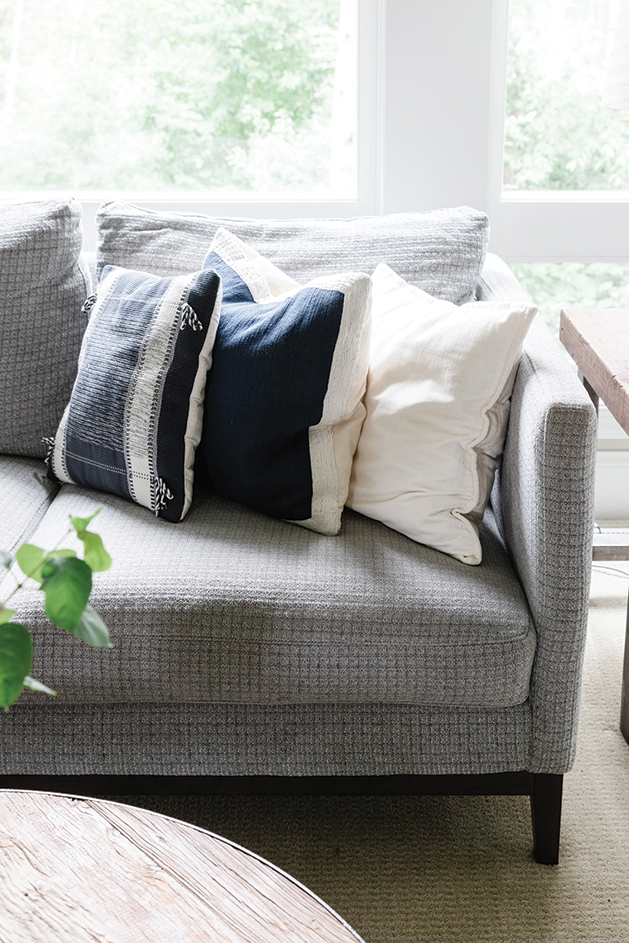 Interior Impression's collaborative approach doesn't mean Leferink is shy to introduce some of her own ideas into the mix. "I feel like literally every project that we've been doing in the past couple of years we've used wallpaper somewhere," she says. Although some clients cringe at the mention, Leferink notes that wallpaper has come a long way and is no longer the nightmare to handle that people expect.
"We get big samples, and we'll put them on the wall," Leferink says. "And we do really let them know it's different now. They make wallpaper that is easy to remove. It's not like the old days where you had all the stinky chemicals and scraped it for hours. It's so easy to remove when you're sick of it."
Like many, Christa balked at the initial suggestion of wallpapering the wall behind and around the TV. Now, it's one of her favorite design elements in the space. "I definitely never would have chosen to put wallpaper there," Christa says. "I don't know why, but I really love it. It just adds a different element to the room."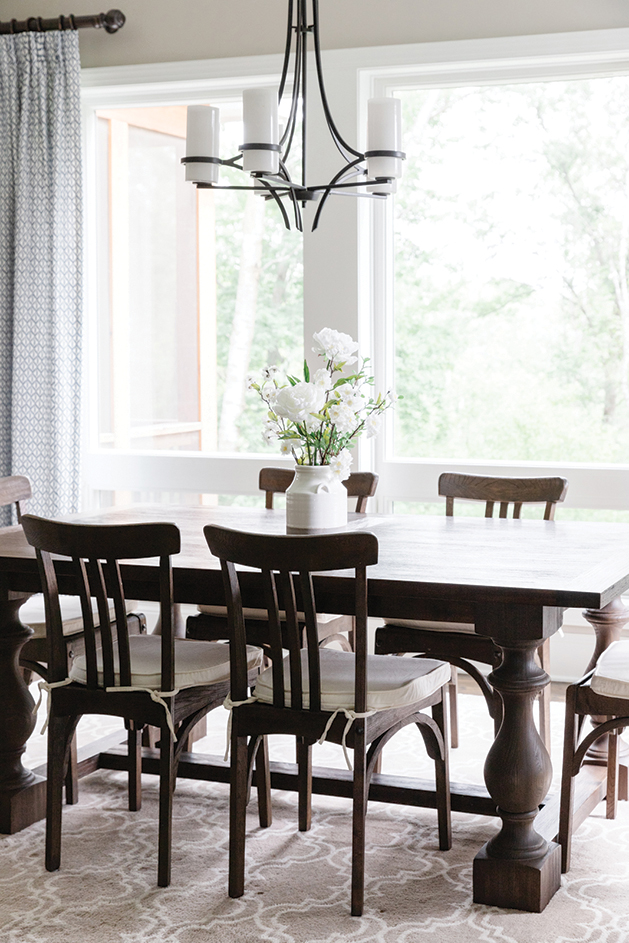 Leferink says the textured appearance of the wallpaper, which resembles cork or birch bark, adds interest to a space that is otherwise hard to decorate. "When you have a TV on the wall, there's really not a lot you can do behind it, and I feel like that's one of the prime opportunities to add some color and interest to the walls," Leferink says. "It doesn't have to be busy; it just elevates the look instantly."
Another one of Christa's favorite features is the new and durable vinyl flooring. "They felt like they needed a more durable flooring surface because it's a walkout basement, and the kids would be in and out from the backyard," Leferink says. "We put in a luxury vinyl plate that looks like wood floor, but it's a vinyl, so it's really, really durable and easy to maintain."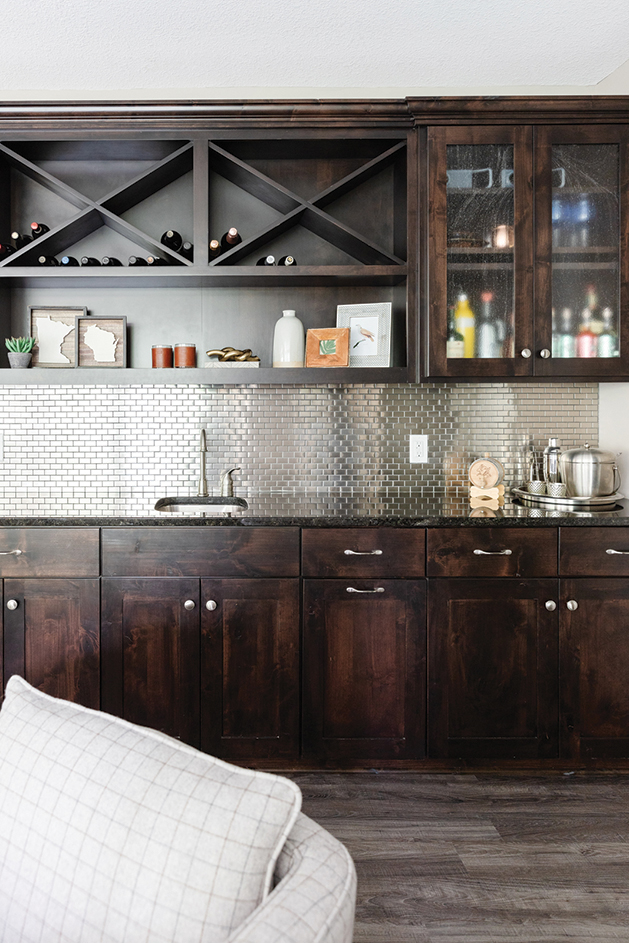 For a final, unexpected twist, Leferink championed a patterned carpet for the sunken family room. "I was thinking something kind of plain," Christa says. "[Leferink] came in with several patterns that I wasn't sure about, but we ended up with one I absolutely love. We get a lot of compliments on it, so that was definitely [a favorite design detail]. She's just really good at pulling the pieces together."
After furnishing two floors and a set of window treatments, Christa says she can't say enough good things about Leferink and her team. "They're just really easy to work with; they're good listeners, and they're really good with mixing in what is current and in style and including your own personal aesthetic."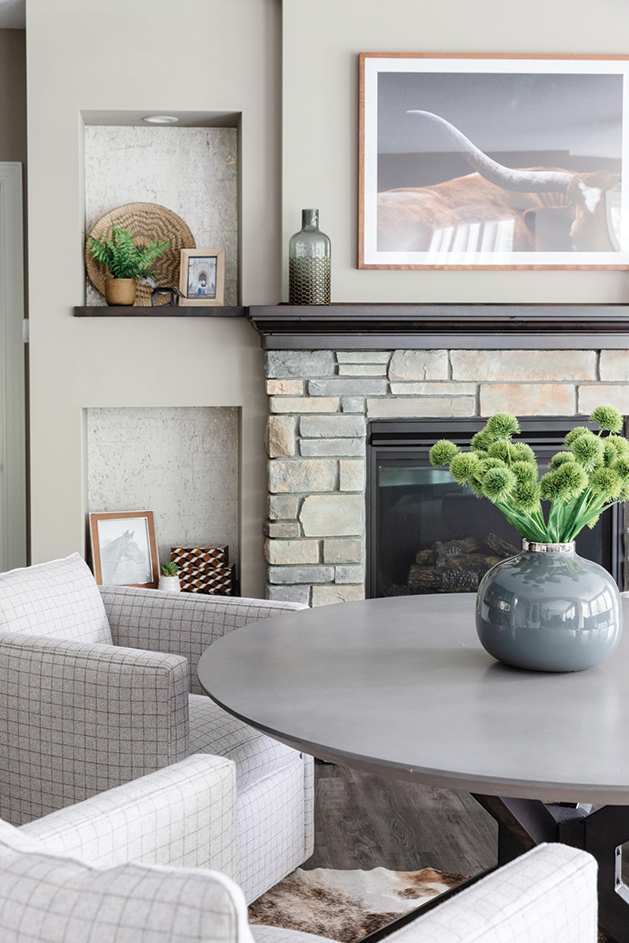 Shop the Look
Flooring:
Mannington Adura Sausalito, Waterfront luxury vinyl plank flooring
Carpet:
Godfrey Hirst, wool carpeting
Paint:
Sherwin Williams, Worldly Gray SW
Wallpaper:
York Wallcoverings, Cork CZ2482
Lighting:
Troy Lighting
Bar tile:
The Tile Shop, Stainless Steel Micro Subway
Bar top:
Opalescense, granite
Furniture:
CR Laine, leather recliner
Rowe, swivel chairs;
Essentials for Living, game table;
Four Hands, bar stools;
Four Hands, side table next to the recliner;
Hartman & Forbes, window coverings;
Surya, cowhide rug
Interior Impressions
650 Commerce Drive #140
interiorimpressions.org
@interiorimpressions