Local nonprofit turns stumbling blocks into stepping stones.
While Sara Swan has over two decades of experience in special education, she initially didn't have plans to turn a one-off mentorship into a full-fledged organization. But, she ended up developing Looking Forward Life Coaching (LFLC), a nonprofit mentorship program that works alongside people who could use some assistance in a variety of ways.
Swan recalls that, while working at a local preschool, she had a conversation with one of her coworkers about the coworker's son, who had difficulty in high school and was struggling in college. The coworker, who knew about Swan's background in special education, asked if Swan could help.
Swan agreed and started to meet with Nate, and the two began setting goals, which they worked toward for about 20 months. "I turned to his mom and said, 'Do you think this could ever be a profession for me?'" Swan says. It was Nate's response that moved her forward. "He said, 'Listen; there are so many people like me that are falling between the cracks that you need to help. Yes, you have to make this a business,'" Swan says. "He's been my inspiration ever since."
With an office on the west side of the Twin Cities metro, Swan says staff meets clients in their homes, coffee shops, restaurants, parks or virtually. "Honestly, if you name the suburb, I know where the Caribou and Starbucks are located. I have been to them all," she says, illustrating the business's geographic reach.
During her time working in the education system, Swan found that schools were very system-centered, emphasizing a collegiate-focused model that might not be right for everyone. In 2001, Swan discovered an approach to challenge the formulaic strategy when she took a training course on person-centered thinking.
"It was like a lightbulb moment," Swan says. "It takes an entirely different approach, where you're looking at the person and seeing all the incredible, great things that the person has, does, is working toward, instead of focusing on the ways to put that person into a system. Some systems don't work for people … They need different ways of support."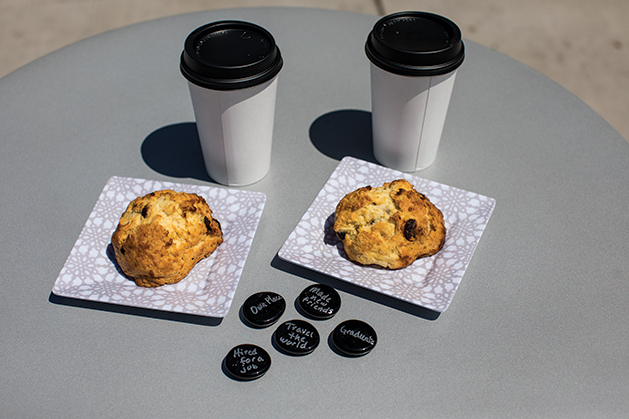 While Swan wasn't able to fit this approach into her teaching career at the time, this person-centered approach is now the mantra of LFLC. "We are able to tailor it to whatever the client needs," Swan says. Topics include tutoring to prepare for the ACT/SAT, learning how to travel internationally, obtaining a driver's license, honing interpersonal skills and more.
Swan's first "client," Nate, has been working with her for 10 years. "She's helped me get through college, find a career, prepare me to rent my first place and become independent," Nate says. "Together, we turned what worked for me into Looking Forward Life Coaching."
Another client, Jason, connected with LFLC two years ago when he decided he needed to find healthier ways of dealing with everyday struggles. "In my life prior to seeing her, I came up with my own coping that wasn't helpful or productive in moving my life in a forward direction," he says.
Jason continues to work on dealing with conflicts, both perceived and real. "[I'm] working to interpret my interactions with others correctly and then have the correct proportionate response," he says, adding, "This comes out in my marriage, as well as other daily interactions."
Swan says that the reason the organization is called Looking Forward is because mentors and clients spend their time together doing just that—looking forward. "We're not therapists, we're not social workers or anything like that, so we're not focusing in on the past per se," Swan says. "It's more, 'What are the tools that we can put into their tool box of life that can be beneficial to take them to the next steps in life?'"
In particular, Swan recalls a young woman, who wanted to move to North Carolina to be with her boyfriend. Working on a nine-month timeline, Swan and the client broke down the move step-by-step, including searching for an apartment, applying for identification and renewing her driver's license. Up until the week before the move, Swan and the client worked to get everything ready.
Nearing moving day, Swan took the client out to lunch, bringing a box with her. "Our theme is changing stumbling blocks into stepping stones," Swan says. "I gave her this box. In this box, I had taken rocks and on each one of the rocks I had written each one of those different goals: find an apartment, renew driver's license, save up money, so on and so forth … I said, 'Listen, this was you; you did this. I came alongside you and encouraged you, but this was you. You changed all these things that were once stumbling blocks into stepping stones, and, look, you get to get on the airplane tomorrow, and you're moving to North Carolina.'"
About two weeks later, Swan connected with the client's mom, who asked her about the box. When getting ready to fly off to her new life, her daughter couldn't have cared less if she had her phone, iPad or luggage. "She said, 'She had to get on the airplane with that box of rocks. It had to be under her arm at all times,'" Swan says. "And I said, 'Well, that was her journey, and that's a visual reminder that she did it. She got to that point.'"