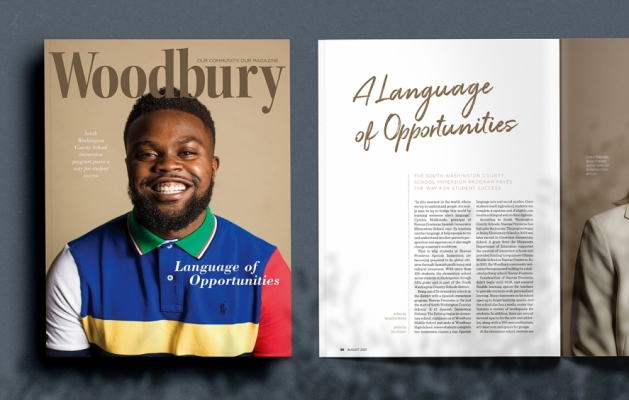 Our annual education-themed issue is always a special one to me. As a child, shopping for back-to-school goodies was one of my favorite times of the year—whether I got a new backpack that year or stocked up on the best school supplies, I always looked forward to checking off that school supply list.
Nowadays, instead of the excitement of back-to-school supplies, I cherish the excitement of preparing this issue, where our writers and I get to talk with those who are a true inspiration to kids—the teachers, principals, district staff and more who support our schools. And as a Woodbury High School alumna, highlighting the unique experiences and opportunities that the South Washington County Schools offer is heartwarming.
This month in Woodbury Magazine, writer Samantha De Leon takes a deep dive into South Washington County School's Spanish Immersion Pathway program on page 30. Nuevas Fronteras Spanish Immersion Elementary School principal Cynthia Maldonado says, "We want them to be bilingual, biliterate and bicultural in the fact that they're very open to other cultures, are globally aware and that they can work in the current world." And on page 22, I highlight the new tools and resources that the district is using to combat student mental health issues, due in-part to a grant from the Woodbury Rotary Club.
Also in the August issue of Woodbury Magazine, I talk with Woodbury Days Council president Amy Lombardi about the changes to expect at the annual event (page 37); and we take a look back at the cherished Woodbury Community Gala in our photo gallery on page 42.
Happy back-to-school season, readers! See you next month!
Hailey Almsted