The 2019 Artisan Home Tour featured one of Woodbury's finest homes.
As the saying goes, the home is where the heart is. And that's just the case for Woodbury residents Darin and Erin Rippentrop, owners to the beautiful Hamptons-styled home built by Woodbury's own Custom One Homes—a premier builder known for its luxurious residential constructions.
"We are a boutique builder that builds about 25 homes a year," says Custom One Homes owner and president Todd Polifka. "We focus on client relationship and high-level services to bring people's dreams to life."
The Rippentrops are two of those incredibly pleased clients with a gorgeous home in the newly developed Autumn Bluff neighborhood. "We really are homebodies who enjoy spending time as a family in our home, so we wanted to find something that allowed us to have a home that fit our needs," says Erin Rippentrop.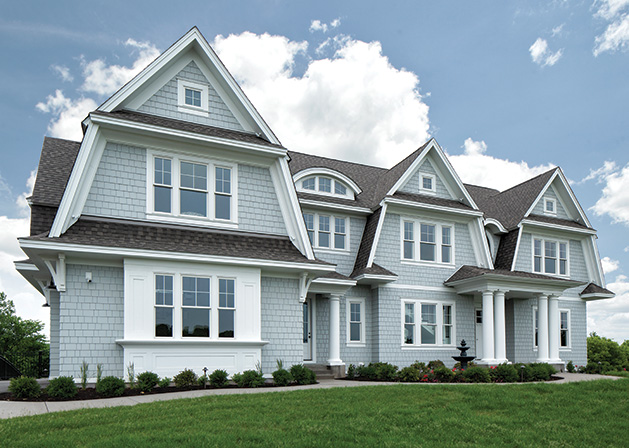 Landmark Photography
Erin, who hails from central Wisconsin, and her husband Darin, a South Dakota transplant, first met in the Twin Cities while attending university. Due to Darin's military career, the couple moved around quite often—mostly on the East Coast, where they discovered their love for the timeless Hamptons-styled architecture. Following a 10-year stint in Cottage Grove, the family moved to Woodbury after finding the perfect lot to build their home on.
"I've always loved the look and feel of the Hamptons," Erin says. "It's timeless and always welcoming—[It's like] our house is your house. We don't want it to feel stuffy, so that's how it was designed. It's a free-spirited house where people can come and enjoy themselves."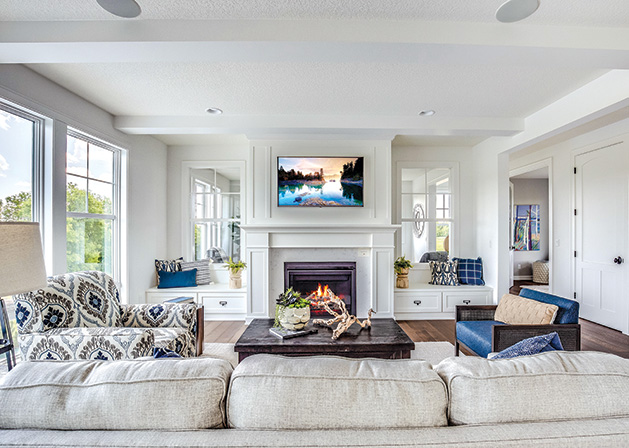 Housing First MN
As a family of four, with plenty of out-of-state relatives visiting, that meant building the home from scratch—not cookie-cutter styled or a pre-designed layout. Though they had visions for the home, the final build is so much more than imagined.
There's certainly more than enough space in the five-bedroom, five and a half-bath home. Inside, there's a private office, study space for the kids (though, sometimes used as a secondary office), wet bar, family room, exercise room and a bunkroom for guests. On the outside, they have an entertaining area with a pool and large deck.
As hosts, one of the features the Rippentrops desired was easy access from the pool to the lower level, including the bathroom, wet bar and bunkroom. The specialty design continues onto the main level—with grand windows on both sides of the fireplace in the great room and a large kitchen with an open layout—all with the goal of making it easy to host friends and family. Erin says, "We came in knowing what we wanted, and the architect took it from there."
Polifka says, "They gave us a wonderful presentation about what was inspiring them and what they were looking for. We extracted those thoughts, opinions and feelings to create them a wonderful home."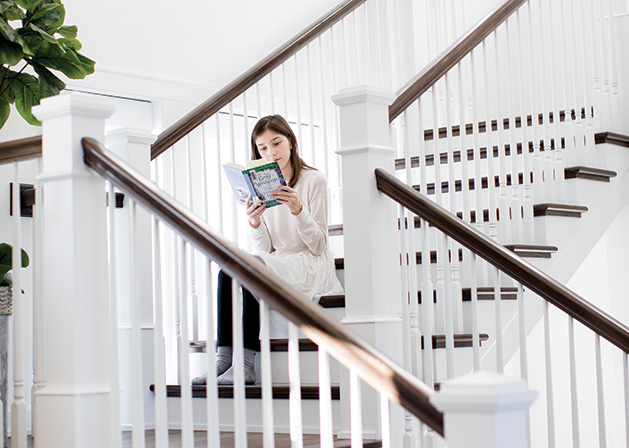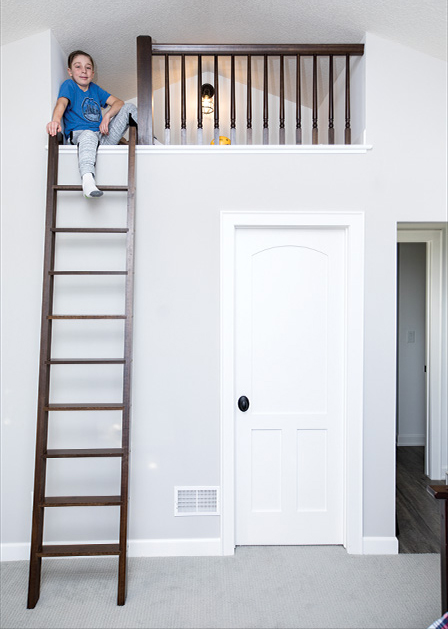 Chris Emeott
Though the couple desired their own special considerations, they also ensured the kids' room were just as functional—and fun. Their two children, 11-year-old Penelope and 9-year-old Sawyer, had a hand in designing their bedrooms. The bookworm, Penelope, has a custom-built bookshelf across her room and a book nook; and extroverted Sawyer has a built-in ladder leading up to a loft where he can play with his friends.
"We really wanted the kids to have something that spoke to their personality," Erin says. "And the great thing about Custom One Homes is that they listened to everything and made sure we truly got everything we wanted."
The choice to work with Custom One Homes seemed like a no-brainer to the Rippentrops. Darin, an avid woodworker, noticed the difference between an ordinary home and a Custom One Homes build. "Walking into a Custom One Homes [house] felt different," he says. "So, we started talking about 'Hey, do we want to custom build?' … It was a matter of waiting for the right plot to become available."
Their previous home in Cottage Grove was on a considerably private lot, which is something the family desired out of a new build. So, when the Autumn Bluff lot became available, they were fully into the idea of custom building their home. They went to Custom One Homes in early 2018, the building started toward the end of that year and finished by June 2019. And both Darin and Erin agree working with Custom One Homes was more than they could've asked for.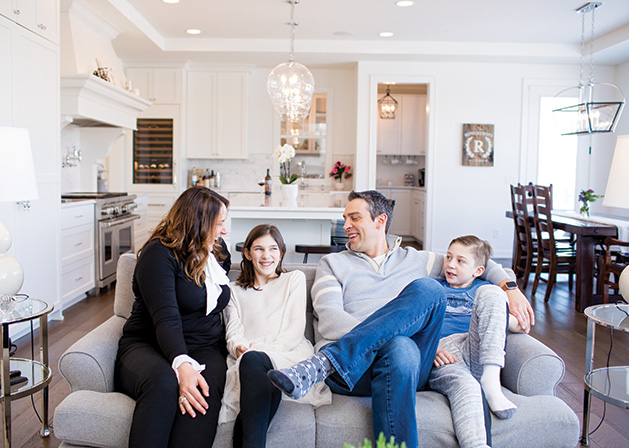 Chris Emeott
"At this point in our lives, we want to work with people of good character and integrity," Erin says. "We had all of these people [from Custom One Homes] in our home, and now they are like friends."
Darin says, "We felt like they were being honest throughout the process. There were times that we said 'Well, what about this?' and they'd say, 'Well, we have to do this first.' They always provided information at the right time and answered our questions. It didn't feel like we were ever being ignored."
When previously touring a Custom One Homes build, the couple noticed a distinctive feature: the open, spiraling staircase. "We thought to ourselves, 'It would be so cool [to have stairs like that], but it wasn't a requirement,'" Darin says. But when the architect showed the Rippentrops the home design, and it included this striking staircase, they were completely blown out of the water. Both have deemed this feature one of their favorites of the home—after the magnificent kitchen and the open garage (Darin's personal favorite feature).
And just before the Rippentrops settled into their home, it was featured on the 2019 Artisan Home Tour—a Parade of Homes event sponsored by Housing First Minnesota. The tour opens extravagant homes built by exceptional builders to the community, both new builds and remodels. To be featured in the tour was strange for the Rippentrops, who both agree the house didn't quite feel like their home during the tour.
"It was odd to see [the house] decorated with another vision," Erin says. "Our style is more grays and browns, but the style [during the tour] was more colorful, so it was just strange."
However peculiar the home tour may have seemed, they both appreciated opening their home to friends, family and the community before dwelling in. "From our perspective, it was very cool to have our friends see it. And knowing that we were selected [out of all these other beautiful homes] was nice," Darin says.
The entire home is beyond their vision; it's a timeless and welcoming home, complete with the East Coast feel.
"[Our home] encompasses who we are," Erin says. "It's so nice to have a home that fits our needs, and we are thankful that Custom One Homes delivered on our vision."