We sat down with Doug Englund to find out what goes into Woodbury's Fourth of July fireworks show.
Our great nation's birthday celebration is typically topped off with a fireworks display at the end of the evening. Although we cannot enjoy local fireworks this year, find out what goes into Woodbury's 25-minute show. We sat down with Doug Englund, a licensed pyrotechnic operator or "shooter," from Pyrotechnics Display. This would have been his 18th year operating the Woodbury fireworks show.
Woodbury Magazine: How many people are behind the show?
Doug Englund: It's about three-to-four of us doing the setup. The day of setup, it takes about six or seven hours to wire all the shells.
WOD: Who chooses the fireworks?
DE: [Two staffers] in the office plan how many shells we have and how long the show is going to be. They then give me a blueprint of the layout. When I get the paperwork from the office and all the shells, they're basically numbered. I put them in numbered order in the racks, and then we set up the racks, lay them out, set them out and start dropping all the shells and wiring them, then testing to make sure that all the connections are right. It's all electric and lit from a control panel. I'm at the control panel about 75 feet from the shells. The fireworks launch straight above me. I have an MP3 player in my ear that I listen to [in order to] hear the commands to shoot, so the timing of the shells is perfect.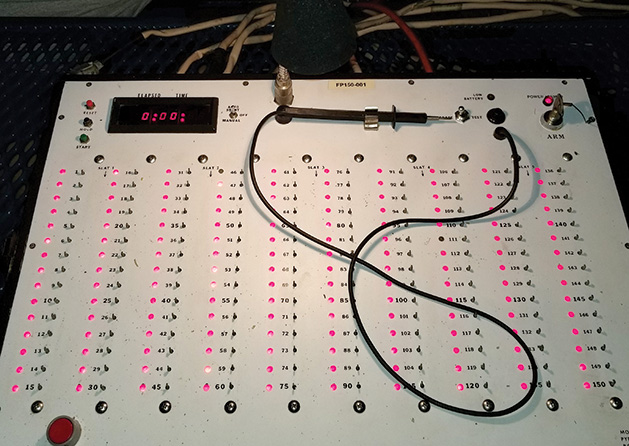 WOD: How did you get started in the fireworks business?
DE: I've been doing fireworks for around 20 years. [The] first couple of years, I helped my brother. Then [Pyrotechnics Display] asked me to branch off and do a show on my own. You have to shoot so many shows or help out at shows before you can get qualified to apply for the license and take the test. You have to have your commercial driver's license and [hazardous materials] endorsement for hauling the fireworks.
WOD: How do those smiley face fireworks actually work?
DE: They shoot straight up, and they're tumbling in the air. When they explode apart, it has the shape inside the shell. So when it explodes apart, that's the shape of what is going to display in the air.
WOD: What's the best part of doing this year after year?
DE: When you hear the crowd and know they've liked it … When I'm done igniting them all, I stand back when the finale finishes. It's quiet, and then you get to hear the crowd.
Due to the COVID-19 pandemic, the 2020 Hometown Celebration has been cancelled.