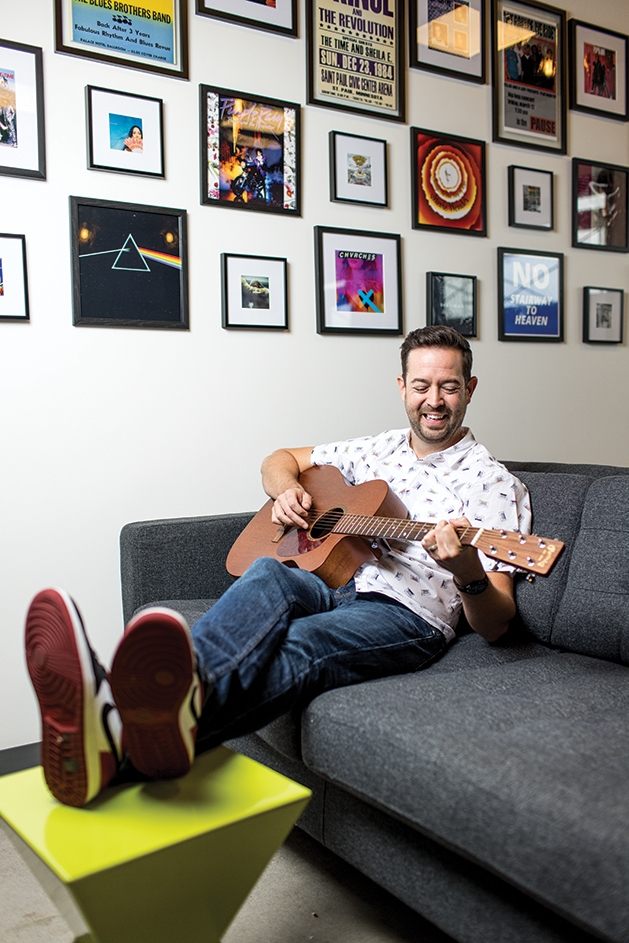 Rock U Music School provides self-led lessons for aspiring musicians.
Founded on the notion of providing a space for students of all types to discover themselves, Rock U Music School owner Brian King says the school is not tailored to one type of person. The school caters to what students want to learn and offers a variety of music lessons, from drums and strings to vocals and DJ production.
"I like to say we don't just offer music lessons; we are a business of creating confidence, passion, creativity community and inspiration," King says. "That's what we want our kids to get out of music lessons at Rock U."
With a goal of transforming the way that people think about musical training, King was determined to eliminate the preconceived idea of what private lessons are like—he describes that idea as being uncomfortable, getting yelled at for not practicing songs and recitals with stiff bow ties and tight shoes. "I wanted to completely trash that stigma. For me, I believe that music should be the most approachable thing in life. There shouldn't be any barriers, there shouldn't be any intimidation," he says.
Taking a more unique approach toward lessons, Rock U offers an autonomous structure with a no guidelines and no set curriculum approach. By allowing students to choose what they want to play (instrument and genre) and how they want to play it, King says students are more inclined to develop a passion for what they are doing. "We don't want to define what success looks like for each student because it is different for each," he says.
To initiate this point of growth, the first lesson at Rock U starts with a simple conversation with the teacher to discuss interests, goals and tastes in music types. From there, the teacher is able to develop a plan to help the student accomplish their aspirations. "At the end of the day, all we care about is that our students are having fun and they are pumped to come back the next week," he says.
For Rock U students Izzy and Lily Johnson, it was the school's willingness to assist with their journey of starting brand new instruments—Izzy plays guitar and violin and Lily is learning guitar and vocals—that drew them in. Just in the beginning stages, Izzy and Lily's mother Christine Johnson says the instructors have been nothing but supportive in the process of helping them navigate everything from picking out the proper instrument to learning to tune it. "They want to create a love and a passion for the kids to have for the music and not just for them to get it done," Johnson says.
Wanting to introduce valuable skillsets to her kids, Johnson says she has always involved her daughters in music because it is something that they can carry with them forever. She says, "Music is just something that they can always have and escape from the world sometimes, an outlet that they can express themselves. It is something that you can always have on hand."