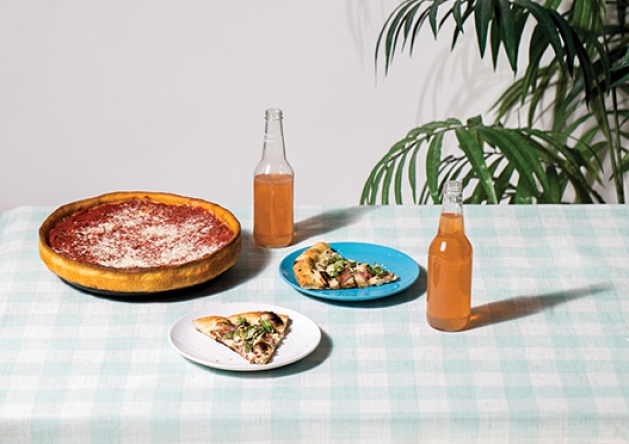 Pizzeria Pezzo and Tono + Cheesesteaks make their debut.
Whether it's Chicago-style deep dish, New York thin crust or wood-fired artisan, there's no shortage of different styles of pizza in the world. Woodbury already has a plethora of options to choose from when it comes to finding a nice slice of pizza, and there are a couple of new options in town.
Pizzeria Pezzo, located inside Kowalski's Market, opened in 2019, right before the COVID-19 pandemic hit. "It was tough to make our presence known during a pandemic," owner Keri Bougie says. "But we have a good following now."
The pizzeria started in White Bear Lake by Bougie's late husband in 2013. In 2017, she took over as full owner. The two locations are very similar, though when it opened in Woodbury, everything was updated with a brighter and modern feel, which is different from the original White Bear Lake location. "The two locations feel a little different from each other," Bougie says. "But the food is the same, and the staff is still great."
It offers both coal-fired and deep-dish style pizzas, which can be paired with a variety of unique toppings—sometimes including fruit! It does a Pizza of the Month and tries to stay seasonal with it. (At the time of writing, apples were used as a topping.)
Its pizzas are made from scratch with fresh and local ingredients. There's both a red sauce and a white sauce for the coal-fired options, and the different cooking style and the fresh ingredients create a wonderful and tasty blend. "Our pizzas get a nice char from the coal fire," Bougie says. "This leads to a crispy crunch while still having a chewy inside."
Bougie has started to expand Pezzo into the retail market as well. Customers can find its homemade salad dressings—including sweet mustard basil, Italian, honey and red wine varieties—at select Kowalski's and at each Pezzo location.
They also sell a frozen version of the deep-dish pizzas, so people can enjoy Pizzeria Pezzo at home. Although this is currently only available at Pizzeria Pezzo locations, Bougie hopes to expand into more stores soon. "The frozen pizzas are a great option for people to take up to the lake or for just a lazy night at home," she says. "In 35–40 minutes, you have dinner."
While 2020 was a difficult year for all restaurants, it was especially hard for the new Pizzeria Pezzo location. Bougie says it's still trying to make its presence known in the Woodbury restaurant scene but knows it will grow with time. "We have patrons who know the staff and are excited to see us," Bougie says.  "And we get excited to see them."
Another new joint in town is Tono Pizzeria + Cheesesteaks, owned and operated by Antonio Gambino and Shaz Khan, who both run Frank and Andrea in Minneapolis near the University of Minnesota.
Gambino and Khan partnered up in 2014 when Gambino, a Philadelphia native, decided he wanted to make and sell cheesesteaks in addition to Frank and Andrea pizza. "[Gambino] told me about the cheesesteaks," Khan says. "And I was like 'What the heck is a cheesesteak?'"
Khan quickly learned as they refined the cheesesteak recipe and opened Frank and Andrea. After a few years of success in Minneapolis, they decided to expand into the suburbs, thus Tono was created.
Khan and Gambino use the same delicious pizza recipe from Frank and Andrea at Tono with one exception: Tono pizzas are cooked in a brick oven. "We needed to have an association of the sisterhood brand," Khan says. "But we needed to make it different enough to know it was different from Frank and Andrea."
Tono's 'za is New York style, so it offers big slices with a thinner crust. While it is common for people to think of New York pizzas having a softer crust, this isn't the case with Tono's pizzas. It strives for a firm crust, but not too firm, to present as hard and crunchy. It also offers both red and white sauces, plus a variety of toppings.
Cheesesteaks also top the menu at Tono. All of the cheesesteaks are made with your choice of steak, chicken or a plant-based option, and have a variety of different toppings. (One option even comes with two over-easy eggs on top!), and is served over a bed of fries.
Gambino and Khan take a lot of pride in the quality of their food, and Gambino particularly takes pride in the cheesesteaks. "We fly our rolls in from Philadelphia," Khan says. "Cheesesteak fanatics know that makes a difference."
Tono opened in Woodbury early in the year and is its fourth location to date. It opened its first venue in Maplewood in 2019 and have opened one new pizzeria every year since. (Other locations include St. Paul and Coon Rapids.)
Writer Picks
It's hard to pick just a few items from both the Pizzeria Pezzo and Tono menus to talk about, as so much of it looks delicious.
Looking at Pizzeria Pezzo's menu, the first thing that caught my eye was the Wrigley, a deep-dish pizza with house-made Italian sausage, pepperoni and mozzarella. You can't go wrong with deep dish pizza— in my opinion. Italian sausage is always a good addition to pizza and knowing it's made right there in the kitchen makes all the difference.
As far as its coal-fired options, the Pera stands out. The featured ingredient is quite unique: pear. While I'm not always a big fan of other fruits on pizzas (I'll skip pineapple pizza.), the pear is particularly intriguing. I'm a fan of pears on their own, so pair it with gorgonzola, prosciutto and a few other toppings, and there might just be a winner here.
Switching over to Tono Pizzeria + Cheesesteak's pizza selections, the Pepperoni Bianco is my first choice. It's made with a white sauce and topped with pepperoni, ricotta cheese, Tono hot honey and Tono red chili oil. Since customers can add extra ingredients with all of its pizzas, I'd add mushrooms (I absolutely love the flavor combination!). Mix them with its white sauce and a little bit of kick from the hot honey and chili oil, and you've got a great pizza.
Looking at the cheesesteak side of things, there's so many more options than I expected. I lean toward the Speziato. With your choice of meat and cheese, it comes with grilled onion, a habanero jam, prosciutto, peppadew and is served over a bed of fries, of course.
Pizzeria Pezzo, 8505 Valley Creek Road #200; pizzeriapezzo.com Pizzeria Pezzo (Woodbury) @pizzeriapezzo
Tono Pizzeria + Cheesesteaks, 437 Commerce Drive Suite 100; tonomn.com Tono Pizzeria + Cheesesteaks (Woodbury, MN) @_tonomn