The Salt Room offers a holistic approach to health and wellness.
Minnesotans are gaining interest in holistic health care, and with good reason. Alternative medicine focuses on the body's ability to naturally heal itself—and Woodbury boasts numerous holistic therapies, including The Salt Room, one of only five in the metro area.
Filled with pinkish-orange Himalayan salt rock formations and a floor covered with tiny salt rocks, The Salt Room is thought to help with respiratory issues and mental health concerns. Gloria WahrenBrock opened The Salt Room in 2013, when there was only one similar room in Minnesota. It has two group rooms, accommodating up to four people and 45-minute sessions. The express room accommodates groups of two and offers 25-minute sessions. Both rooms have zero gravity chairs, where customers can breathe deep and relax.
In 2019, Chris Simonson, who'd long been a fan of holistic therapies, connected with WahrenBrock, who, at the time, was looking into retirement. Simonson purchased The Salt Room in February 2020, and says his new purpose is education.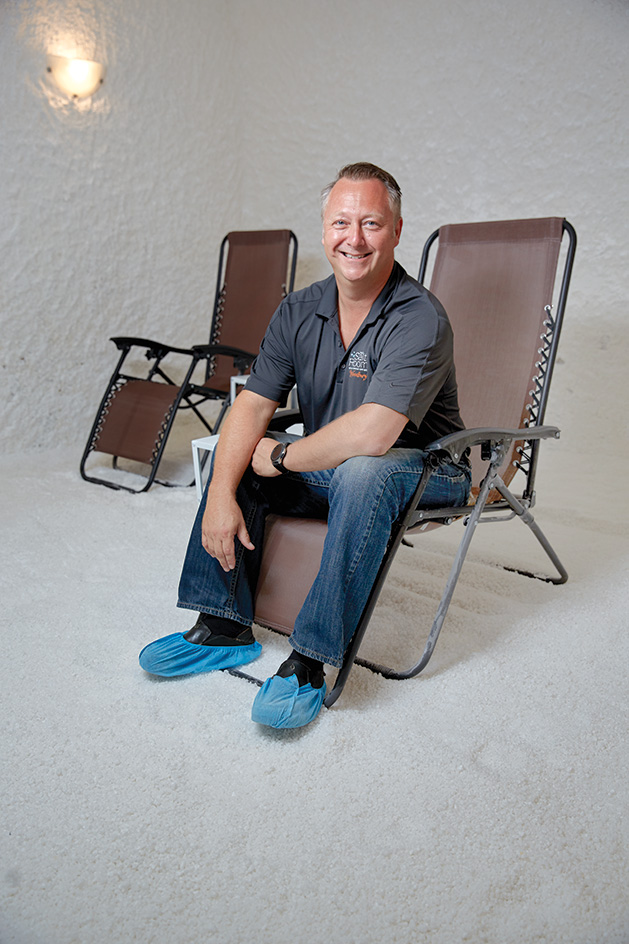 "I want to educate people on the plethora of benefits from salt therapy, and that's the fun part for me," Simonson says. "Having something you're passionate about and sharing the good news, that's always energizing."
After spending roughly 10 months researching salt therapy, also known as halotherapy, and reading research and testimonials, Simonson thought it all was too good to be true. "It's profound. I kept going, and, I think, for me, it's been exciting because there's truly a whole facet," he says.
Modern halotherapy has a long history, dating back to the mid-1800s when Polish physician Felix Boczkowski discovered that salt miners suffered fewer respiratory issues than the general population. Now, halotherapy is primarily used as treatment for asthma, allergies and other respiratory ailments, but also skin conditions, such as eczema and rosacea, and, more recently, mental health conditions, including seasonal affective disorder (SAD) and depression.
"We take technology and artificially replicate [Boczkowski's discovery]," Simonson says. "We have salt on the walls, ceilings and floors. The salt puts out a negative ion charge, which is where the benefit is."
Simonson explains that a bulk of the benefit comes from the halo generator, which polarizes pharmaceutical-grade salt and aerates it back into the room. "That allows tiny particles to get into your respiratory system and deep within your lungs, sinus cavities, ears and throat," he says.
Joan Schorn started halotherapy at The Salt Room over three years ago after she stopped allergy shots. Schorn, who also has asthma, was typically diagnosed with four to eight respiratory infections each year, but since starting halotherapy that number has been cut in half.
"A friend recommended I give it a try," she says. "It's one of the best things I've ever done for myself." She also says halotherapy has helped her mental health, leading to a decrease in stress and migraines.
While many customers search out halotherapy for asthma, others come to help lower symptoms of chronic obstructive pulmonary disease (COPD), as well as cold and flu ailments.
"Certainly respiratory health is more on people's mind than ever before and they are looking for any way to proactively focus on health and wellness for the respiratory system," Simonson says.
The Salt Room also boasts infrared saunas, which burn 300–500 calories during one 30-minute session and helps to increase blood circulation.
"[Infrared saunas] help to burn calories and detox," Simonson says. "It benefits blood pressure, muscle and joint pain, and it's great to detoxify your body."
"Here at The Salt Room, anyone from infants to seniors can benefit from salt therapy," Simonson says. "The Salt Room is a safe and trusting environment to learn about new things. The foundation of what we do is impacting people's life for the positive, and I plan to continue to expand that."
Give the Gift of Wellness
The holidays are just around the corner, and gift shopping starts now—if you haven't started already! Whether you're scrambling last minute or just looking for stocking stuffers, The Salt Room offers an array of goodies perfect for wrapping up.
Himalayan salt: Salt massage rollers and salt lamps are just a few of the gifts at The Salt Room.
CBD: From oils and tinctures to infusions, the line of CBD products at The Salt Room is large. Made with products grown in the United States, these CBD products are considered top of the line.
Kombucha: Start the New Year on a health kick with kombucha—a fermented sweetened black or green tea. Kombucha is known as a tool to keep your gut and biome healthy and happy.
The Salt Room
2110 Eagle Creek Lane Suite 350
Facebook: The Salt Room Woodbury
*In order to avoid any potential misinformation regarding COVID-19, this story has been edited.