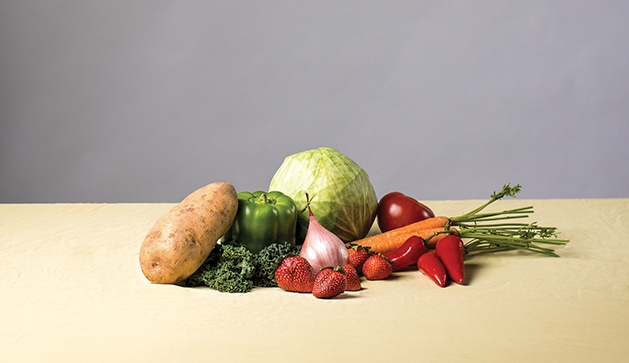 Woodwinds Clinic fights hunger in the community with its Veggie Rx program.
This year, M Health Fairview Clinic–Woodwinds celebrates its second year of the Veggie Rx program, a partnership with Sin Fronteras Farm & Food, which provides farm-fresh produce to patients experiencing food insecurities in the Woodbury area.
Healthy eating is an effective preventative measure for chronic health conditions, ranging from diabetes and hypertension to malnutrition; but accessing fresh produce on a weekly basis is easier said than done. M Health Fairview's Veggie Rx program, which was first launched by a handful of east Metro clinics in 2016, looks to combat food insecurity in communities across the Metro through a program that puts fresh fruits and vegetables directly in patients' hands.
Veggie Rx works with local community-supported agriculture, or CSA farms, to source the produce found in patients' veggie bags. While seasonal shares to such farms cost within the $300 to $400 range a season, patients in the program receive their weekly share free of charge thanks to funding primarily through the University of Minnesota Foundation.
Veggie Rx also helps to support local CSA farms, which in turn provide culturally responsive produce for the communities they're partnered with. Veggie Rx programs in the Bethesda, Phalen Village, Rice Street and Roselawn clinics serve a larger southeast Asian population, which benefit from the produce provided by the Hmong American Farmers Association. But in 2021, M Health Fairview found a new partner to bring in—Sin Fronteras, a CSA specializing in ingredients culturally relevant to the Latino community.
"[Our] Community Advancement Program took a look at the data that they could pull from our patient population; they were trying to identify clinics where they had high concentrations or higher numbers of patients who were identifying as Hispanic or Latinx," says Malay Thao, manager for the Woodwinds Clinic. "They found both the Maplewood Clinic and the Woodwinds Clinic had a high number."
Woodwinds staff and providers used their patient data to pull patients that would be good candidates to join this program. Overall, staff members identified a group of 15 to participate in the first year of the program. "We looked at conditions. We looked at whether they did identify as being Hispanic, and then we called them and we would ask if they wanted to take part in this program," Thao says, noting that although the program has an emphasis on supporting the Latino community, it is not a requirement for participation.
Before they start picking up their weekly supply of fruits and vegetables, Thao says participants fill out a survey, which they also complete again at the end of the season. "It really asks about food insecurity," Thao says. "[We're] really trying to assess whether or not the program makes an impact by the end of their participation."
Thao says the goal is not only nutrition but education. Although the clinic is looking to improve its patients' health, it's also looking to see if participants were able to make use of the produce, if they were able to learn about new fruits and vegetables and whether they've been able to provide more food to their families.
"We have learned that there are some challenges to patients taking part in the program," Thao says. "While everyone is happy to learn about the fact that we are offering this, it has been their consistent ability to pick up their vegetables on a weekly basis. It's been their ability to make use of all the produce." Such challenges have caused some participants to self-select out of the program, opening up a space for new patients to join.
"I think people are very good at self-selecting to be either in or out of the program and over time too," Thao says. "This year, we allowed people—if they couldn't continue to pick up—to self-select out. It's very flexible …"
Aside from flexibility, Thao says another goal for 2022 is being able to better identify the patients that would most likely benefit from the program and have the ability to take full advantage of the opportunity. Transportation difficulties—from work conflicts to lack of access—have been one of the largest hurdles the program has faced at Woodwinds Clinic, which sometimes led to bags of unclaimed produce left after pick-up day.
"Right now, luckily at our clinic, we have a walk-in care, and if we have bags of vegetables left over, our registrars will ask patients that walk in if they would like to take a bag home," Thao says. "That way, we have no leftover, no waste by the next morning."
The Veggie Rx program also brings variety to the staff at the clinic, who enjoy sorting the weekly produce and reading the newsletters and recipes included by Sin Fronteras farm. Thao says having staff work to get those vegetables ready every day has become an engagement process at the Woodwinds Clinic. "[It] makes our staff feel really good about what they're doing, how they're impacting directly our patients and their ability to access healthy food," she says.