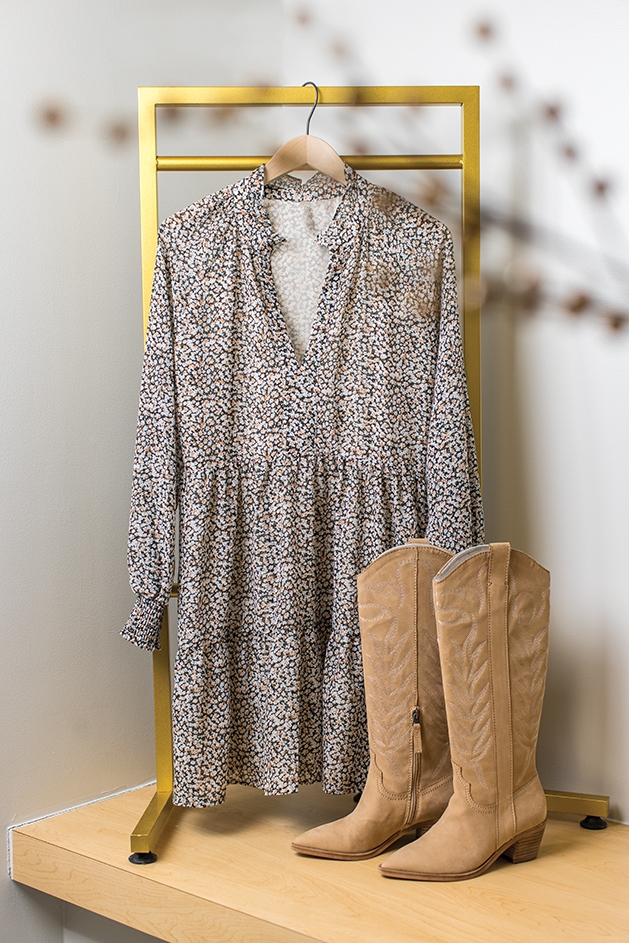 Fashionable picks and charitable contributions are top of deck at Leela & Lavender.
For boutique co-owners Laura Polanski and Jill Shea, it's their passion of "being a force for good" that drives their business. After more than 35 combined years of retail experience, the duo opened Leela & Lavender in 2017—a feminine boutique with a variety of styles, designed to inspire women and create happiness.
A WELCOMING START
"We had this goal of opening five stores in five years. We've always wanted more than one, and we wanted it to be within driving distance, not flying," Polanski says. The initial success of Leela & Lavender's Fargo, North Dakota location led Polanski and Shea to open locations in Bismarck, North Dakota; Detroit Lakes, Maple Grove, Sioux Falls, South Dakota; and most recently Woodbury. "Woodbury made total sense because we have such great success in Maple Grove, and we feel that Woodbury is similar to that area because of the outdoor shopping concept. It really is just perfect," Polanksi says.
The boutique, located in Woodbury Lakes, has bright, white walls with cozy touches throughout the store. Neutral rugs, white ottomans, relaxed seating, houseplants and more are added to create a sense of home, a touch that director of stores and digital strategy Angie Sunde says is highly important to the business. "We look at stores as a home, and we try to create that home-like environment," she says. "Customers come in and feel like they have somewhere to come where they're comfortable and can enjoy their shopping experience."
Leela & Lavender offers personal styling sessions for customers who may want to redo their wardrobe, incorporate different colors or tones or perhaps just want to get new clothes. After filling out an online form and setting a date, the stylist will have clothing picks waiting for the client upon arrival. "We're taking the shopping part out of it and making it easy," Sunde says. It also offers shopping parties, where customers can book the boutique for a private shopping experience unlike any other. Sunde says, "You can gather all your girlfriends, co-workers, whoever and schedule a time with our store for private shopping."
CHARITABLE CONTRIBUTIONS
Though style is the backbone of the boutique, the true purpose of Leela & Lavender is simple. "Our biggest thing is philanthropy. When we started the boutique, we started the business as being a force for good and thinking about how we can contribute to the individual communities," Polanski says. "We really encourage philanthropy from all our stores, and the employees help choose what charities and organizations they believe in, what's important to them, and we'll do things to help give back to the community."
Each community focuses on different organizations, and the entire Leela & Lavender team gives back each October with a shopping party for all customers, where a portion of profits are donated to local charities. Near Christmastime, employees are encouraged to pick a charity to volunteer with, and Leela & Lavender gives the employee paid time to do so. Polanski says, "We feel so fortunate that we can live our dream, and we want others to be able to do the same."
BEHIND THE NAME
When asked about Leela & Lavender's namesake, Polanski laughs and says it was a challenge to create an inspiring name that both owners agreed on. "When we were coming up with names, it was like coming up with baby names. One person would say something, and the other person wouldn't like it. It took a while, and we kept going back and forth," she says.
The agreed-upon name, Leela & Lavender, is built from two meaningful words. "[Shea's] sister was living in Thailand, and she was giving us Sanskrit names. That's where Leela came from. It's about a life adventure, and we felt like we were on a new life adventure," Polanksi says. "We chose Lavender because it's calming, spa-like and that's how we feel shopping should be. It's pampering and me-time."
VERY PERI
The Pantone Color of the Year 2022, a color chosen by Pantone's color experts that is thought to be highly influential, is Pantone 17-3938 Very Peri. This beautiful shade of bold lavender is a perfect fit for Leela & Lavender, as its close to one of its namesake colors.
Polanski says, "I really love this Pantone color … With this color, I think for a lot of people, it's wearable. Everyone can wear the color, and it'll look great." She notes that Leela & Lavender has multiple Very Peri-toned items stocked for spring.
"… Very Peri is really fun for summer because it's such a lively color," she says. "It will make people feel alive and vibrant, plus it's calming … We definitely have that color throughout the store."
SPRING STYLE
Though the overall brand is more feminine in nature, Polanski says there's a variety of items and styles carried. From bohemian brands (like Free People) to New York sophistication items (including blazers and more tailored pieces), the picks tend to follow the current trends. However, the boutique also strives to offer wearable items that fit a variety of customers. "We really try to keep that in mind—age and size variety—and making sure all styles we carry are relevant to her lifestyle and what's important," Polanski says.
Polanski says to expect to see two types of trends this spring and summer: feminine style and a western influence. "It'll be the biggest dress season that I've seen in 10 years," she says. "Coming out of COVID-19, everyone wants to dress up more, and there are more events. It's also the biggest wedding season ever. So [look for] a variety of dresses, including short, long, midi, sleeves and strapless." Feminine details, like puffy sleeves, ruffles, smocking, cut outs and tie-backs will also be trending.
Traditionally, opposite of a feminine style is the western trend, which Polanski says includes big, comforting T-shirts, jumpsuits and, of course, cowboy boots. "It's really going to be the most fun spring and summer collections that I've seen … because people are ready for something fresh in their wardrobe," she says.
Leela & Lavender
9100 Hudson Road Suite 110
651.340.0350
leelaandlavender.com
leela & lavender
@leelaandlavender
Leela and Lavender