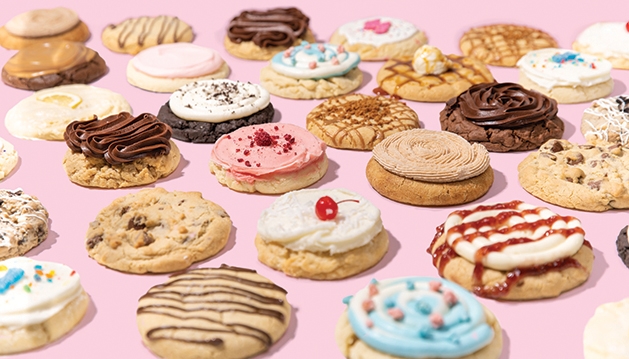 Crumbl Cookies serves up new unique flavors weekly.
Finding the perfect combination of flour, sugar and chocolate chips, Crumbl Cookie co-founder Sawyer Hemsley was determined to create the world's greatest cookie. Teaming up with his cousin to concoct the perfect recipe, the two opened up shop in Logan, Utah, in 2017 and have since expanded to more than 250 stores nationwide.
Woodbury has joined the sweet tooth movement and is now home to the showstopping bakery. As a shop that specializes in one-of-a-kind treats, Crumbl Cookies whips up cookies inspired by popular flavors, foods and desserts of all kinds. With anything from brownie sundae, Neapolitan and peach cobbler, there is no shortage of bold taste. If wild flavors aren't for you, classic milk chocolate chip cookie and chilled sugar cookie with almond frosting are always available.
The shop features a weekly mini menu offering four specialty cookies, chilled sugar and milk chocolate chip. The specialty cookies fit into four distinct categories: peanut butter, chocolate, fruity and sugar-base. Woodbury franchisee owner Jordan Stucki says the brand offers a variety of flavors to ensure there is something for everyone.
Although known for its crazy good flavors, Crumbl is also recognized for the presentation of the cookies inside their iconic bubblegum pink boxes.
"I think it makes the brand," assistant manager Sadie Aalderks says. "It's not just cookies. It is a special experience to share with family and friends."
For regular Crumbl customer Brett Navarro, it's the brand's commitment to adding new flavors and the dedication to providing variety that keeps him coming back for more. "We don't plan on it, but somehow someone [in my family] ends up there every week," he says. "[And] every week, something is beating the week before."
Though he claims he isn't as adventurous as his other family members when it comes to trying flavors, Navarro says no matter what, "Something is always out there that I enjoy."
As a former Crumbl Cookies consumer himself, Stucki says he originally discovered the brand as a college student in Utah. Regularly stopping by the bakery for a quick study break pick-me-up, he loved the idea of having something new every time he visited. So Stucki and his family decided to bring this epic dessert hotspot to the Midwest. Settling on Woodbury, in addition to Apple Valley, Maple Grove, Arden Hills and Rochester, the two wanted to create locations that would bring people together. "We were really excited about the demographic here. It is a really family-based area, and our brand is very family friendly," he says.
With a goal of creating more locations in the future, Stucki says that, if anything, they hope to continue to provide delicious treats and unforgettable experiences. "The customers are always so happy when they leave our building," Stucki says. "They just seem so stoked to come get cookies, so it is so fun for us to just be able to provide that service."
OUT-OF-THE-BOX OPTIONS
Chocolate Potato Chip:
A savory cookie filled with semi-sweet chocolate chunks and toasted coconut and is rolled in crushed potato chips and butter pretzels
Mango Frozen Yogurt:
A chilled mango cookie topped with mango yogurt and vanilla swirled frosting and garnished with dried mango
Mallow Sandwich ft. Oreo:
A whipped marshmallow fluff mixed with Oreos, sandwiched between two chocolate cookies rolled in Oreos and topped with brownie chunks and Oreo pieces
Coconut Lime: A cool coconut lime sugar cookie topped with a lightly tart lime frosting and garnished with a fresh lime wedge
Crumbl Cookies, 345 Radio Drive Suite B; 651.321.1177; crumblcookies.com