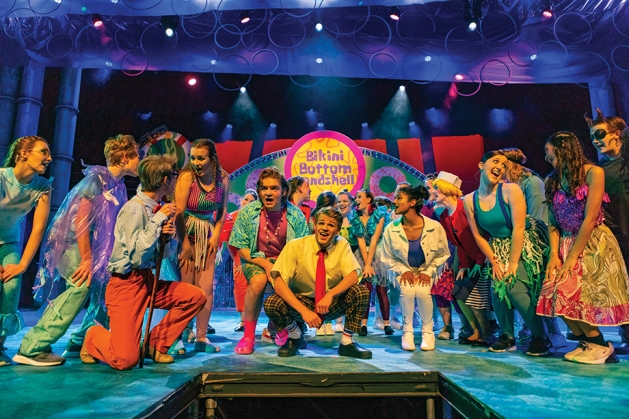 Give a round of applause for these local theater venues.
After many theater venues went dark in 2020 and 2021 due to COVID-19, audiences were searching for other entertainment options, including virtual performances. Now, local stages are welcoming back their crowds—and in Woodbury, the passion for theater runs in its roots.
"So much of what makes theater theater is the audience," says Katie Carlson, East Ridge High School (ERHS) theater coordinator. Woodbury High School 11th grade student Kyra Sego agrees. "What theater means to me is having kind of a break from reality; where nothing else matters for a couple of hours, and you can just have fun singing, dancing and acting with your favorite people," Kyra says. "At the end, you can put on a show that makes people happy, laugh or even cry."
So cue the curtains, and grab your tickets! We're welcoming back the best performance venues around town.
The Loft Stage
Located at ERHS and home to the high school's band, orchestra, choir and theater, The Loft Stage hosts several types of performances each year. The 2021–2022 season included The SpongeBob Musical, which was recognized with 18 Hennepin Theatre Trust Spotlight Awards, Frankenstein 1930 and The Tempest by William Shakespeare.
"[The Loft Stage] was created as an auditorium for the high school, but we are a community space," says Carlson, who has been with the high school since it opened in 2009. "We really wanted the space to be welcoming to the community and over the years it has evolved, but the intention is the same."
Although the stage has staff members assisting the students, Carlson says it's truly the young adults that create the magic. "Once the show is going and it's tech week, the directors sit back and watch the students work, problem solve and make it happen," she says. "It can be nerve-wracking, but it's so rewarding to see kids take the helm."
The 938-seat facility also serves as the primary venue for the Merrill Arts Center (MAC) and partners with several organizations, including the Minnesota Thespian Society, Spotlight Musical Theatre Program and Kirk Portrait Designs. Carlson notes that the stage is a designated community space and welcomes several other types of performances, too.
Following COVID orders, The Loft Stage hosted several different types of theater in its last season. The fall 2020 play was a radio play with three casts, "where the students were separated by plexiglass and performed as radio actors," Carlson says. The radio play, A Trio of Thrilling, included The Cask of Amontillado by Edgar Allan Poe, The Mark of the Beast by Rudyard Kipling and The Canterville Ghost by Oscar Wilde. The spring 2021 performance of Grease was held in the ERHS parking lot and was its first in-person performance since winter 2020. "We extended the stage and safely put on our musical under the stars," Carlson says. "It was a challenge and one we're hoping not to revisit, but as theater makers, we try to be creative and adapt. After all, the show must go on."
As for the next year, Carlson hopes that The Loft Stage will be back to business as usual. Legally Blonde and The Play That Goes Wrong are on deck for the fall 2022 and spring 2023 season.
The Loft Stage
4200 Pioneer Drive; 651.425.2334
Facebook: The Loft Stage @ East Ridge HS
Instagram: @TheLoftStage
YouTube: theloftstage
Merrill Arts Center and Woodbury Community Theatre
Woodbury's MAC is home to multiple theater and performing companies, including the Black Box Theater, East Metro Symphony and other local art groups. Originally incorporated as the Woodbury Arts Council in 1996, MAC was founded by a group of citizens who served as the voice for the arts during Woodbury's booming growth.
What first operated as an all-volunteer organization with a $25,000 annual budget turned into a multimillion-dollar fine arts center following the death of Dorothy K. Merrill. Her $1.2 million donation was used to build the Merrill Black Box at ERHS. MAC also started hosting summer camps for youth and year-round educational programming, and launched an affiliate program for varying art groups.
In 2005, MAC acquired the Woodbury Community Theatre (WCT). Originally founded in 1975 by Gloria Dale, Marjorie Wetz and Sharon Wivell, WCT started small—it performed just one show in its first year. The following year, WCT presented Sing Out Sweet Land for three evenings at Woodbury High School (WHS). It continued to grow and, in 1978, became known as the Community Theatre Guild of Woodbury. In 1990, following the death of Wetz, the theater renamed to what is currently.
In its last season, MAC performances included Miss Nelson is Missing and Madeline's Christmas.
Merrill Arts Center and the Black Box Theater
380 Rivertown Drive Suite 200; 612.399.6568
Facebook: Merrill Arts Center
Instagram: @merrillarts
Open Door Community Theatre
Established in 2019 as an all-volunteer community theater, Open Door Community Theatre's (ODCT) mission is to "not only stage high-quality productions, but also to give back to our community by donating a portion of our shows' proceeds to local charity partners," says Stacey Dolan, ODCT board member, noting that the opening production of Shrek the Musical raised nearly $11,000 for the Christian Cupboard Emergency Food Shelf in Oakdale.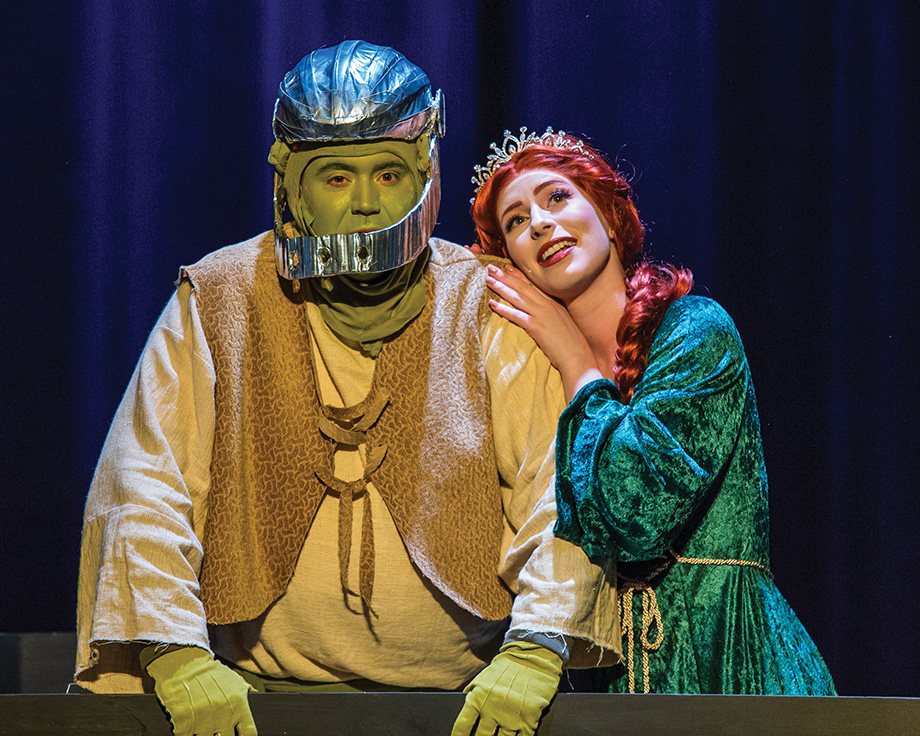 In 2020, the theater partnered with Woodbury's Aspire Music Academy and Somerset, Wisconsin-based Coco's Heart Dog Rescue. This year, it's partnering with SoWashCo CARES for its summer production of The Little Mermaid. (ODCT took a pause during 2021 due to COVID for the safety of its volunteers and audience.)
To this day, every participant in the theater is a volunteer. "… From the board members to the production teams, including directors, cast and crew," Dolan says. ODCT takes an inclusive approach, meaning no one is turned away from a production. "Whether it is on the stage, behind the scenes or administratively," she says.
Dolan is excited for this summer's production as well as its 2023 show, Godspell. "We have received a very positive response from the community in anticipation of our return this summer, and we're all just so happy to be together again, doing what we love and giving people the opportunity to get involved," she says. On top of its summer and winter performances, Dolan says there will be a fundraising gala in the fall featuring more singing and dancing.
Dolan says, "We're always looking for more volunteers to get involved, so please reach out via our website to let us know if you would like to contribute your time!"
Open Door Community Theatre
380 Rivertown Drive Suite 200; 612.399.6568
Facebook: Open Door Community Theatre
Instagram: @opendoorcommunitytheatre
Royal Theatre
At WHS, the love of theater runs strong. Just ask any cast member. "Within the first show, I felt so welcomed and comfortable with everyone," says Kyra.
From Thoroughly Modern Millie and Curtains to High School Musical and The Addams Family, previous lineups are extensive. However, like all theater, it was hit by the pandemic.
"After COVID-19 hit, none of us were really sure what was going to happen or if we were even going to have a show at all," Kyra says. The directors were able to put together a show—though Kyra explains it was different than previous years. "My cast mate's and I had to figure out how to sing and dance with masks on, as well as act with half of our face covered," she says. "We took the proper measures of making sure we, and the audience, were safe while also having a good time. So, even though the show was shortened, it was just as fun to put on."
Musical director Brooklyn Schwiesow says it will be challenging to top its latest season, which included Chicago (High School Edition), Kafka's Metamorphosis and Clue. "Chicago received 22 Spotlight Awards, including the top honor of an 'Outstanding' in Achievement in Musical Theatre, which earned the cast and crew the opportunity of performing a medley on the State Theater stage," she says, noting that the production was part of the Spotlight Education program through the Hennepin Theatre Trust. "We hope that this success is motivation for our students to continue producing outstanding theater."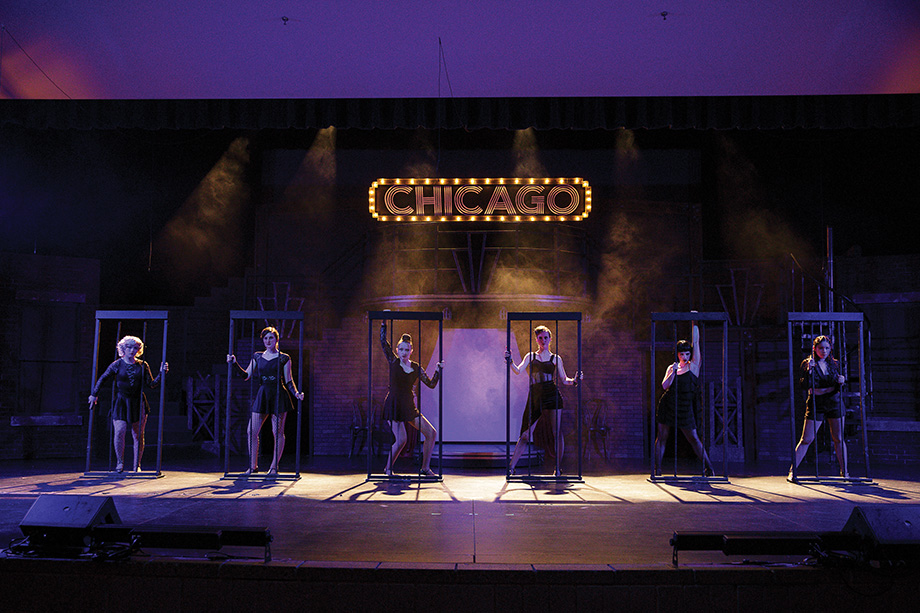 Its next round of performances hasn't been announced quite yet, though Kyra says she's excited to see what else the Royal Theatre has in store for her senior year. Schwiesow agrees. "Royal Theatre has a lot of incredible talent. The students are hard working, diligent and have a future in theater if they choose to pursue their passion," she says.
"Royal Theatre is a place for safety, inclusion and acceptance. It is not about making the best show or winning the most awards. It is about the memories and the friendships made," Schwiesow says.
Royal Theatre
2665 Woodlane Drive; 651.425.4400
Facebook: Woodbury Royal Theatre
Instagram: @whsroyaltheatre