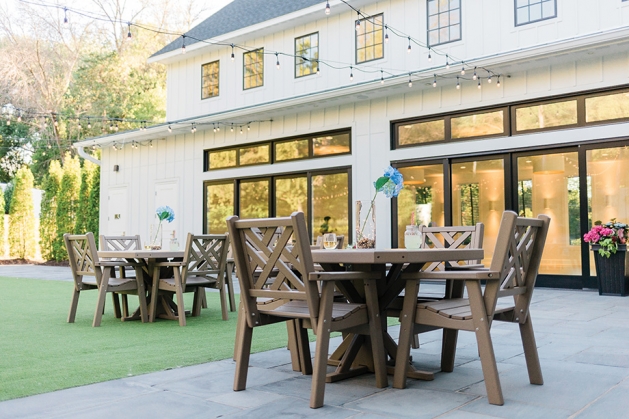 By the Yard designs maintenance-free and sustainable outdoor furniture.
Whether gathering friends around a lakeside fire table, entertaining family on the poolside deck or sipping coffee on the porch, we like to do it in style and comfort.
But after a summer of enjoying the outdoors, the last thing we want is high-maintenance patio furniture that we must tarp or stack into winter storage.
So we talked to Leah Steidl, director of marketing of By the Yard, which just opened its newest showroom at Woodbury Lakes. By the Yard is diverting plastic from U.S. landfills and making durable, sophisticated, maintenance-free outdoor furniture at its production facility in Jordan, Minnesota.
"By maintenance-free, we mean you don't have to cover or store it, and you will never paint, stain or seal it," Steidl says. "It will not splinter, rot or crack. It's made to set it and forget it, to live outside in all climates from the tundra of Ely, Minnesota, down to coastal Florida."
Designing nearly 400 commercial-grade styles in nine colors, the company sells outdoor loungers, gliders, Adirondacks, dining and bar chairs and tables, rockers, portable bars, fire tables and planter boxes, with ergonomically contoured seats and family-friendly rounded edges.
"We engineer the furniture to stand the test of time—to withstand your toddler to somebody who is seven feet tall and 300 pounds," she says.
The nonporous surface is vital too. "I've spilled a bottle of wine on my table, and it didn't stain. It's 100 percent bleach cleanable, so the color isn't going to come up and it doesn't fade," she says.
By the Yard uses a proprietary recipe of high-density polyethylene (HDPE)from recycled plastic milk jugs and water bottles, to make the engineered lumber with UV stabilizers, so it's guaranteed minimal fading backed by a 35-year warranty. To further reduce waste, it recycles the manufacturing scraps from plastic sawdust and shavings to capture the heat from machines to heat the building.
Because the furniture doesn't require storage, it easily transitions from one season to the next. "When I think of fall, I think of chilly nights gathered outside with friends sitting in Adirondack chairs and cozying up with a blanket around the open flame of a fire table," Steidl says.
Founded by Deb and Roger Anderson in 1995, the family-owned company has showrooms in Woodbury, Jordan, Maple Grove and the outskirts of Milwaukee and Chicago. A portion of sales is donated to multiple local child hunger organizations.
"We pride ourselves on classic, timeless design and colors," Steidl says. "We have a lot of repeat customers because you can purchase pieces now, and, five years down the road, you can add to your collection. We don't discontinue our designs or colors, and, since it's UV stabilized, it's going to match."
Planter Box Makeover
Since they can stay outdoors all year, make a statement with By the Yard planter boxes. Fill with seasonal arrangements of pumpkins, foliage, birch, seedpods, pinecones, willow twigs, evergreens, dogwood branches and berry sprays for cheery backdrops on your deck. Planters also make great outdoor Christmas tree collars for a little extra twinkle on your front porch. Or do like Leah Steidl does and fill with ice and beverages for summer entertaining.
By the Yard
9140 Hudson Road Suite 515; 651.386.1485
Facebook: By The Yard – Outdoor Furniture
Instagram: @bytheyardinc
Pinterest: @bytheyard
Twitter: @By_The_Yard