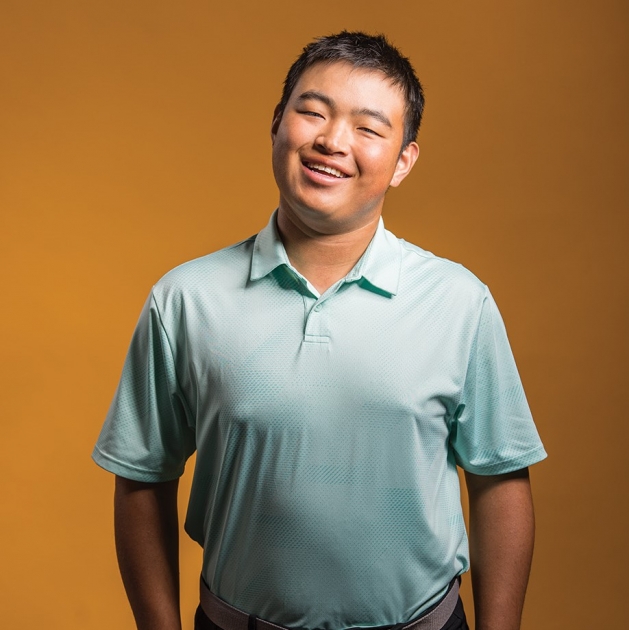 Give a nod to these stellar soon-to-be graduates.
For students of the graduating class of 2023, it's their ability to adapt that's propelled them forward. From a two-year-long "spring break" to distance learning, Plexiglas barriers and cancelled events, these students have had a high school experience like no other. I admire their strength, resilience and courage—and for that, I say congratulations on your well-deserved success to the entire class of 2023.
Justin Luan
East Ridge High School
Ask East Ridge High School's (ERHS) principal James Smokrovich about Justin Luan, and he has nothing but positive things to say. "[He] is a positive leader within our East Ridge community, as well as a top academic student," Smokrovich says. Though Justin is enrolled in just about as many Advanced Placement (AP) classes as possible, he says it's sports that are his true passion.
"I would say some of the highest points during high school have been performing really well in golf during the high school season," Justin says. "I went to state in eighth and 10th grade and usually place in the top five in events." Justin also notes his success with the math team, where he's captain. "I made it to the American Invitational Mathematics Competition twice—only the top two to five percent of math team students make it. I made it in 10th and 11th grade," he says.
With college applications nearing completion, Justin says he's looking forward to "more freedom" during his senior year at ERHS. (Though, it's important to note that Justin is enrolled in AP literature, AP statistics, AP physics I, AP macro and biomedical invasions classes—talk about busy!)
Justin's post-graduation plans aren't set in stone, though he's interested in competing in golf at a professional level. "My goal is to go to school for sports [and] to get a good education," he says, noting his interest in biomedical engineering. His current top contenders include Northwestern University in Chicago, Duke University in North Carolina, University of California, Berkeley and University of California, Los Angeles.
"If it comes down to it … I would also play golf for an Ivy League," he says.
For incoming ninth graders, Justin says, "It's all about planning your daily schedule; what you'll do, when you'll do things … Life becomes easier when you plan around when your clubs meet. If you don't know what you're doing, you can lose yourself." Now, I think that's great advice for just about everyone.
More about Justin Luan:
Favorite song: Destiny by Nefex
Favorite TV show/movie: The Big Bang Theory and Hobbs and Shaw
Favorite hangout spot: The Big Thrill Factory in Oakdale. My friends and I have over 10,000 tickets …
Extracurricular activities: Top high school golf player, captain of math team, co-captain of debate team, orchestra (cello), piano, drums

Karen Nakamura
Math and Science Academy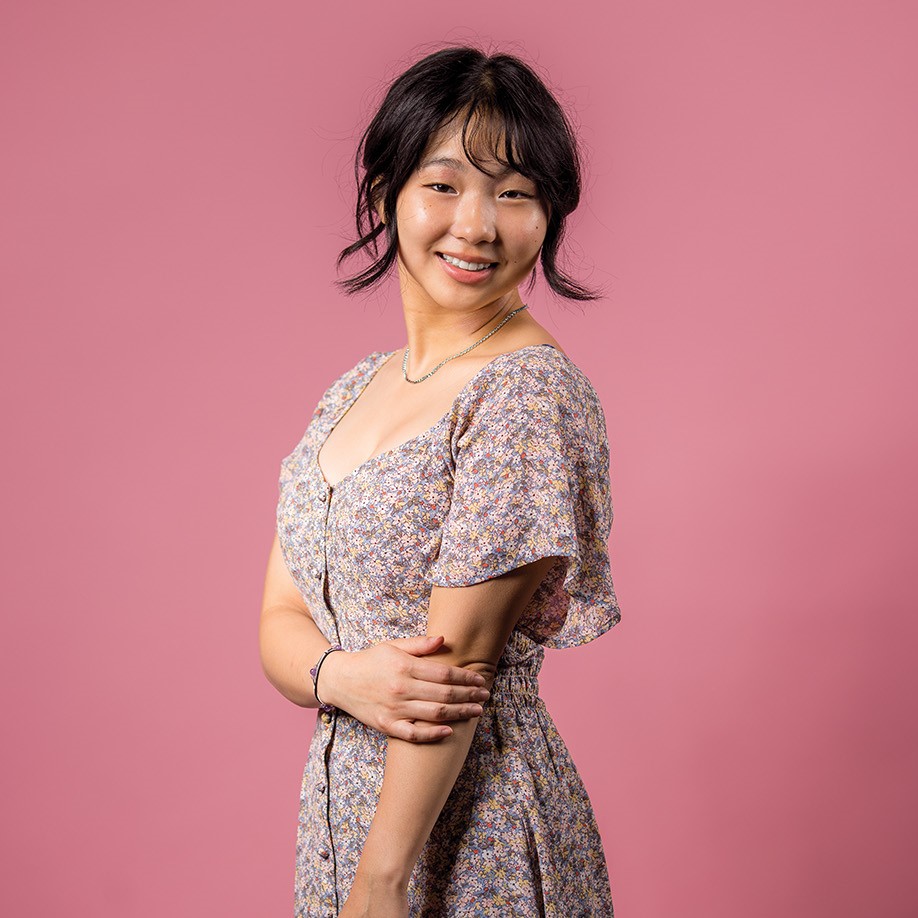 Math and Science Academy's (MSA) Karen Nakamura likes to try everything. "I fully enjoy a wide range of activities," she says. From varsity cross country running and Nordic skiing to Skotokan karate, hiking and nature photography, the MSA senior does it all. But, Karen says people may be surprised to know that she hasn't always been as active as she is today.
"When I was little, I had asthma, which prevented me from bouncing off the walls like the other kids. Fortunately, as I got older, I grew out of it and started participating in sports," she says. "I remember in elementary school, I joined the Minnesota Youth Ski League and admired how fast the high school coaches were. Now, I am a junior coach, teaching little kids how to ski, and I hope that they see me the same way as I did."
From teaching younger students to winning sectional championships, Karen says it's her time in varying sports that's been her favorite throughout high school. "My high point was when the girls' cross country team won sections and went to state … I remember screaming at the top of my lungs and embracing my teammates when we heard, '… And the first place goes to Math and Science Academy!' That moment is forever engraved in my mind," she says.
Speaking on the subject of enjoying various hobbies, Karen says, "… Follow your curiosities, and don't compare yourself to others. High school is an amazing place to explore different paths prior to college … However, don't do something just because you see other people doing so …. Don't forget that high school is meant to be enjoyed."
Karen plans to attend college for biological studies. "I have been really interested in neuroscience lately," she says, noting that neither her college nor major is set in stone quite yet. "The only thing I know is that I'm going to pursue a career in STEM!"
More about Karen Nakamura:
Favorite song: First Love/Late Spring by Mitski
Favorite TV show/movie: Arcane and Atonement
Favorite hangout spot: Chatime, a bubble tea store. My friends and I always go there and just sit on the couch and talk.
Extracurricular activities: Captain of Nordic skiing, captain of cross country running, National Honor Society, outreach officer for SWEnext Club, Minnesota Youth Ski League junior coach, Link Crew, Shotokan karate instructor, science fair, intern for Cancer Research Laboratory at the University of Minnesota
Kamaal Morris
Park High School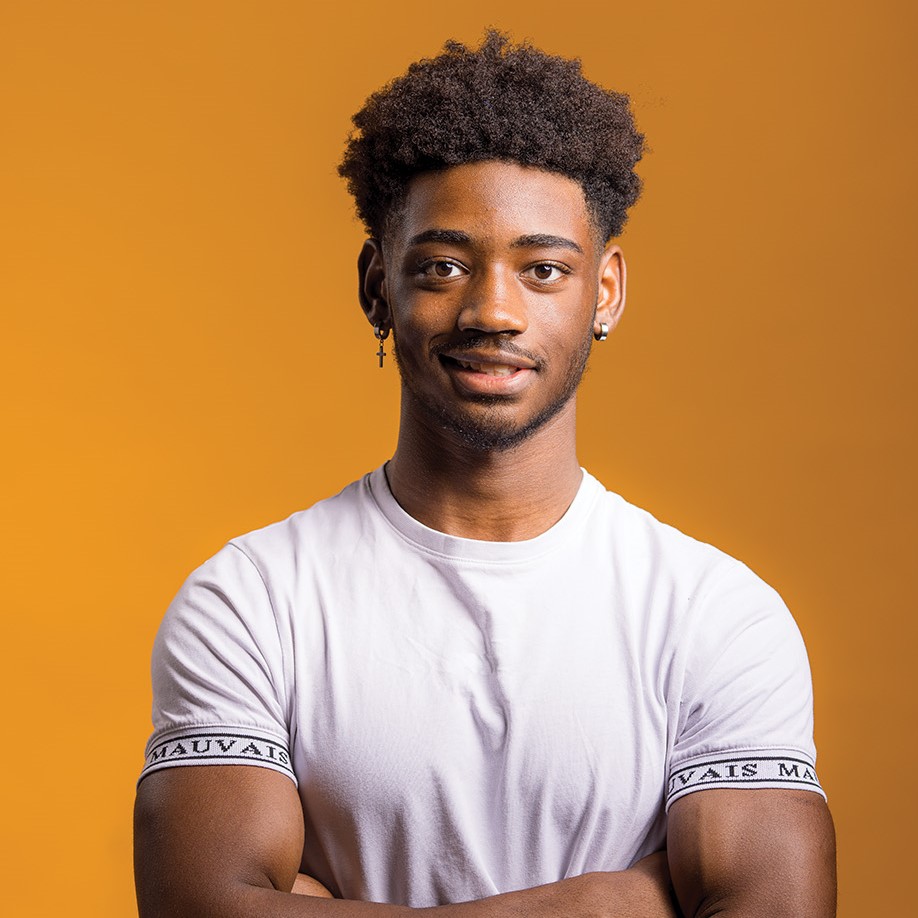 Kamaal Morris sees high school as an investment in his future. The Park High School (PHS) senior has spent the last three years learning how to trade in the stock market and cryptocurrency and says his goal is to become an entrepreneur.
"I like to create vision boards and watch my aspirations come to fruition," Kamaal says. Though investing is one of Kamaal's passions, he has also enjoyed football and track and field at PHS (a recurring knee injury put him out of both sports his 10th grade year) and being a motivational speaker for younger students. "I enjoy volunteering with D.E.L.O.R.E.S. Works and speaking to youth about why they should take school seriously and hang out with the right crowd," he says. "I also talk to middle school students about peer pressure and negative influences."
Kamaal appreciates these opportunities to gain exposure to differing cultures and opinions and says it's allowed him to expand his network and prevent social limitations. However, he was unable to participate in these activities throughout a portion of high school because of COVID-19. "I thrive on relationships, and being a box on a screen was difficult for me," he says. Another challenge? "… [staying] in the 'now' and slowing down. Sometimes my brain would move faster than I could keep up with—I am so excited about the future that I want to get there now," Kamaal says.
Kamaal's inspiration comes from Tesla founder, entrepreneur and investor Elon Musk. "He's influential and inspires me to beat all odds and build any vision I've got," Kamaal says. "Despite his challenges, and while I may not agree with him 100 percent of the time, I can respect how hard he's worked."
It's Musk's work ethic that Kamaal mirrors in his own life—Kamaal has big dreams post-graduation, including majoring in entrepreneurship, continuing to invest in stocks and cryptocurrency, adding real estate to his investment portfolio and wanting to start a large-scale solar panel manufacturing company.
More about Kamaal Morris:
Favorite song: Last Call by Khalid
Favorite TV show/movie: Rick and Morty and Rango
Favorite hangout spot: The beach. I love … hearing the waves. It is so relaxing.
Extracurricular activities: Football, track and field, AVID, mentoring through D.E.L.O.R.E.S. Works, Lead Program attendee at Howard University
Anna Adamson
Woodbury High School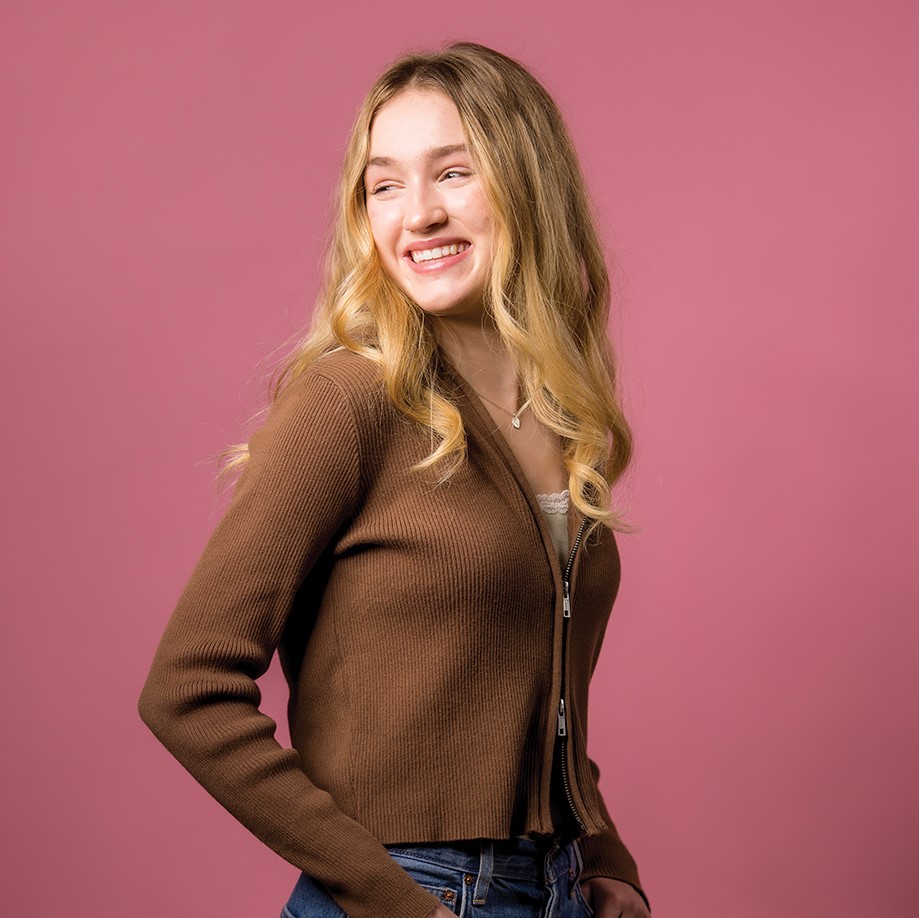 Woodbury High School's (WHS) Anna Adamson says her high school experience has been largely different than generations before her—from socially distanced learning, hybrid classes, virtual speech meetings and more, the senior says it's been her biggest challenge throughout high school.
"Last spring—[2021]—was the hardest point as a student in general," she says. "I could tell my mental health wasn't great, and a lot of other students felt that, too." But the warm community in the WHS speech team gave Anna a sense of hope. "… Last year was virtual, and we did our speeches over Zoom calls, but our team really did make the most of it," she says. "Between rounds or at the end of the day, we could have moments together in the library, socially distanced, of course. We still found a sense of community, even when everything was virtual."
Through her 2021 speech, which was centered around "eco-anxiety," Anna discovered MN350, a nonprofit organization working toward a future in clean energy. "[Eco-anxiety is] the impact that climate change and that crisis has on mental health and young people and also how it affects marginalized communities," she says. Though Anna received fourth place for the speech, it ultimately led her to a passion for ending the climate crisis. She says, "Hearing the bad stories about [the crisis] is worth learning about. It can be overwhelming, but finding those small moments of excitement is really empowering."
And empowerment is her motivation for her senior year. She says, "I'm really excited to be able to take all the things I've learned from other leaders, captains and seniors and be able to give back to the teams I've been on or the groups I'm in."
"For incoming students, I would say get involved. It doesn't have to mean joining a team or starting a club. It could mean going to events put on by the school or the community," she says. "… Spend the time on what you like doing and what you're good at. I've found so much joy in different team dynamics, and I love being a part of something that maybe I wouldn't have found if I was pigeon-holing myself into a box."
It shouldn't be a surprise that Anna is interested in potentially studying political science or journalism, though nothing is decided quite yet. "In elementary school, anyone that knew me knew that I wanted to be president one day," she says. "I don't know if I'll go that route anymore, but I would love to go to Washington, D.C. I've always loved that city."
More about Anna Adamson:
Favorite song:I can't pick one!
Favorite TV show/movie: Bridgerton and Disney's Tangled
Favorite hangout spot: Sencha. I go there way too much. It's so good.
Extracurricular activities: President of Key Club, varsity cross country, speech team, narrative team for MN350