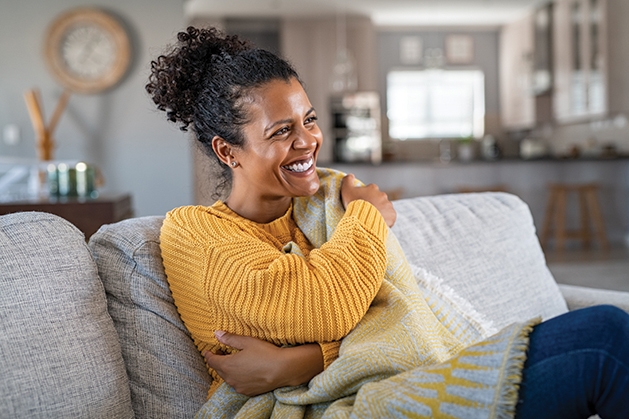 How Practicing Mindfulness in the New Year Helps you be Your Best Self
On January 1, some of us believe the next 365 days will bring a wave of being better and healthier, but some of the goals we set for ourselves are beyond what we're capable of achieving.
Mariann Johnson, mindfulness and well-being program instructor at the University of Minnesota's Earl E. Bakken Center for Spirituality and Healing, says, "In the new year, a lot of people will say something like, 'I won't eat chocolate again this year,' which is fine, but it's a really huge goal for themselves, and research shows that people fail because it isn't practical."
Easing into a new year's resolution is key, and Johnson recommends starting the year with a bit of self-care. "At the center, we think that self-care really means understanding that we are human beings … and our heath is being impacted by so many facets," she says. "Self-care means pausing, and January is a great time to do that."
Johnson, a mindfulness practitioner, explains that the center has a six-dimensional well-being model: health, relationships, security, purpose, community and environment. Each of these elements plays a role into how we practice self-care, a tool that she says we have full control over in our  lives.
"A lot of our well-being is in our own hands, and self-care means feeling really empowered by that, not overwhelmed by it," she says. "We have to realize that it's human nature to have strong emotions. What we need to do is learn is how to nurture ourselves."
For those looking to start practicing self-care or mindfulness, Johnson recommends taking the center's well-being assessment—a short quiz that determines where you are in each aspect of the six dimensions.
"The free well-being assessment takes less than 10 minutes and shows a few areas that you can take small steps in … You begin to see all the pieces that enhance self-care and a sense of well-being," Johnson says. She recommends taking the test alongside someone, since a support system leads to better health.
"Most of us need support from outside folks," she says. "I was so blessed to have walking buddies over the winter. We bundled up together in big coats and scarves and had great conversations. You know, we are hardy Minnesotans, and that's really a great example of my saying, 'Nobody does it alone.'"
The center also offers a variety of free resources available for public use, which took off during the beginning of COVID-19. Mindful Mondays, an online drop-in session, consistently has over 200 participants—many of whom are from Minnesota but also those from around the world. "… We're building a community at a time when people have felt isolated, and we have reached people that we otherwise wouldn't have," Johnson says. "It's a hard time for everyone, and it's our mission to really be helpful …"
There are also misconceptions about self-care. "We tend to be a perfectionist society, and we can bring our 'Type A' personality into self-care," she says. "But self-care isn't about huge, big changes or big, monumental goals, but I think … we are most effective when we start with more attainable practices and things we can integrate into our daily lives."
If you're feeling challenged with mental health or a calling to better yourself, Johnson recommends reaching out. She says, "It may be a therapist, a healthcare professional, minister, rabbi … Asking for support or assistance isn't weakness. It's strength."
Rapid-fire questions with Mariann Johnson
What's your go-to way for practicing self-care? Yoga.
Self-care while staying in or going out? Both—in nature and indoors.
Self-care in the morning or at night? Morning.
One small thing you do every day? Drink a lot of water.
One tip for someone who wants to start practicing self-care?
When you wake up in the morning, lay in bed and take three big, deep in-and-out breaths. Feel your whole body laying in bed and add a sense of ease and self-compassion into the body. Plant an intention for the day.
Keep it Simple
If you want to start practicing mindfulness, Johnson recommends starting small and working your way toward bigger goals. Practical, simple things that people can incorporate into their everyday lifestyle will oftentimes lead to real change.

"For five minutes every morning, sit in silence. In the middle of January, when you can't listen to the birds, close your eyes, take deep breaths and feel your feet on the floor. Do a check-in with yourself. In terms of breathing, notice sore spots and offer a sense of ease while planting an intention … It's that simple. It's five minutes of 'coming home' to yourself," she says.
Throughout the day, collect yourself and remember the power of healing that comes from the ability of living "in the now," she says. Bring attention to your body and breath, feeling the weight of your body by getting up and stretching. She says, "The little things that you can do every moment throughout the day is a great start."
Earl E. Bakken Center for Spirituality and Healing; 612.624.9459; csh.umn.edu