Clean out and cozy up your home for the fall with these tips for tidying up.
The fall season present all kinds of challenges. First, back-to-school season, next, play dates, study sessions, Halloween, Thanksgiving. It seems fall is the busiest time of the year for some—prepping for what new obstacles will approach your kids and family, the holidays and daily life in between. So, instead of waiting until springtime to freshen your home, start now and make fall the new spring cleaning. Here's a fresh look at your new seasonal ritual.
Preparing for the New School Year
If you have children, fall may just be the busiest time of the year. You're working on organizing yourself and your home for the approaching cold, but also purchasing school supplies and reorganizing workspaces for the kids. Minimize the back-to-school stress by setting up an organization station in the entryway or mud room to store backpacks, lunch boxes, shoes and jackets.
Give each child their own station, labeled with names, so there's no fighting over space.
Every parent knows the risks of prepping outfits, meals and backpacks in the morning, so relieve the morning stress by preparing ahead of time. Help your kids organize their backpacks and homework, prepare lunches and snacks and update the family calendar (a must for busy parents!) the night before. To be extra proactive, utilize a clothing organizer to lay out a week's worth of outfits so there's no fussing in the morning. Implement these changes, and mornings will be a walk in the park.
To ease evening anxiety, create a designated study space. A small, unused corner of the kitchen may work well—but dining rooms, living rooms and even bedrooms can get the trick done. Consider converting kitchen cabinets into a small homework desk, which can be easily hidden behind closed doors when not in use. Open shelving works wonders when it comes to a study space. Add a few books (cooking, décor, etc.), desk tools, pencils and pens, and you'll have a crafty new desk.
Focus on Saving (and Cleaning) Space
Storage space can be a make-or-break when it comes to organizing, so ensure that you have all the room you need. First, start by getting rid of clothing, shoes and accessories that aren't needed, or simply things you never wear. Sort through your own closets, the front closet and the kids closets to clear out unworn bathing suits, sandals, shorts, rain jackets and dresses—you'll have fewer items to store for next season.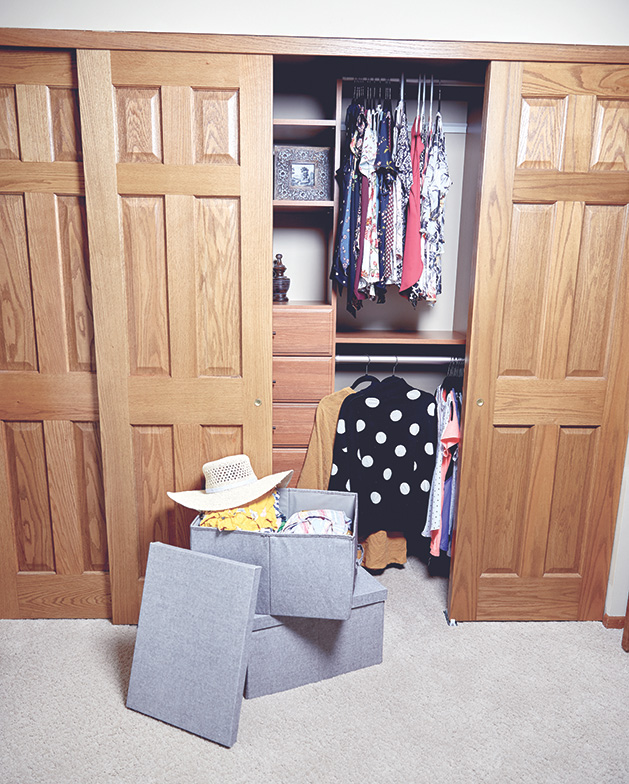 Maximize your closet space by storing in-season items only. Any out-of-season pieces can go into labeled bins, packed away until the season comes back around.
To maximize space—and save time!—only store in-season items in your closets. Store out-of-season goods in labeled bins, and pack them away until the next season rolls around. Bring out your sweaters, scarves, jackets and boots, focusing on vertical space to store these larger items. Cascading hangers, folding methods and drawer dividers are additional space savers.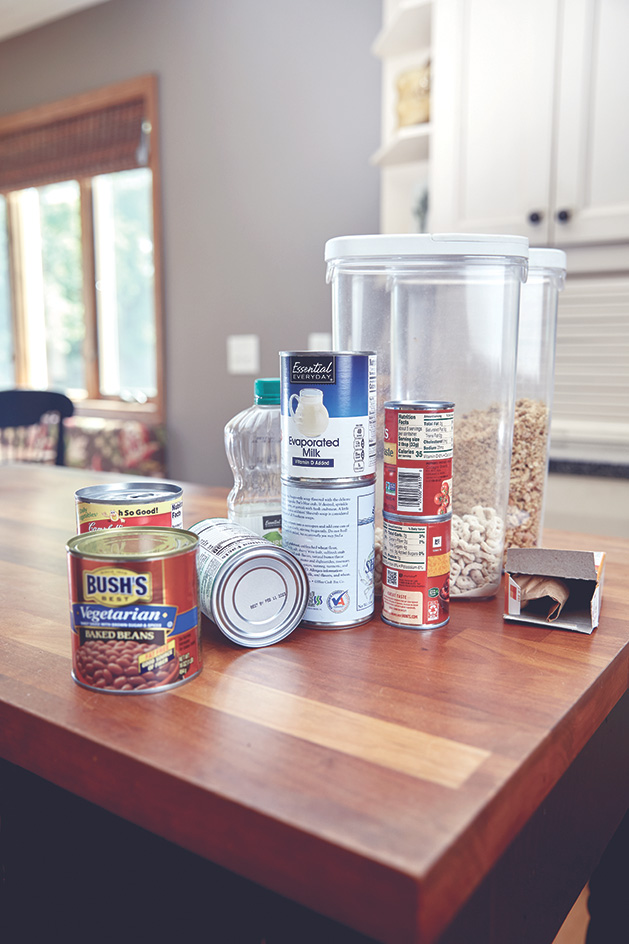 Start your pantry organization by tossing all expired foods—spices, baking and canned goods included. Gather your containers and label them for easy finding.
Saving kitchen space is every chef's dream come true. Now's the time to sort through the pantry, cleaning supplies, food storage containers and more. Toss out all expired foods, including spices, baking goods, and canned or boxed goods. Label containers of pasta, cereal, snack foods and canned goods. Sort through food storage containers, making sure all lids and containers are there. If you have more than you need, toss or donate these items.
Prepare for the cold weather by neatly packing up patio furniture. Keep cushions in labeled bins and cover furniture frames. Clean the deck and weather-proof or add a new coat of paint if need be. Clean out and organize the garage—after all, you'll need space for all the labeled bins, outside furniture and your car once the snow falls.
Get Ahead of the Holidays
It never hurts to get ahead of the holiday stress. Begin sorting through your holiday decorations, clearing out overused or broken décor and move decorations to an accessible spot so there's no scrambling to get everything up and out. Resist the urge to overspend on gifts and meals, and start looking ahead to holiday budgets and written goals. Begin sorting through children's books and toys to make room for new ones to come.
If guest rooms are used as storage space, begin clearing out any unnecessary items as early as possible. Not only will this be a lifesaver the weekend before your guests arrive, but you'll be able to focus on pressing matters, such as setting out fresh linens, dusting and vacuuming. After clearing the clutter, ensure that all light bulbs (and night lights!) are in working order, make bathroom supplies (i.e. toilet paper) easy to find and make the bedroom and powder room comfortable for guests.
Editor's Tips & Tricks
To steam clean your microwave: Fill a microwave-safe bowl with one cup water, two tablespoons white vinegar and a few drops of your favorite essential oil, (or squeeze juice from lemon, lime or orange slices). Heat in the microwave (on high power) for five minutes, then let it sit inside for an additional five minutes before wiping the inside clean.
To clean your windows: Wait for a cloudy day to refresh your windows—if it's sunny, the solution will dry too quickly, leaving streaks. First, remove dirt and dust with a duster or vacuum. Don't hold back on cleaning solution, spray generously and use a microfiber cloth to dry windowpanes. (For a DIY glass cleaner, combine two cups water, 1/2 cup white vinegar and 1/4 cup rubbing alcohol into a spray bottle.)
To clean tile grout: Mix 3/4 cup chlorine bleach with one-gallon water. Wearing rubber gloves, use a stiff brush to apply the solution. Let sit for several minutes before scrubbing and rinsing. Be careful to not splatter the liquid on yourself or surrounding surfaces—and clean up right away if you do. For a less powerful, bleach-free cleaner, combine equal parts baking soda and hydrogen peroxide until it forms a paste. Apply to the grout, let sit for several minutes, scrub and rinse.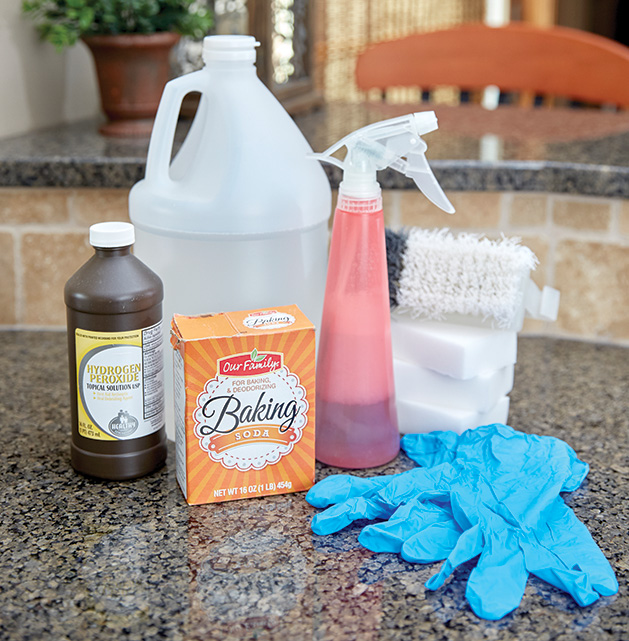 Cleaning Tool Kit
Investing in all the right cleaning supplies will do the hard work for you. Be sure you have everything on hand before the cleaning day because even the smallest things can put a damper on your day. Here's a few outside-the-box options.
Baking soda
Hydrogen peroxide
White vinegar
Essential oils (eucalyptus, lemongrass, lavender and tea tree are great for cleaning!)
Microfiber cloths
"Eraser" sponges
Latex gloves
Stiff/bristle brush