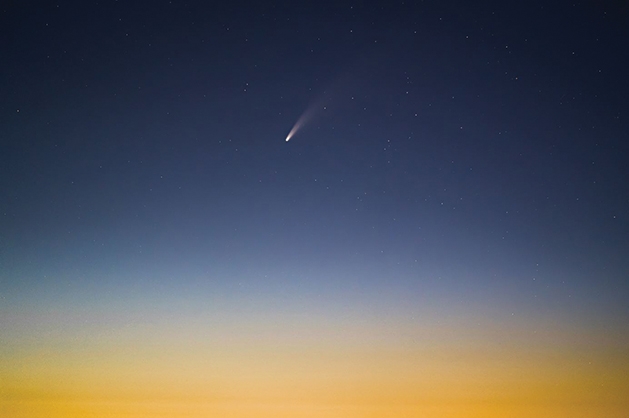 Behind-the-scenes of an award-winning photo.
Each month, we feature one of the photos from our 2020 Focus on Woodbury photo contest. This month, we asked hobby photographer Andrew O'Meara to tell us about Neowise Over Woodbury, which took third place in the Wildlife & Nature category.
Tell us the story behind the image.
When I first heard about the comet Neowise, I just wanted to be able to see it with some binoculars. The first time I went out, I was just barely able to see it for a couple of minutes because it was mostly cloudy … I drove around Woodbury looking for a high point … On one clear perfect evening, I brought my camera and was able to find Neowise and take a couple of pictures. I was surprised how bright the comet was in the sky and that the camera was able to capture it, even though the sun had just set and it was twilight.
What's your favorite thing about the image, or what struck you about the scene and inspired you to take it?
The color. I really like the stars against the blue twilight color.
What's your photography background?
I am a hobbyist photographer, but I love to take pictures of just about anything … I became interested in astrophotography partly due to the many dark sky locations just outside of Woodbury.