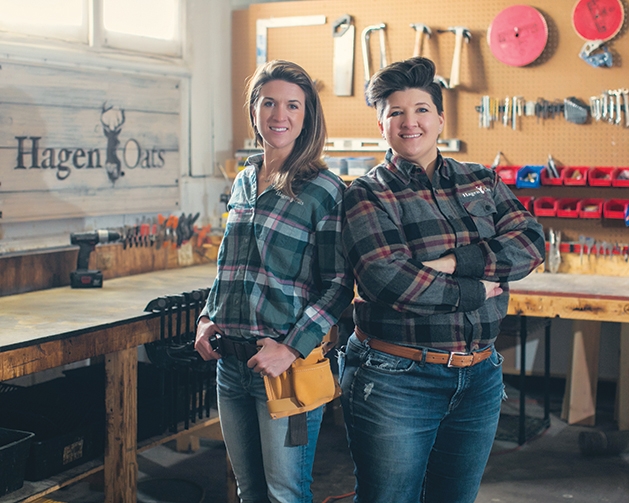 Sister duo turn creativity into a full-fledged business.
Woodbury local Anna Hagen says she and her sister Nikki Hollerich have always been crafty; "We like to joke that we've made every craft in JOANN Fabrics," Hagen says. With a creative streak like that, it's no wonder that when the sisters encountered a band saw for the first time, they became enthralled.
After an internet search to learn the basics of woodworking with a band saw, Hagen and Hollerich created their first piece—a sign featuring a deer silhouette—which they proudly put on social media. "From that post our friends were like, 'Hey that's pretty cool, could you make me one?' or, 'Could you make a Minnesota?'" Hagen says.
These commissions resulted in more posts, which spread the word even more. "It kind of evolved from there," Hagen says. Now, the sisters run their own custom wood décor shop, Hagen and Oats, and sell their wares in a number of makers shops around the Twin Cities.
Originally, Hagen and Hollerich didn't expect their woodworking hobby to develop into a thriving business. The name itself speaks to how casual their original intentions were; half is Hagen's last name, the other half is the name of Hollerich's cat, Sir Oatmeal the third, Hagen says with a laugh.
Part of their success, Hagen believes, is thanks to the Minnesotan ethos of supporting local businesses as well as local businesses supporting each other. "We had other makers who had been in the game for a lot longer than we had and could steer us in directions based on their trials and tribulations," Hagen says. "And then we were able to do that for other people along the way." Over a six-year period, the sisters pivoted from developing the business, while working other jobs, to working on Hagen and Oats full time. "I think slow and steady was just comfortable for us," Hagen says. "We didn't want it to feel like it was a make or break, sink or swim kind of thing."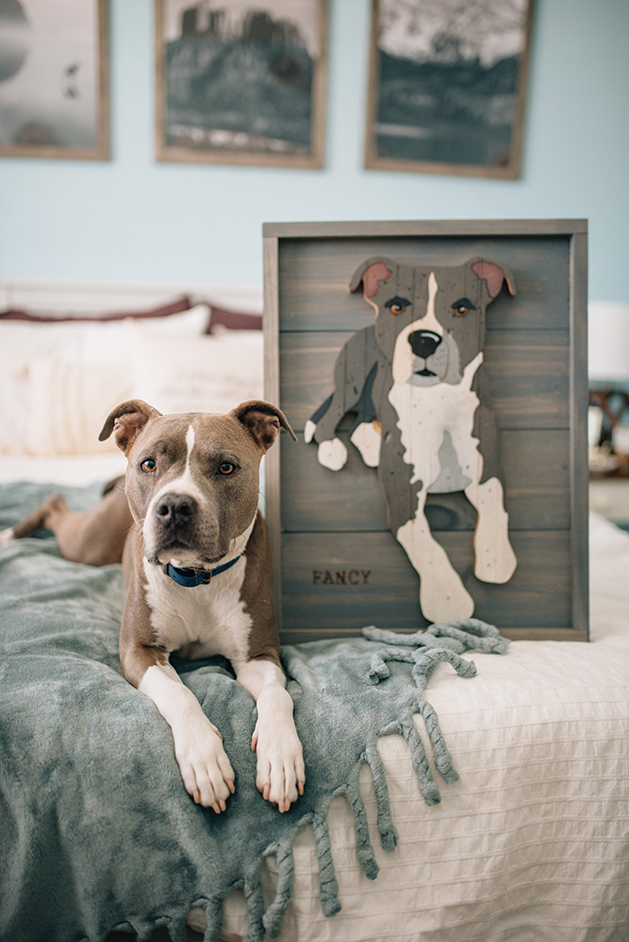 Now, their Newport-based workshop is in full swing with a team of part-time women and an ever-expanding repertoire of exclusively hand cut designs. "As far as the creative process goes, we have our classics pieces like the cribbage board or the beer opener, but it really just evolves with the customer," Hagen says.
On a number of occasions, a customer has inspired a new series of décor, such as the custom pup portraits the workshop produces. Other times, happy accidents supply the creative spark that catches light.
Hagen and Oats also specializes in custom projects, which can often strike a sentimental tone. One project memorialized a grandmother by capturing her hand-written grocery list in wood and it's pieces like these they tend to love best.
Where in the Twin Cities can you find Hagen and Oats?
• The Grand Collective: 791 Grand Ave., St. Paul
• Six For Good: Rosedale Mall, 1595 MN-36, Roseville
• Six For Good: Nolan Mains, 3945 Market St, Edina
• Minnesota Strong: Ridgedale Mall, 12401,= Wayzata Blvd., Minnetonka