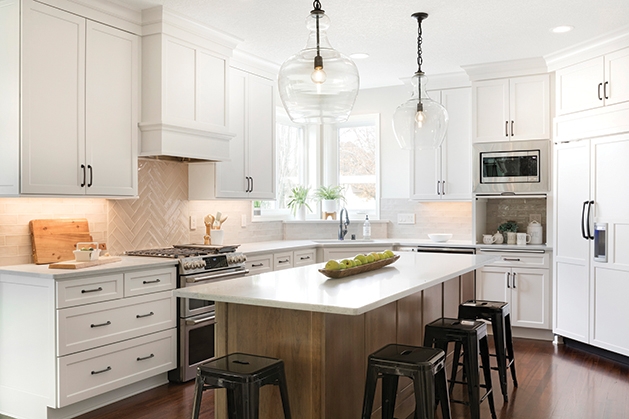 State of the art appliances for better living and cooking.
The past year, we've spent much more time at home, making kitchens even more of a focal point. This year's kitchen is more intuitive, cleaner and a greater reflection of who we are.
Jason Fabio, owner of Ispiri Design-Build, says, "White kitchens are popular and are always very timeless. They stand the test of time. But I think there is a trend to move away [from all white] and we are seeing more colors introduced and different materials and textures mixing." Fabio says that in 2021, cool and calming tones have been coming into play, highlighted by minimalistic designs and lots of contrast.
Angela Warner, appliance specialist at Warners' Stellian, says they're underscoring the importance of designing your kitchen for 363 days of the year and not trying to accommodate the volume of a couple holidays at the expense of everyday function. "We are seeing this organic design style with calming earth tones and textures like unstained wood," says Warner.
Connectivity is Key
One of the most popular tech highlights for on trend kitchen design is Wi-Fi connectivity, making every appliance in your home more accessible. "You can start your oven or dishwasher or even your washer and dryer from your phone," Fabio says.
Busy schedules, whether you're working from home or not, mean that being able to run your dishwasher or prep for dinner before you even get to the kitchen makes all the difference. "People use their mobile devices to preheat their ovens or check the cooking progress whether they're on a Zoom call or away from home," says Warner.
Making a Statement
"Expert" appliances are becoming more and more popular in this new decade. "A professional gas range is the statement piece of the kitchen," Warner says. "We're seeing customized metal appliance hardware to create drama and interest instead of just sticking to the same metal finish throughout. This makes it easier for people to be adventurous and use a mixture of metals in not just their appliances but in their [other kitchen fixtures] and pulls as well."
Fabio believes home design is personal, whether that's a bold statement or all in the details. "It all depends on the design," Fabio says. "[Your statement piece] could be a handmade tile backsplash, gold finishes for plumbing, hardware and lighting fixtures, a waterfall or a built-up edge countertop at the island in large pattern."

New Ways of Cooking
No longer are countertops crowded with appliances, hauled from the pantry and shuffled around to access outlets. Many are now opting to build their go-to cooking gadgets right into their kitchen layout. Fabio says luxury coffee makers are top choices for coffee connoisseurs.
Ovens are adapting with new ways of cooking. Air fryers, now a feature on many ovens, are becoming increasingly popular as a quick, easy and healthier way to prepare favorite meals. Warner also suggests considering a speed oven rather than a double oven. "Speed ovens combine microwave speed and convection performance for lightning-fast, superior results, like a roasted chicken in 20 minutes," Warner says.
Investing in Home
If you are thinking of making updates to your kitchen, there are a few key things our experts recommend you address first to ensure your home is cared for in the long run. Both Warner and Fabio emphasize the importance of installing a ventilation hood over your stove. "The best investment a family can make is an actual hood over your cooktop or range because it will keep your kitchen cleaner than an over-the-range microwave," says Warner.
"A hood helps with removing the smells and odors out of your house. When you cook and you don't have ventilation, you're putting grease into the air of your home and it'll layer your furniture and window treatments and get on all the surfaces over time," Fabio says. "When you ventilate and have a proper hood over your range, you can basically suck all those particles out of your house and keep your home cleaner."
Along with range hoods, Fabio has seen a turn toward induction stoves, rather than a gas or electric version. "It's the same look as an electric [stove], but it takes a certain pan to activate it. It has the same responsiveness as a gas cooktop, which people love," Fabio says, explaining that even when the induction stove is on, you can pull the pan off and touch the cooktop without being burned. It's a great choice for families with children whose little hands may accidentally touch hot surfaces.
Whether you regularly host family dinners or heat up your favorite restaurant take-out, your kitchen is an integral part of your home. Investing in it can make cooking easier, safer, cleaner and simply more enjoyable.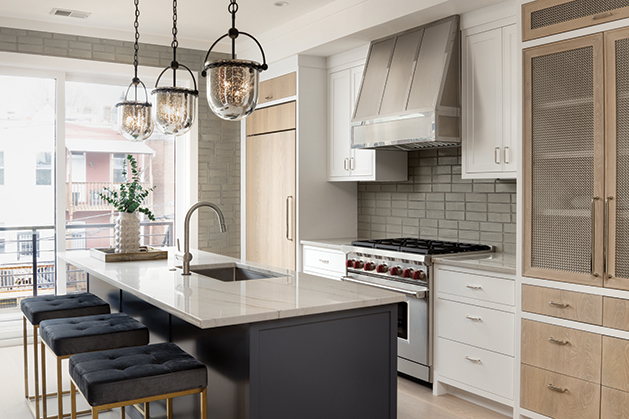 "Another great investment for families is a steam oven for health and well-being," Warner says. "For most items you cook in a microwave, a steam oven is a great alternative. [It] not only offers a nutritious way to prepare produce, but the moist cooking technique can be applied to dishes you'd never think to steam."
Fabio says that along with steam ovens, the steam-cleaning feature is a must-have, "The self-cleaning feature on ovens has traditionally been very hard on ovens, causing them to wear out sooner, so they have a steam-clean function now that is a gentler cleaning and helps the appliance last longer."