Lake Elmo Coffee reopened last year with new owners and a focus on community.
If you pay a visit to Lake Elmo Coffee, check out some of the other great businesses in our neighboring community.
Lake Elmo Coffee has only been around for a couple of years, but its focus on the local community runs deep. It all began when the first owners opened the shop in November of 2017, and continues—passionately so—with the current owners, Shane and Joan Manzara, who re-opened the shop in April of 2019.
When you first walk in, one of the things you'll notice right away is the high ceilings. Light seems to flood into the space from all directions. It's a warm, friendly, casual place with many different spots to sit and enjoy your coffee and pastry, do lunch with a friend, plug in and get some work done, or just catch up on some reading.
The coffee shop walls are punctuated by bright, colorful artwork depicting lovely lake scenes and sunsets, vibrant garden florals, and beautiful landscapes. The subject matter of every piece is locally significant, and everything is created by local artists. The artists' information is listed next to each piece so coffee shop customers can contact them about purchasing the works.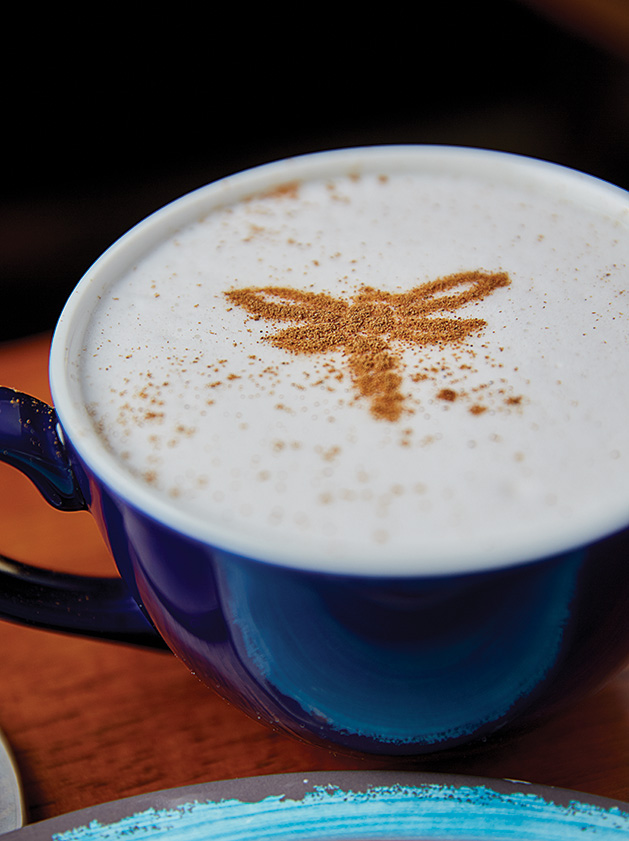 As you might guess, the coffee at Lake Elmo Coffee is also produced locally. Signs for organic, fair trade Bootstrap Coffee Roasters from St. Paul are proudly displayed, and you can buy retail packages of Bootstrap coffee right there at the shop. You'll also see Ox and Crow Coffee from Mahtomedi. They'll be roasting their beans right in Lake Elmo later in 2019, providing additional partnership opportunities for the kindred spirited coffee companies.
"Community is strengthened when it's supported," says Joan Manzara. "We bank and buy our insurance locally, and do everything we can to support other local businesses and the people in our community."
Manzara, a former chemist, is passionate about the art—as well as the science—of making good coffee, and loves the many elements and nuances that go into creating thoroughly enjoyable beverages. The art of customer service seems to come naturally to her as well. "People make a conscious choice to spend their hard-earned money here," she says. "We really appreciate that and want to make sure they get food and beverages they like here, and feel that it's a good value."
Manzara refers to the food they serve as fresh comfort food. "It's familiar food, but with fresh twists. And we make every effort to learn customers' favorites as much as possible."
The menu is a work in progress as they continue to learn what customers want most, and they strive to create fresh, delicious, gluten friendly menus that offer something for everyone. There are gluten free breads and granola. There are also non-dairy alternatives such as almond milk, coconut milk, and oat milk. "Everyone has personal preferences for their favorite coffee drinks," says Manzara. "And it's always fun to try new things, so I suggest that people try different types of milk just for the fun of it, if nothing else—to experience different flavor profiles."
The shop sells community favorites like banana bread and scotcheroos. They also sell soups, sandwiches, quiches, and pastries, all of which are proudly made in-house. Their ever-popular scones—such as the lemon blueberry scones brimming with plump, fresh blueberries and lots of lemon zest—are not to be missed. And if they happen to have any left from the day before, you can enjoy their day-old scones for 50 percent off. There's even a $5 kids' menu and special kid-friendly beverages.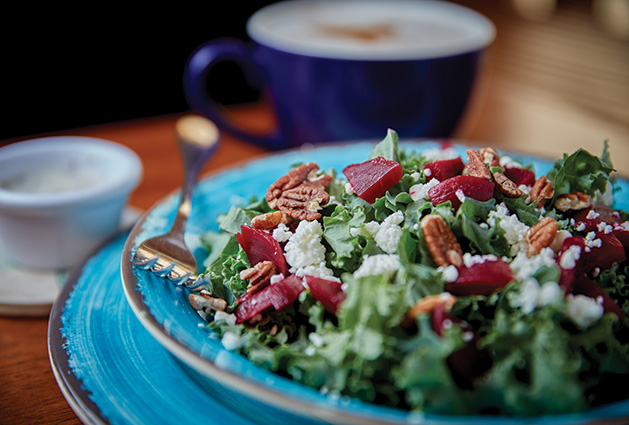 Lake Elmo Coffee shop favorites include the original almond avocado toast with goat cheese, honey, and nutmeg. Manzara's personal favorites include the yogurt parfait (granola, honey, and seasonal fruit), the power house salad (beets, kale, goat cheese, toasted pecans, and poppyseed dressing), and the Paddington special (English muffin with cream cheese and marmalade). "We really love marmalade," says Manzara, "so we figured we ought to have some marmalade on our menu—and ours is really good."
Sandwich lovers can choose from several breakfast and lunch sandwiches and paninis. The Grown Up grilled cheese (customizable with tomato and bacon) and the club sandwich (turkey, bacon, lettuce, and tomato all stacked high with three slices of bread) are classic favorites.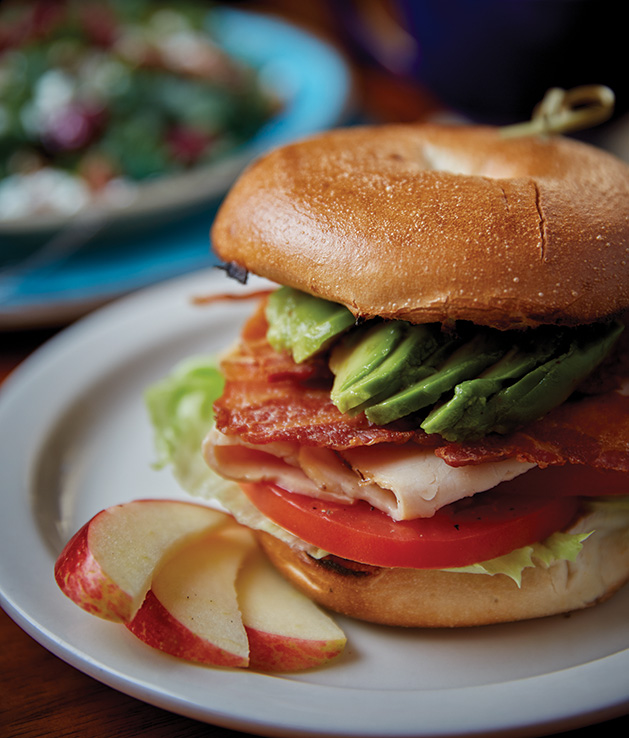 Winter menu items will likely feature things like hearty soups. Vienna-style cream cheese pastries and pumpkin bread are also in the works. Hot, hearty offerings such as chicken salsa chili, wild rice soup with turkey and mushrooms, and a variety of vegetarian quiches are delicious choices that'll warm you right up. Of course, the seasonal drink specials are always fun to try, and their barista's creative latte art is icing on the proverbial cake.
In addition to their commitment to local, seasonal ingredients, Lake Elmo Coffee believes in "quality over convenience," and focuses on minimizing waste. They make every effort to use products and resources efficiently. Food items deemed un-usable at the shop are either composted or they go to a local farmer for her pigs and chickens to enjoy.
Every nook and cranny of Lake Elmo Coffee is filled with thoughtful community elements. There's a Pay It Forward board where you can "Make someone's day and purchase an item to leave on the board." And, if you're having a bad day, you can redeem a purchased item on the board for pick-me-up. There's also a Little Free Library filled with good reads for all ages.
They've also doubled the patio size to offer more outdoor seating. They're also working on ideas for curbside pick-up and a special app that allows customers to order their coffee, snacks and meals ahead of time. "That won't happen for a while," says Manzara, "but it's definitely something we're looking forward to offering our customers."
Keep an eye out for news and announcements of more things to come, because there's more than just coffee brewing at this community gem.
Lake Elmo Coffee
3511 Lake Elmo Ave.
Lake Elmo
Facebook: Lake Elmo Coffee
Instagram: @LakeElmoCoffee