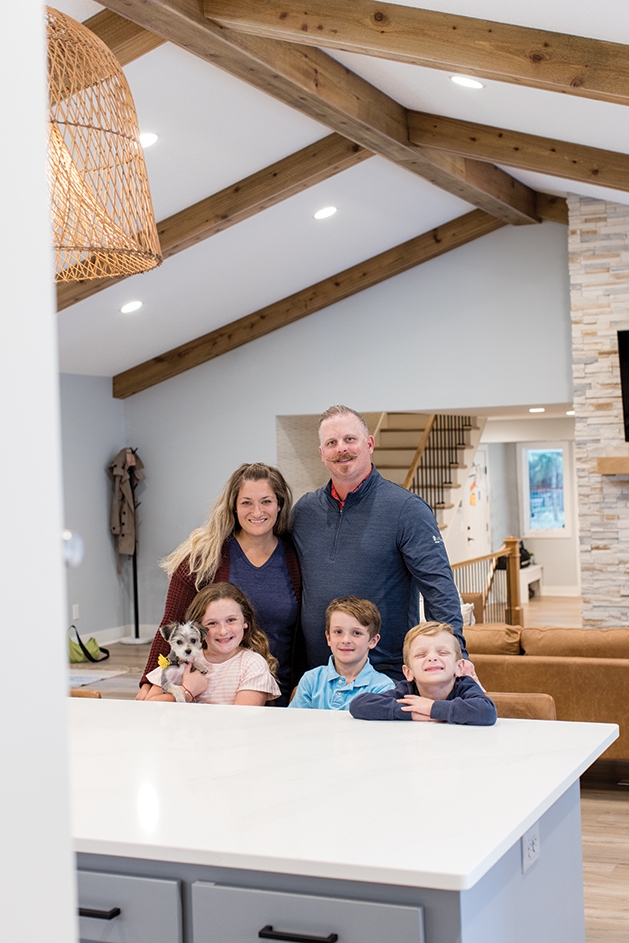 Mark Hargis, the son of former Woodbury mayor Bill Hargis, inherits and remodels childhood home.
For residents of Woodbury, the Hargis name should ring a bell. Bill Hargis served as Woodbury's mayor for 17 years and many say he's responsible for the growth of the city. Though Hargis retired in 2010 and passed away in 2018, he's remembered by the streets, baseball field and more named after him. But there's a special way the Hargis family remembers him by: his home.
Mark Hargis, Bill Hargis' son, inherited the family home upon Bill's passing, and the family took the opportunity to move into Mark's childhood home. "There's the legacy of having grown up in this house, and it's a great location," Hargis says. "That's what led us to stay."
Hargis and his family moved into the home in 2018. Prior to move-in, Hargis promised his brother Peter that it would be at least one year before any renovations were completed. Keeping true to his promise, renovations didn't start until the following year.
Oakdale-based Cardinal Remodeling took on the project of renovating Hargis' childhood home. A new addition was created in the three-level rambler, where a mother-in-law suite, a new pantry and a golf simulator were added. A mudroom and a pool bathroom were also added.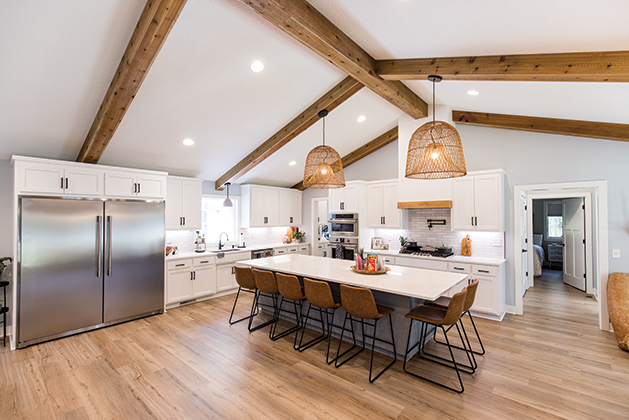 The new additions were laid out to be as versatile and useful as possible. The golf simulator doubles as a movie theater or a gaming room. The floors in the basement are rubber, so, in the wintertime, the kids can lace up their ice skates and walk outside to their backyard without damaging anything. "No space was left untouched," says project manager Laura Scheidecker. "Every ounce of space gained was used."
Not only was the house refinished, but a few pieces of sentimental furniture were preserved. An old butcher block countertop, which served as the original island top in the kitchen, is now the Hargis' dining room table. "We ate a lot of meals on that top growing up," Hargis says. "Now, that legacy, too, can continue."
Along with all the additions to the home, the project also helped open the layout of the house and create more kitchen space, allowing for an oversized fridge/freezer to be added. Hargis says, "We love the openness … That's my favorite part."
However, with renovations come complications—for the entirety of the project, the family was locked down at home due to COVID-19. "It definitely brought some entertainment to the house," Hargis says.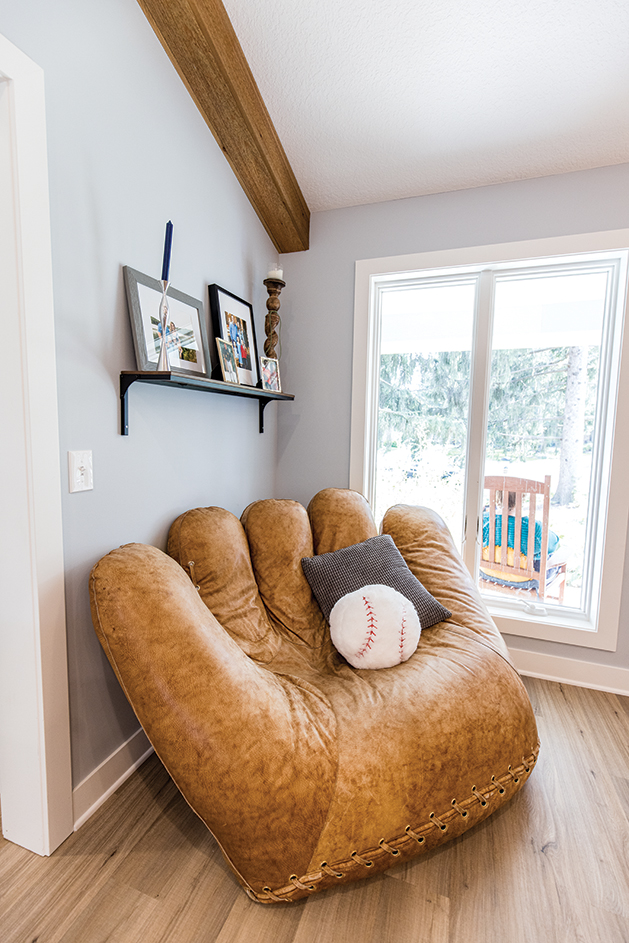 Regarding safe COVID practices and protocols, Scheidecker says, "There were definitely some worries about whether or not we'd be able to get all the materials we needed because of the shutdowns … We also had to make sure we weren't overlapping crews."
Although out of the ordinary, having the Hargis family home during the project proved to be an advantage. "A lot of times on a job, we need to show the family something or ask them a question, [so] having them at home made the process smoother for all of us," Scheidecker says.
There were a few other tricky components to the project besides the pandemic. The ceilings needed to be raised to make the proper space necessary for the golf simulator. And when the team removed the roof, they had to ensure it was completely covered in case of an unforeseen rainstorm. "It always seems that whenever you take off a roof, that's when it's going to rain," Scheidecker says.
"It really was easy dealing with the construction because of Cardinal," Hargis says. "They communicated everything very well."
It's taken some time for Hargis to adjust to living in his childhood home as his own and not his parents'. One morning shortly after moving in, Hargis' daughter asked him for some cereal; he went to the cupboard where, for 36 years, he'd known there to be cereal, and there wasn't any. "I told her, 'Sorry, I guess we're out of cereal,'" Hargis says. "I told my wife later, and she promptly showed me a cupboard full of cereal. It just wasn't where I've always known it to be."
Though it is enjoyable to live in his childhood home, Hargis says it also comes with mixed emotions. He loves that he can still have the memories of his parents and growing up in that house, especially since his parents are gone, but it doesn't replace having them there with him.
"Some days, grief just comes in, and you can't control it," Hargis says. "It's hard being in the house … But, you just try to embrace it."
The remodel helps, and the Hargis family gives credit to Cardinal for making its vision a reality. "Cardinal was amazing to work with," Hargis says. "They listened to what our dreams were, and they executed our ideas."
Scheidecker says, "We are grateful to the Hargis family for providing us with this opportunity to help carry on their family legacy in Woodbury …"
While it might not look the same as it once did, the couple has a home that its children can grow up in, just like Hargis and his siblings did. "We've met good friends and good neighbors here," Hargis says. "Plus, we really love the Woodbury community." 
Even though there's not a Hargis in office anymore, people can still expect to see the family around Woodbury. "Our plan is to  have our kids inherit [the house]," Hargis says. "Hopefully, they do the same and pass it down to their kids."
Hargis History
Bill Hargis' legacy begin in 1992 when he filled a vacancy on the Woodbury City Council. The following year, he became mayor. From 1993 to 2010, Hargis, Woodbury's longest-serving mayor, served the city in a multitude of ways, including:
Tripling the city's population
Leading the creation of Tamarack Village and Woodbury Lakes
Assisting to construct a new City Hall and the expansion of HealthEast Sports Center
Assisting to develop Central Park and Eagle Valley Golf Course
He also founded the Woodbury Prayer Breakfast and the Woodbury Community Foundation. In 2003, he was named Woodbury Citizen of the Year. He is also in the Woodbury High School Athletic Hall of Fame. Woodbury has since honored him through the naming of Hargis Parkway, a street near East Ridge High School. He is also honored by the naming of Hargis Park at Bethel University, where he served as Bethel's baseball volunteer assistant. —Hailey Almsted