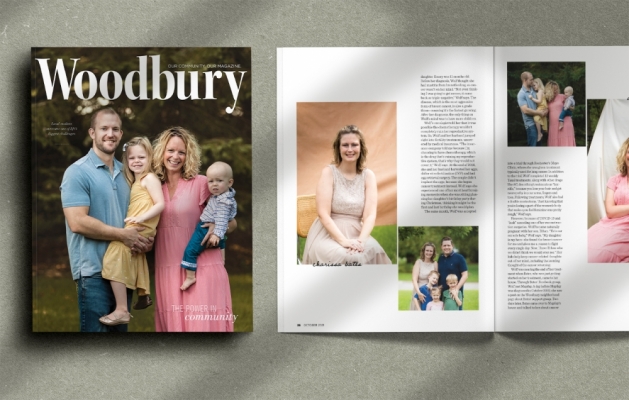 As a little girl, I had many feminine Halloween costumes: A princess. A witch. A Barbie. Although I gravitated toward more pink, girly costumes, I also geared toward a few that are just outside the box: A mouse. A lion. A yellow M&M. (Yes, seriously!) Trick or treating around these homemade costumes was the best part of fall—and the spooky month of October remains one of my favorite holidays to date.
This month in Woodbury Magazine, we're celebrating Halloween in more ways than one. On page 18, you'll find a few DIY-inspired Halloween costumes created by Woodbury resident and Jerry's Foods marketing manager Elizabeth Kriel. And on page 9, get inspired with an eerie cocktail (or mocktail!) recipe, perfect for a ghostly get-together. Trust me, this drink will be the talk of the town.
Also in this issue of Woodbury Magazine, we commemorate Breast Cancer Awareness Month with three Woodbury residents who have fought through the heart wrenching journey of triple negative breast cancer. Charissa Bates, who created a Facebook group for women in similar journeys to connect with one another, says, "It's nice to know that you're not alone. It's nice to see people at different stages, too …" To read the full feature, go to page 34.
And as the weather gets colder and the days get shorter, cozy up to the chillier season with a bit of warm broth—managing editor Angela Johnson chats the differences between broth and stock with Freak Flag Organics and Taking Stock Foods, and shares a few delicious recipes, on page 44.
Happy Halloween, readers! See you next month.