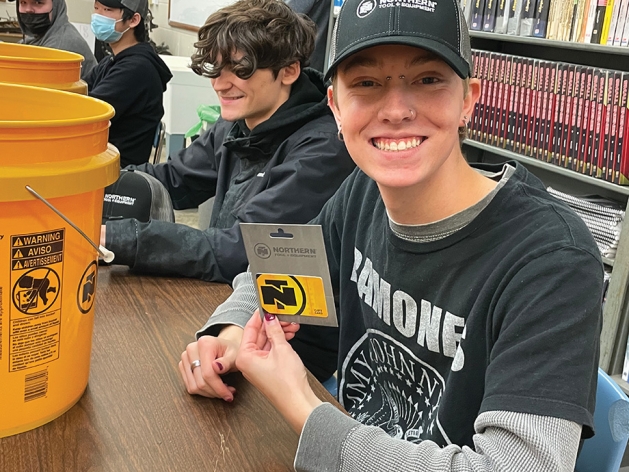 You can say Northern Tool + Equipment is in the business of fixing and repairing things.
The company, founded and based in Minnesota, operates 120 stores across 20 different states and offers some 100,000 different tools for sale. You can also say Northern Tool + Equipment is in the business of building things, relationships included.
In December 2021, and as part of the Minnesota launch of its Tools for the Trades program, which empowers students to pursue careers in the trades, Northern Tool + Equipment made a $5,000 donation to Woodbury High School's career and technical education program. The donation included a JET floor-mount drill press, Klutch mini milling machine, Milwaukee panel saw, Bosch dual-bevel glide miter saw and an Exxo nail punch set.
"The donation is part of a larger program of supporting technical and trade programs across the country," says Todd Allard, senior vice president of marketing.
In Minnesota, Northern Tool has made similar donations to Burnsville High School, Forest Lake High School, Minnetonka High School, Rogers High School and White Bear Lake High School.
The immediate result is to put professional-grade tools into the hands of learning students. End results might be bigger.
"In the United States, 2.4 million skills jobs are going unfilled," says Allard. "That's becoming more problematic
as [baby] boomers are stepping away."
Notice the difficulty in finding someone to replace a deck, remodel a kitchen or run new wiring? How about building a house? Programs like the ones found in Woodbury's technical education department are hammering away at those problems, as are apprenticeships and experiences.
In a video highlighting the Northern Tools donation, instructor Amanda Davis expressed the school's gratitude by saying that she's thrilled with the partnership and that Northern Tool's generosity will make a difference in 100s of kids' lives every year.
"It's just amazing," she says. Davis went on the say that kids are finding their spot in the trades and in the hands-on-learning they do in Woodbury's tech ed department. One student says that she loves her class and that it gives her
a hands-on-experience for what she ultimately wants to do, auto collision repair. This didn't surprise Allard in the least. "Our audience is 40 percent girls and women," he says.
Lastly, the students at the donation announcement received Northern Tool + Equipment gift cards. "It adds to the event," says Allard. Most likely, it adds to their work benches, tool boxes and tool belts, too.