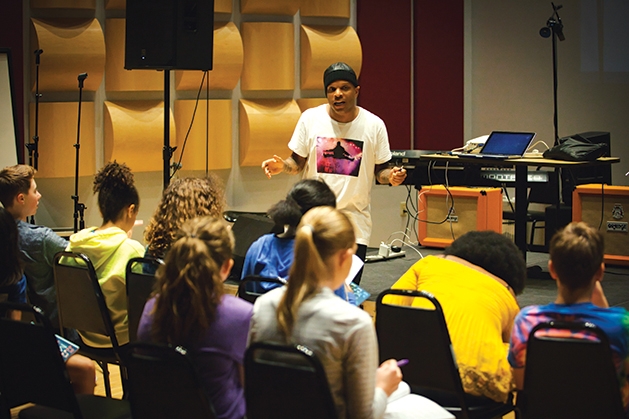 Purple Playground Hosts "Academy of Prince" to Educate Young Musicians on Minnesota Musical Legend Prince.
The idea for Purple Playground sparked among Prince fans at a backyard barbecue. It was 2016, shortly after the Rock and Roll Hall of Famer's death. Sadness and a yearning to keep Prince's philanthropic legacy alive permeated the yard.
Lifelong Prince fan and Paisley Park regular Heidi Vader couldn't let it go. In 2017, she formed Purple Playground, a nonprofit for youth music education. From there, educator, DJ and vocalist Willie Adams had the idea for Academy of Prince (AOP), a free monthly and summer music program for teenagers to write, perform and collaborate musically.
Vader tapped into her 35 years of music connections to form a powerhouse of speakers and teachers. "It's so touching how many 'Yes' [responses] we get," says Vader, Purple Playground director. "It's about continuing Prince's legacy of giving and educating the next generations—all taught by musicians, who played with him, authors who wrote historical books about him and others who collaborated with him."
AOP students learn about Prince and his musical influence. Students also collaborate during the two-week camp, writing and recording in a professional studio at High School for Recording Arts in St. Paul.
"Academy of Prince is a revolutionary approach to music and arts-based education," Adams says. "We don't foster competition. We show our students and model for the community the power of collaboration. We see our differences as strengths and gifts, not deficits. I believe students and the communities we serve will be impacted for generations to come because, like Prince, we are about using music to unite, heal and uplift our world."
Past AOP student and East Ridge High School senior Ava Cyr attended the camp in 2020. "The mentors were encouraging, patient and positive, which really helped the shy kids, like me, feel welcome and an important part of the group," Cyr says. "The Academy helped me with my confidence to further my guitar education and to realize that everyone has something of value to offer in the creative process."   
Cyr also acquired the spirit of philanthropy. "Being a part of the academy sparked a desire for me to further Prince's charitable mission," Cyr says. "I put together a musical instrument drive in conjunction with the Prince Club I started at my high school to gather instruments to donate to District 833 middle schools."
She'll always remember the experience, which was like none other. "The opportunity to collaborate with other teens to make music and be mentored by the likes of Jellybean Johnson, Morris Hayes, Shelby J. and many other amazing artists is a once-in-a-lifetime opportunity," Cyr says.
Speaking of powerhouse talent, singer/songwriter Elisa Fiorillo and Adrian Crutchfield, who originally joined as a guest artist and music supervisor liaison, joined Vader and Adams on the Purple Playground Board of Directors.
Fiorillo was a backing vocalist on songs with Prince and The New Power Generation in 2009 until 2014; she worked with Prince until his last show in New Orleans.
Fiorillo joined the board after serving as an AOP guest and seeing how it impacted the kids. "The last time I worked with these amazing kids, I saw the huge transition from the time they arrived to how they left," Fiorillo says. "At first, [students were] insecure to share their ideas, and, by the end, kids were going off on their own and creating songs all by themselves and performing them."
Prince encouraged Fiorillo to write her own songs. "The thing that drives me is knowing in my heart and soul that Prince would be very proud of me," Fiorillo says. "He loved sharing his music with kids. He inspired me to write, and I want to do the same for the kids of Purple Playground."
Saxophone artist and The New Power Generation Hornz liaison Adrian Crutchfield toured with Prince and is featured on his final work. He was the last horn-man to perform and record with Prince.
Crutchfield is inspired by exposing the next generation to Prince and what he represented. "I believe we are all responsible for passing it, whatever 'it' is in you, on to the next generation; no gimmicks, no smoke and mirrors or hidden agendas," Crutchfield says. "Prince was big on passing it on. He taught me, and I feel I owe it to him and all my other teachers to pass on the knowledge."
AOP empowers students to look inside themselves for what's already there. "Everyone has creativity and expression in them; the trick is finding the confidence and audacity to share it with the world," Crutchfield says.
Purple Playground Academy of Prince
purpleplayground.org
The Purple Playground Group
@purpleplayg
@PurplePlayg