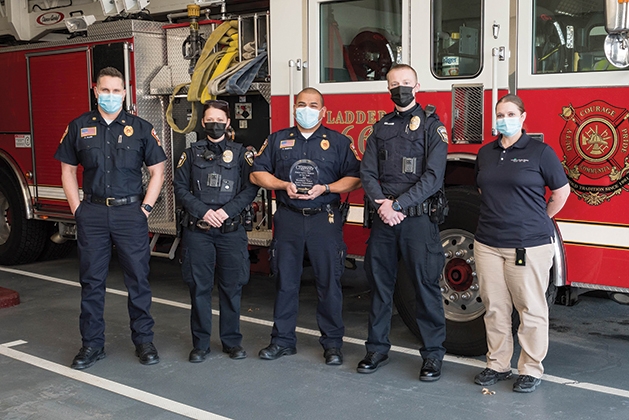 The Chamber of Commerce Award Gala highlights Woodbury's greatest.
"We recognize that Woodbury is one of the greatest places in the state to live, and part of the reason why it is so great is because of the people that work, volunteer and contribute to the community," says Woodbury Chamber of Commerce president Laurie Staiger.
Showcasing those who make Woodbury such a wonderful community, the Woodbury Area Chamber of Commerce Award Gala recognizes those who often go unseen. As a public process, these individuals are nominated throughout the fall by their peers and the community at large. Upon receiving applications, a chamber committee works to pick three finalists and a winner from each of the five categories: educator, business, everyday heroes (previously citizen), nonprofit and public safety.
Focusing on telling the finalists' stories, Staiger says the beauty of this event stems from shedding light on individuals who don't realize how beneficial their everyday actions are to those around them. "Those that have really impacted others' lives never say what they do on a day-to-day basis to make things happen because that is just who they are," she says. "They go above and beyond for that feel good experience of volunteering and really making a difference in the community."
Though recognizing amazing individuals in the community is the star of this event, the gala is also a fundraiser for the Chamber of Commerce to provide additional support to business and the community, as well.
Putting the Pieces Together 
Held at the DoubleTree by Hilton St. Paul East, the event features a sit-down dinner, live music, a silent auction, a dessert auction, a wine pull and, of course, the awards ceremony. "The community works really hard, and we are able to dress up and get together to celebrate and support one another," says Elizabeth Neyens, chamber member and chair of the gala committee.
With an incredibly philanthropic community, Staiger says the event would not be possible without the help of its volunteer pool. Providing resources and event expertise, dedicated chamber members donate their time to create the event of the year. "I love planning, and I love the creativity involved with putting on events," Neyens says.
As the leader behind figuring out the venue logistics, dinner selections and the rest of the elements coming together, she says it is fun for her to be able to dip into all aspects of planning. Leaning into all of her interests in this role, she finds she's had fun with sourcing the auction items and using her network of friends and business partners to create unique options for attendees. Typically offering a wide variety of product, Neyens says technology tends to be the most sought-after item. Featuring items (donated by local businesses, chamber members and the others in the community) like cameras and flat screen televisions, they also have had concert tickets, wine and food baskets, photography sessions, and house and window cleaning packages. "There is a little bit of everything," Neyens says.
Though they do not typically pick a theme for the event, the committee strives to stay consistent with simple color schemes to create a chic, classy cocktail attire event. "We try to think of what is trending and how we want the look and feel of the event to be," Staiger says. "We want people to feel like they are special and that this is a high-class event. It is really a great opportunity that we don't see too much of anymore, and we try to make memorable for people receiving the award."
Event Details:
January 21
DoubleTree by Hilton St. Paul East,
2201 Burns Ave., St. Paul
Woodbury Chamber of Commerce, 700 Commerce Drive Suite 285; 651.578.0722; woodburychamber.org
Woodbury Area Chamber of Commerce
@woodburychamber