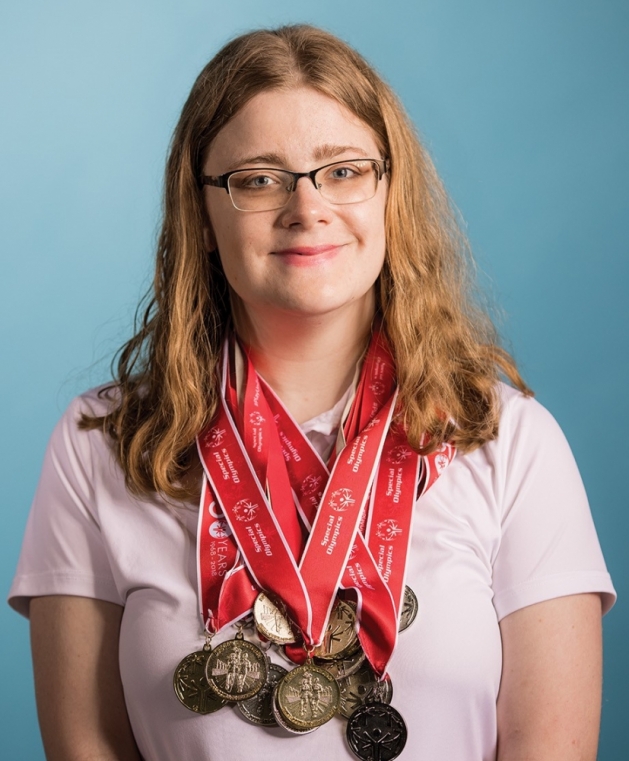 Woodbury athlete participates in 2022 Special Olympics USA Games.
"I don't let my disability hold me back," Sydney Sexton says.
This past June, the Woodbury High School 2018 alumna participated in the 2022 Special Olympics USA Games in Orlando, Florida, with more than 5,500 athletes and coaches. The 22-year-old is the youngest on her Special Olympics Minnesota (SOMN) swim team of eight.
"I always loved the water," Sexton says. "I started on the high school swim and dive team in eighth grade, and I fell in love with it, so I just continued my passion for swimming throughout the years."
Since her first SOMN competition in 2014, Sexton has earned 12 gold, nine silver and one bronze medal for swimming. "I just push myself really," she says.
In 2019, Sexton had the fastest times in her events, qualifying for the Special Olympics World Games Abu Dhabi 2019. However, for equality, SOMN conducts a random drawing from all qualifying athletes, and Sexton was drawn as runner-up.
Sexton's athletic abilities and identifying autism make her eligible to compete in Special Olympics. Julie Sexton says her daughter embraces the challenges that come with it.
"Sydney works twice as hard as everybody else to get what she wants," Julie says. "That's how she got her driver's license, and is able to go to college. She pushes herself because she really wants to succeed."
Her definition of success is a moving target. "She'll have a goal in mind, and as soon as she hits that goal, she goes for the next higher level," Julie says. "She doesn't want her disability to stop her from doing everything she wants to do."
Kristin and Dale Nelson, My BodyShop Fitness Center owners, are her 2022 coaches for SOMN. "Sydney thrives on competition and has a clear path to her pursuit of success," Kristin says.
Kelly Monicatti, SOMN director of programming, says, "Sydney always gives her best effort and is such a committed athlete. The 2022 USA Games will be her first opportunity to showcase her skills on such a big stage, and we cannot wait to see her hard work and dedication pay off."
In addition to training, Sexton studies for her medical assistant degree at Century College, works at Jerry's Foods in Woodbury and moderates the SOMN Facebook group.
"She doesn't give up, and I think that's why she has become such a strong person in general—in life," Julie says.
About her autism, Sexton says, "I'm proud of it, actually. I think of it as a gift. I'm very open about talking to people about my autism. Some people keep it to themselves, but I'm one of those people who is open to talking about things—about the struggles and the strengths and weaknesses with their disabilities."
Special Olympics Minnesota
Facebook: Special Olympics Minnesota
Instagram: @sominnesota
Twitter: @SOMinnesota