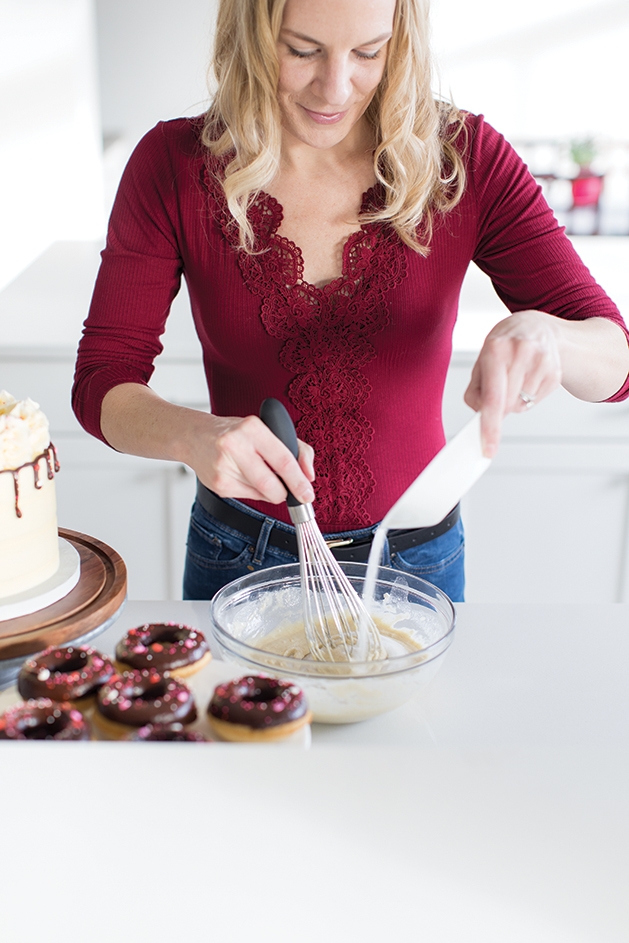 Naomi Betker shares her gluten-free goodies with the community.
For Naomi Betker, baking comes easy. The Woodbury resident has been whipping up sweet treats since childhood—but her favorite hobby took a turn when she was diagnosed with celiac disease in 2014.
"I grew up baking with my grandma, and I have a huge sweet tooth, so I was always baking for myself," she says. "I found out that I had celiac my junior year of college … That transition was really hard for me since I've always been obsessed with food and sweets."  Those diagnosed with celiac disease are hypersensitive to gluten and unable to digest wheat, malt, rye or barley (to name a few) without inflammation and irritation. So, for Betker, who had always used baking as an outlet, that meant transitioning all her favorite "normal" recipes to gluten-free recipes.
"I went to nursing school at St. Catherine University, and [baking] was my biggest stress reliever … It is super therapeutic," she says. She continued hobby-baking for the past nine years, and even shared her recipes online, but her interest turned into something more following the beginning of the COVID-19 pandemic.
"Two years ago, the COVID pandemic hit, and being a nurse during the pandemic was really overwhelming for everyone, but it was very stressful on my mental health and well-being," she says. "My husband and I talked … We said, 'Maybe it's the perfect time to take a break and start selling baked goods.'"
In June 2020, Nomemade Gluten-Free Bakery was created. The in-home bakery started at their previous house in New Brighton, Minnesota, but when the couple moved to Woodbury in November 2021, so did the bakery. Now, Betker says she has an established customer base and is excited to reach more gluten-free individuals.
"The response has been overwhelming and better than we could've asked for … We have an awesome gluten-free community," she says. "I have customers in my neighborhood but also those who come from Albert Lea, Minnesota, or even Milwaukee, Wisconsin." Due to the Minnesota cottage food law, Betker cannot ship the baked goods, so her customers make the drive to pick up their orders—some drive as far as five or six hours. "These people drive for hours to get good, gluten-free products … People have just been so gracious and trusting of me," she says.
Though the menu started out small, Betker says it has only grown with demand. The most common item is custom cakes, due to the challenging nature of creating a gluten-free cake and cake decoration, followed by macarons, which she says are equally as difficult. "Although I have a variety of things, I'm super proud of my pastries," she says, noting how difficult it is to recreate bread. Cinnamon rolls, dinner rolls and bagels are a few popular pastry choices. "They're the things we miss so dearly as gluten-free individuals … Those are my favorite because I see the joy it brings to people, especially when they say, 'I haven't tasted a fresh cinnamon roll in 15 years,'" she says.
As for the bakery's name? Betker says it was created out of a childhood nickname. "I started with the word homemade, and my family always called me 'Nomster,' so I mixed it with homemade and came up with Nomemade," she says.
Woodbury resident Andrea LeRoy says her family made the switch to gluten-free eating after her daughter Scarlett (8) was diagnosed with celiac disease at the age of 3. "At the time of my daughter's diagnoses, we felt very alone," she says. "We grieved a bit for the ease of which we had been functioning. It was very overwhelming and scary to think of how we would continue our family's traditions while keeping our daughter safe."
LeRoy's family of five—husband, Nick; Archer (10); and twins, Sydney (8) and Scarlett—had struggled with finding gluten-free comfort foods like Christmas cookies, pumpkin pie or birthday cakes due to the possibility of cross-contamination. Now, she says Nomemade has provided a sense of relief for their family.
"It was such a relief to find Nomemade … Cross contamination is not an issue at all, [and] it was so reassuring and felt like a big weight had been lifted off our shoulders to find a bakery that was local that we could trust," she says.
Lake Elmo resident Anita Gunderson agrees. Her daughter Leah (21) was diagnosed with celiac at 16, which made it difficult to eat out at restaurants or at friends' homes. Gunderson had always enjoyed baking for the family, but that was no longer an option after the diagnosis. Gunderson discovered Betker's bakery four years ago. She says she's been "blown away" by Betker's creations.
"Having someone like [Betker] and Nomemade Gluten-Free Bakery willing to share their talents and who is always working to create even more tasty items, is amazing," she says. "[Her] dedication to providing safe, delicious, fun, custom [items] is so appreciated … on a daily basis."
For Leah's July 2021 wedding, Betker created the wedding cake and cupcakes. "I have watched my daughter suffer through feeling alone and excluded when it comes to certain foods," Gunderson says. "Knowing that my daughter could have the wedding cake of her dreams and actually be able to eat it? Priceless!"
Although Betker will continue baking delicious cakes, cupcakes and more, she says she's always expanding the menu and whipping up new creations, like hand pies, flaky pastries or fried doughnuts. "The menu has definitely grown … It's been fun and good for us, too, since we get to enjoy it ourselves," she says.   
"It has been so fun to see the joy in my daughter's eyes as she decorates cookies prepared by [Betker] or when we reveal a beautiful birthday cake … With a diagnosis of celiac and how careful we are required to be, it's easy to think of the loss of moments like these," LeRoy says. "[She] provides the best gluten-free services to the families here … We know we can rely on her for safe and delicious food as well as the treasured family memories that go along with it."
Gluten-Free Galore
Gluten-Free Berry Hand Pies
For the pastry:
2 scant cups gluten-free flour blend (I use Bob's Red Mill 1:1 GF Baking Flour.)
½ tsp. salt (use ¾ tsp. for unsalted butter)
½ tsp. baking powder
1 cup butter, frozen and cubed
½ cup sour cream
¼ cup cold water
For the filling:
2 cups fruit of choice, thawed if using frozen (I use raspberries, strawberries and blackberries.)
2 ½ Tbsp. cornstarch (use 2 Tbsp. for fresh fruit)
1/3 cup granulated sugar
1 Tbsp. lemon juice
For the egg wash:
For the pastry: Whisk together gluten-free flour, salt and baking powder. Use a pastry blender to cut in the cold butter until the mixture resembles coarse crumbs. Add the sour cream and cold water, and mix with your hands until it starts to come together. Pour out the dough onto a floured piece of parchment paper, and press into a rectangle shape. Once it's together, roll the dough into a long rectangle, and fold each end in toward the middle, then in half. Rotate the dough, and repeat the letter fold three times. This will help create the most delicious and flaky pastry! Wrap the dough in plastic wrap, and refrigerate at least one hour.
For the filling: Add berries to saucepan over medium/high heat. Sprinkle granulated sugar over the top. In a small bowl, dissolve the cornstarch into the lemon juice. Add mixture to the saucepan with berries, and stir to combine. Bring mixture to a boil, then reduce heat, and allow mixture to simmer until thickened, about five minutes. Stir occasionally to break down the fruit and scrape the sides of the pan. Once mixture is thickened, transfer to an airtight container and allow to cool at room temperature for 30 minutes. Refrigerate for one hour or until mixture has reached room temperate before assembling the hand pies.
Assembly: Prepare the egg wash by beating together ingredients. Flour your workstation. Roll out chilled dough on floured surface to about 1/8-inch thick. Using a cookie or biscuit cutter, cut dough into circles. Using a fork, poke holes into half of the rounds (these will be your top crusts). Place one heaping Tbsp. of cooled fruit filling onto the bottom rounds. Use your fingers and spread egg wash around the edges of the bottom crusts, place top crusts on top. Press down along the edges with tines of a fork to seal. Place on baking sheet lined with parchment paper. Brush the top of each with egg wash and sprinkle lightly with granulated sugar. Place pan in the freezer for 10–15 minutes before baking. This will allow the butter to firm and will result in a flakier crust. While hand pies are in the freezer, preheat oven to 425 degrees F. Bake the hand pies for 20–22 minutes or until golden brown. Remove from the oven, and allow hand pies to sit for 20 minutes before eating. Enjoy!
Gluten-Free Chocolate Covered Strawberry Macarons
For the macaron shells:
130 g. almond flour
130 g. powdered sugar
100 g. egg whites, aged*
1/8 tsp. cream of tartar
90 g. granulated sugar
Gel food color
For the filling:
6 Tbsp. softened butter
¾ cup powdered sugar
½ tsp. vanilla extract
freeze dried strawberry powder, to taste
For the chocolate drizzle:
1 oz. dark chocolate, melted
For the macaron shells: Place almond flour and powdered sugar in food processor. Process until fine. Sift mixture through a fine mesh sieve and discard large bits left. Sift mixture an additional one to two times for extra shiny tops. Set aside. Place aged egg whites in large mixing bowl. Using a stand mixer or an electric mixer fitted with the whisk attachment, whip the egg whites until opaque and foamy. Add in cream of tartar and continue whipping until egg whites have reached soft peaks. Slowly add in granulated sugar in three or four increments and whisk until egg whites have reached stiff peaks. Add food color gel, if using, and whisk until just incorporated. In three increments, fold dry mixture into meringue. The batter will be smooth and shiny when it's ready. You should be able to lift your spatula and create a figure eight in the batter without it breaking. Transfer the batter to a piping bag fitted with a large round tip. I use a Wilton 2A tip. Pipe macarons in one-inch dollops on baking sheet lined with silicone pad or parchment paper. Leave an inch or two between each one. Gently tap baking sheet against the counter to release any trapped air bubbles. Let macarons sit on counter at room temperature until they are dry to the touch. This generally takes between 30–60 minutes depending on humidity level. While macarons are drying, preheat oven to 300 degrees F. Once dry to the touch, bake macarons for 18–20 minutes. They are done when they don't move around on their feet when touched. Let macarons cool completely before removing them from the silicone pad. If sticking, place pan with macarons in the freezer for five minutes before removing.
For the filling: In a medium bowl, cream softened butter. Add powdered sugar and vanilla extract, and mix until well combined. Add freeze dried strawberry powder, and mix until combined. Transfer buttercream to a small piping bag.
Assembly: Pair macaron shells up by similar size and shape. Pipe a dollop of strawberry buttercream on one cookie, then top with second cookie and press together. Melt dark chocolate over a double broiler or in a small bowl in the microwave until smooth. Drizzle chocolate over the tops of each macaron as desired. Place macarons in an airtight container in the refrigerator and allow to mature for at least 24 hours before enjoying.
*To quickly age egg whites, microwave for 10 seconds at 50 percent power.