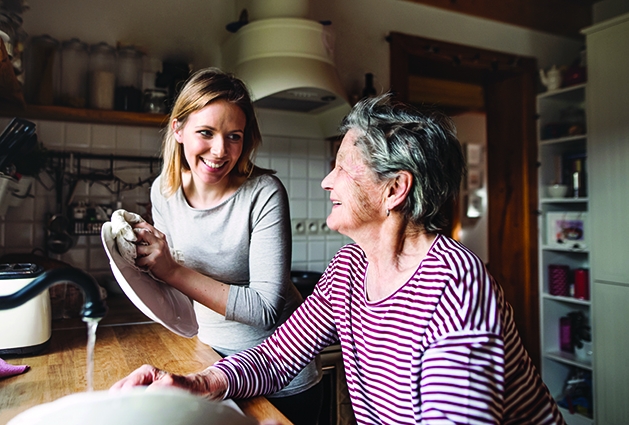 Senior care service goes beyond transportation and chores.
For elders, every day tasks, such as general house maintenance or getting to-and-from doctor's appointments, can be daunting. It can take away from family time and can be physically and mentally exhausting for themselves and loved ones—this is why Touching Hearts at Home exists.
Started in 1996, Touching Hearts at Home is a private home care company, which mainly serves seniors. Many clients have just been discharged from the hospital or are entering hospice care. However, it also cares for older adults, seniors, people with medical conditions and/or disabilities and those who simply need a hand. It handles what may be tricky chores to lift a burden off of the client and family, transport clients to appointments or errands and assist in meal prep or other housekeeping tasks. "We take the approach of being the additional support," says Sam Kaelberer, CEO of Touching Hearts at Home. "This way, the family can focus on being family and not a caretaker."
In addition to the basic household chores, Touching Hearts at Home is licensed to provide personal care, such as medication administration, which is something a lot of other home-care services are unable to provide. It can also start services on the same day clients get home from the hospital—time is precious, so starting as soon as possible is important.
The services it provides goes beyond chores and medication. The staff puts a large emphasis on companionship. Many clients live in isolation and may struggle to leave the house. This is recognized, and staff ensures clients that they're not alone. They're someone clients can talk to. "I think it's the first step of clients reaching out for help," Kaelberer says. "They maybe just need that companionship."
After recognizing the need for a company that was more than just housecleaning for seniors, Renae Peterson started Touching Hearts at Home. While running her first cleaning company, her cleaners would get delayed because clients wanted someone to sit down and talk with them. Hence, the reason the business focuses on companionship. There's over 70  locations nationwide, with five located in the Twin Cities Metro. Kaelberer says, "The philosophy originated from the natural compassion of Touching Hearts' founder Renae Peterson, who received such a strong example of caring, kindness and concerns from her mother, Meliva Peterson. It continues to fuel her passion in our work to this day, and that we refer to as our 'Legacy of Love.'"
COVID-19 has impacted Touching Hearts at Home, but it's handling the change well. Each staff member and client receives  a bag of personal protection equipment before his or her first shift. "Obviously, COVID has had its challenges," Kaelberer says. "But I'm really proud of our team and how they've handled it."
Its phone lines are available 24/7, so clients will always reach a live person when they call, whether they're in need of services or just want to learn more to see if Touching Hearts at Home can of benefit to them or a loved one. It also offers a complimentary home visit to see if they'd be a good fit before signing up. "We understand that people might be on this journey for the first time," Kaelberer says. "We just want to be a resource."
touchinghearts.com
Facebook: Touching Hearts at Home Twin Cities